Innovations for Advancing Medical Affairs
New innovations in Veeva Medical Suite are focused on helping medical teams engage with a growing number of stakeholders over multiple channels. Take advantage of the latest capabilities in Veeva Medical CRM, Veeva Vault Medical, and Veeva Link to make the most out of your investment.
See latest release details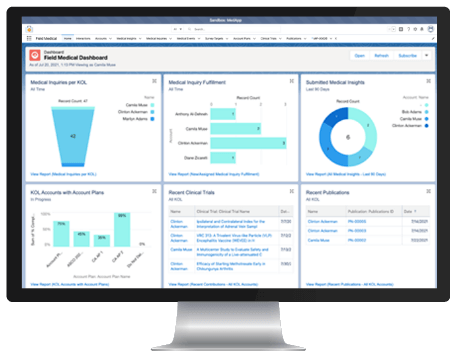 Optimized for New Hybrid Way of Working
Optimized for field medical that may often be working on laptops, the new Veeva CRM Desktop Experience provides an intuitive and tailored user interface with better digital engagement capabilities. MSLs can stay effective regardless of the device they are using from presenting content on their laptops to capturing key medical insights on their phones.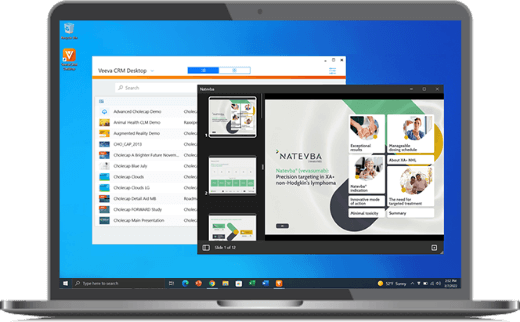 Easily Disseminate Scientific Content
Field medical teams can find, assemble, present, and share Veeva CLM content via the Veeva CRM Desktop App, making it easier to meet with accounts face to face or remotely. Automatic tracking of all media activity provides valuable insights into customer interactions and the impact of content shared.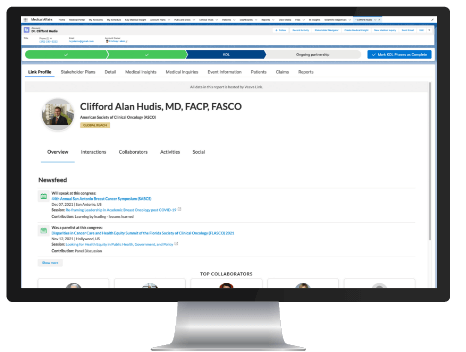 Real-Time Intelligence & Insights
Rich insights from Veeva Link for Key People give medical teams the ability to gain a complete view of their customers, make new connections, and inform scientific experts of the latest developments aligned to their interests. All this information is brought together through integration with Veeva CRM.
Veeva Link real-time intelligence for medical teams is a suite of connected data applications that help medical affairs identify the right experts, plan engagement, and optimize strategy.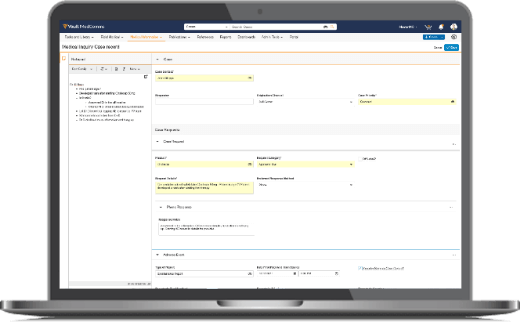 Streamline Medical Information Requests
The new dedicated medical inquiry user interface in Veeva Vault MedInquiry helps users to quickly and accurately capture all the important details of a medical inquiry in one place – including multiple requests, responses, and any potential adverse events.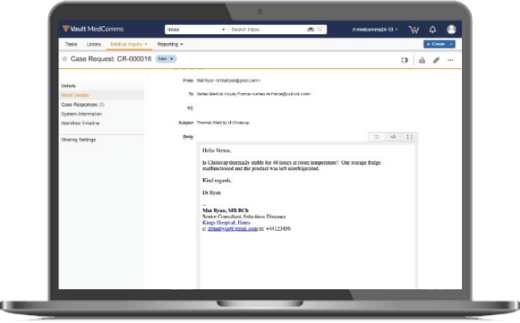 Automate Email Case Intake
Medical information requests received by email will automatically create a case, pre-populating many of the details. This reduces the work for medical information teams, ensures greater consistency, and quicker response times.
"To meet the challenges of engaging over ever increasing channels, medical organizations are relying on solutions that are flexible and agile while still maintaining compliance. Veeva continues to transform its products to support new ways of working and to make it easier to understand your customers more deeply as well as find, access, and share content more efficiently."
General Manager, CRM Products
Learn more

Products
Veeva Medical Suite unifies KOL identification, engagement, and content management to deliver meaningful scientific dialog.

Business Consulting
Our team of experts partners with you to transform your scientific engagement model.