Veeva CRM

Explore Veeva CRM Lightning Experience? 

Click here
Veeva CRM is the most advanced life sciences CRM solution, preferred by field teams to help them optimize the customer experience.
Advanced mobility, multichannel capabilities, and real-time insights help engage your customers in the way and channel they prefer. Informed by the industry's largest network of users, it is the modern and continually-evolving CRM solution that helps you quickly adapt to changing market conditions and drive business growth.
Veeva CRM is proven effective at companies of all sizes, from pre-commercial companies launching their first product to the largest global life sciences companies.
77%
BETTER CUSTOMER INTERACTIONS
More Effective
More than 3 out of 4 reps say they have better
customer interactions as a result of Veeva CRM.
1
78%
INCREASE IN PRODUCTIVITY
Greater Productivity
Nearly 4 out of 5 reps say they are more
productive as a result of Veeva CRM.
2
66%
DEEPER CUSTOMER INSIGHT
Smarter Engagement
Nearly 2 out of 3 reps say they understand
their customers better with Veeva CRM
3
1 Only 1% disagree; relative to previous system
2 Only 2% disagree; relative to previous system
3 Only 3% said worse; relative to previous system

BENEFITS
Put your customer at the center: Improve planning and execution across teams and increase collaboration between key account managers, field reps, medical, and marketing to deliver a personalized customer experience.
Drive the right actions for greater impact: Increase field team effectiveness by engaging the right customers in the right channel.
Optimize engagement through actionable insights: Boost customer interactions through actionable, data-driven insights delivered directly at the point of execution.
Learn More
Watch Demo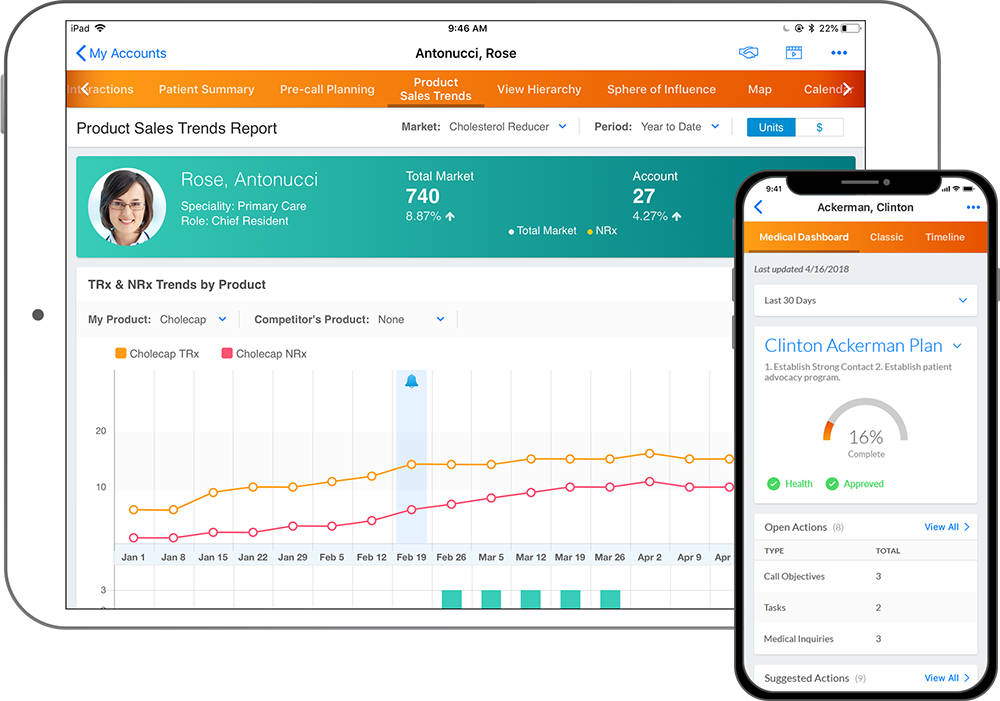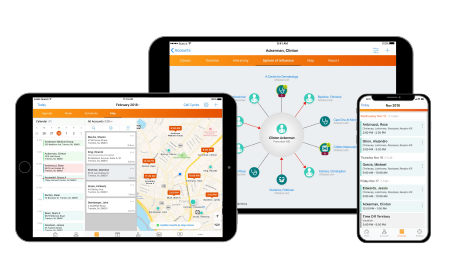 Welcome the Sunrise
The Veeva CRM Sunrise user interface drives greater rep productivity by placing actionable information at their fingertips, no matter which device they use.
Learn More

"A single customer view through Veeva CRM means that we are all on the same page – building on each conversation to further develop the relationship over time."
Christian Griffin | Head of Commercial Excellence, Teva UK

Find Out How
"Veeva CRM is a digital enabler of cross-channel engagement that has helped us move beyond face-to-face interaction. We are forming lasting connections with our customers while at the same time remaining fully compliant through our multichannel interactions."
Antoine Blanc | Head of Commercial Excellence, Sanofi Pasteur MSD

"With Veeva CRM, our reps work efficiently, our customers engage quickly, and we have documented savings."
Jeff Morgan | Vice President, Commercial Analytics, Merz

"It wasn't only a question of replacing outdated technology, but adapting our approach to stay ahead as the industry evolves."
CRM Project Lead, Merck Sharp & Dohme

Find Out How
"We have customer insights that were not possible before, such as channel and content preferences and eventually, online browsing habits. Now we can coordinate engagement to avoid duplication of efforts and ensure that the customer has a more seamless, personalized experience with Sanofi Pasteur MSD."
Antoine Blanc | Head of Commercial Excellence, Sanofi Pasteur MSD

Previous
Next
Any Device, Anywhere
The Sunrise UI is the next-generation user interface that delivers the right information faster for more productive field teams. Its adaptive design delivers the best experience across all devices, including phones, tablets, and laptops. Your field teams are fully empowered no matter where they go or which device they use.
Orchestrated Multichannel Engagement
Veeva CRM is the proven life sciences solution for the planning and coordination of your resources across all channels. Veeva CRM Approved Email and the Veeva CRM Engage family help you connect with hard-to-reach HCPs beyond just face-to-face conversations. Empowered with full visibility into all interactions, your commercial teams deliver a seamless customer experience.
Insights Directly at the Point of Execution
Veeva CRM MyInsights is an innovative data visualization capability that delivers the right information exactly when and where your teams need it. Leverage a library of pre-existing dashboards, develop views using Veeva's extensive partner network, or easily create your own custom insights for each role and activity.
DATA-DRIVEN SUGGESTIONS
Veeva CRM Suggestions
is a rep dashboard that offers targeted recommendations, powered by data science, to help your teams identify the best action and right channel for each customer interaction. Partner with the data science vendor of your choice or use your own internal solution.
TEAM-BASED SELLING
Veeva CRM's key account management (KAM) capabilities allow your teams to effectively manage strategic accounts with account-focused plans within a single, collaborative framework. Create account plans, execute planned activities, and measure progress towards goals across specialty care, primary care, field medical, managed markets, or key account managers.
CLOSED-LOOP MARKETING
Veeva CLM
is an easy-to-use closed-loop marketing for targeted sales call with greater compliance. Built into Veeva CRM, it is part of your rep's workflow, making digital content easy to access and share.
Contact Us
CONSUMER AND ANIMAL HEALTH
Veeva CRM supports field teams for consumer and animal health. Built-in functionality, such as route planning, planograms for inventory monitoring, and order management integrated with CLM, offers a seamless user experience. The integrated contract management and pricing engine helps order efficiency while species and product-specific detailing improves sales productivity with easy visualization and management of complex data.
BUILT-IN COMPLIANCE
Veeva CRM is pre-validated for industry regulations to help you stay in compliance. Veeva CRM Approved Notes allow customers to monitor free-text fields for compliance, enabling end users to record notes directly in CRM. Seamless integration with
Veeva CRM Events Management
enables compliant events of all types.
PART OF THE VEEVA COMMERCIAL CLOUD
Veeva CRM is a key component of the
Veeva Commercial Cloud
, the life science industry's most trusted foundation for intelligent customer engagement. It unifies CRM, customer reference data, territory alignments, events, master data management, and commercial content in one integrated environment.
Resources

Press Release
Veeva CRM Suggestions, Now Available
Veeva CRM Sunrise UI - 1-Minute Demo
Veeva CRM KAM - 1-Minute Demo
Veeva CRM Medical MSL iPad 2-Minute Demo
2-Minute Demo: Veeva CRM for iPhone with mobile MyInsights
A Day in the Life with Veeva CRM
Previous
Next