Veeva CRM Engage
Deepen HCP relationships with a global platform to meet, connect, and share.
Benefits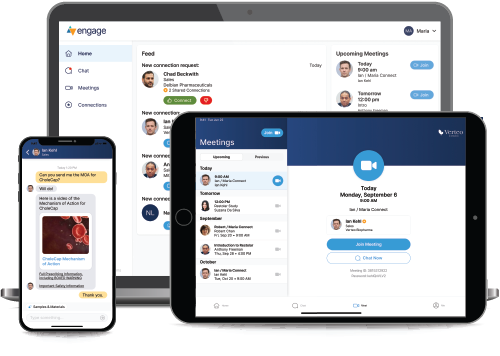 Increase Access and Engagement
Create connections with HCPs automatically and increase access in between meetings.
Enable Agile Field Teams
Allow field teams to adapt to local access conditions and HCP preferences for in-person or remote interactions.
Integrated Tracing and Reporting
Get a 360-degree view of HCP engagement across channels with automatic reporting that's connected to Veeva CRM.
HCP Centric Scheduling
Field reps and MSLs can check HCP office hour preferences and request meetings.
Ensure more effective interactions, by selecting from HCP preferred days, times, and channels.
HCPs can personalize their schedule to show office hours and office policies.
Field reps can easily select from the most convenient options for their customer.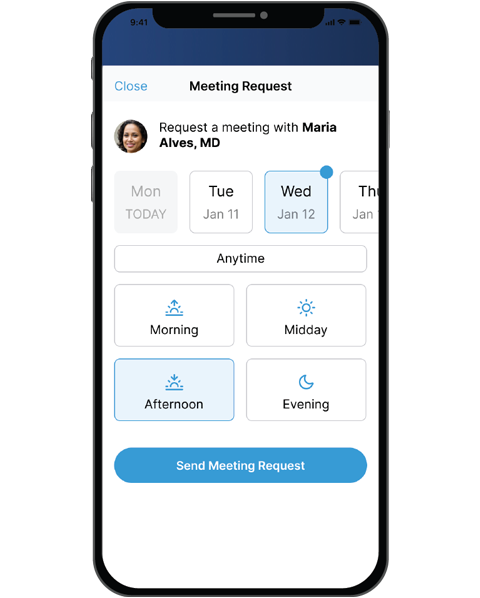 ---
Remote Meetings
Engage provides a common industry platform that makes remote interactions easy and compliant as part of a rep's natural workflow.
Send invites and meet with a few clicks.
Reuse compliant Veeva CLM content with automated content tracking and recording.
Track and record all remote detail activity in Veeva CRM for further reporting and insights.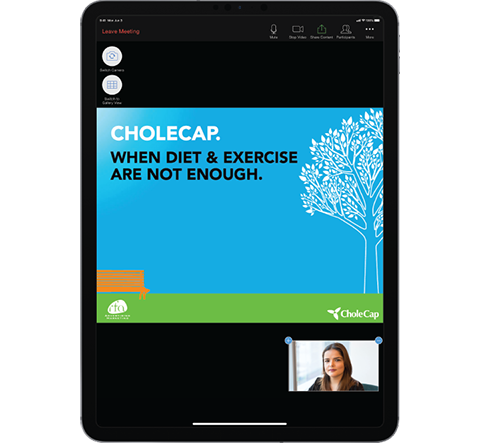 ---
Compliant, Two-way Messaging
Reps and participating HCPs can instantly search for, connect to, and chat with each other across the industry.
Create new connections with hard-to-reach HCPs that prefer digital engagement.
Deepen existing HCP relationships with customer-centric engagement and chat-like messaging.
Respond more quickly to HCP requests for patient resources, content, or samples.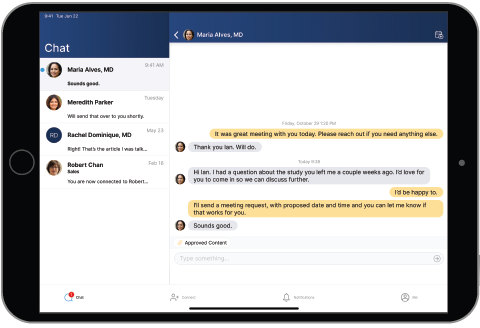 ---
Share Content and Patient Resources
Life sciences brands can more quickly respond to HCP requests for materials, samples, patient resources, or services.
Safely share content and resources in person, while maintaining social distance.
Enable HCP to self-serve with easy, on-demand access to brand content and resources.
Share pre-approved content using trackable links that can be sent via email, chat, or text.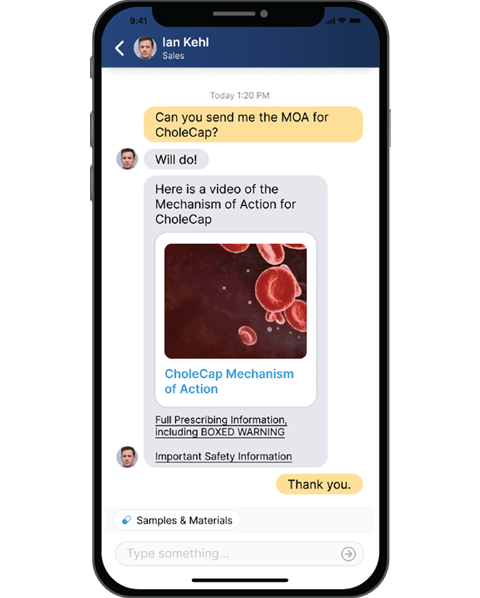 ---

"One of the greatest advantages of remote engagement is that meetings are typically longer than in-person calls. The average face-to-face call is 6 minutes and the Astellas average for a virtual call is 26 minutes."
Associate Director, Digital Strategy and Capabilities
Learn more
Novo Nordisk
"Our team quickly adapted to digital channels including Veeva CRM Engage Meeting to maintain relationships with our customers and continue to provide valuable information in a compliant way."
Director, Field Systems and Projects
Find out how
Sanofi
"With Veeva Engage Connect, our field teams can quickly connect with HCPs in a more personal, convenient way through compliant texts, scheduling meetings, and most importantly, sharing patient resources."
Director, Field Force Automation, Sanofi
AstraZeneca
"Our customer-facing teams have the critical insights they need to tailor each interaction and deliver valuable, relevant experiences."
Innovation and Business Excellence Director
Learn more
Previous
Next
Interested in learning more about how to connect with HCPs in between meetings?