Tufts Survey Reveals
EDC Build Delays Slow
Trial Completion
See key findings from one of the most in-depth
surveys of clinical data management professionals.
Get the Results
Veeva Vault eSource

Looking for clinical operations solutions? 

Click here
Veeva Vault eSource enables clinical sites to enter patient data directly into an easy-to-use mobile application to eliminate transcription – delivering immediate data quality and reducing wasted time and cost. Veeva is the only provider that delivers eSource and EDC on the same platform, enabling real-time collaboration between sponsors, CROs, and sites on source data.
Vault eSource joins Vault EDC, Vault CTMS, Vault eTMF, Vault Study Startup, and Vault SiteExchange as part of the Vault Clinical Suite, the only suite of unified cloud applications for clinical operations and data management—spanning study startup to archive.
Vault eSource is planned for availability in 2019.
BENEFITS
Get quality data right from the source: Empower users to make confident data-driven decisions with faster insights, improved data quality, and real-time access. Investigators spend less time on administrative tasks and more time seeing patients.
Reduce trial costs: Eliminate transcription of data from source documents to EDC, significantly reducing source data verification by clinical monitors.
Accelerate trial time: Speed clinical trial cycle time by reducing on-site monitoring, gaining immediate access to source data, and decreasing data verification.
Unify clinical Leverage the most comprehensive suite of clinical applications on a single cloud platform to unify clinical operations and data management.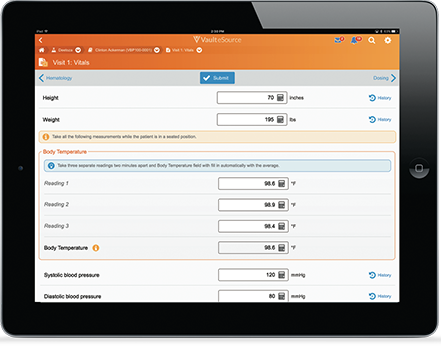 "The drug development process is fraught with delays and inefficiencies due in large part to protocol complexity, operating fragmentation, and the use of disparate point solutions. The integration of clinical practice and clinical research data, next generation e-clinical technology solutions that unify end-to-end clinical processes, and improvements in protocol design execution feasibility will all be critical success factors in driving higher levels of efficiency, performance, and data quality."
Ken Getz | Associate Professor and Director, Tufts University School of Medicine

"The industry has been forced to settle for clinical data management systems that have been short on innovation and high on complexity. Vault EDC and Vault eSource will offer an innovative, integrated approach that will deliver the data quality and real-time access that is needed to make faster, informed decisions and cut the cost and complexity out of trials."
Henry Levy | Chief Strategy Officer, Veeva Systems

Previous
Next
Features
EDC AND eSOURCE
Together, Vault eSource and Vault EDC provide a single source of truth, eliminating duplicate data entry, reducing on-site verification, enabling centralized monitoring, and improving real-time collaboration between sites, sponsors, and CROs.
SITE COLLABORATION
Vault eSource empowers sites to streamline operations and tailor their trial approach. The ability to easily reuse Vault eSource designs reduces cycle times and start-up complexity. Sponsors and CROs can also design study-specific documents and share them with other sites, ensuring greatest leverage from more advanced sites.
SECURITY, DEPENDABILITY, AND FIT
To maximize accessibility and ease-of-use, Vault eSource will be available as both web and mobile applications. Vault eSource meets the most stringent global data protection laws and is designed to ensure patient privacy. 



e

SOURCE DESIGN

Sponsors are able to electronically share case report form designs with sites, providing all required data collection forms, fields, and validation rules. Sites can extend case report forms to efficiently create tailored electronic source documents.
INVESTIGATOR INITIATED TRIALS
Vault eSource allows sites to develop their own clinical data forms and analysis. This lowers the cost and complexity associated with investigator initiated trials. 
SITE CENTRICITY
Empower sites to streamline operations and tailor their casebook design for activity during a site visit, not for data cleaning and review. Leverage the most advanced sites by sharing study-specific source designs to optimize collection in Vault eSource.