Scientific Engagement,
Now Borderless
Virtual events are easy and compliant with
Veeva CRM Engage Webinar.
Learn More
Veeva CRM Engage for Events Management
Capture the value of a fully integrated solution.
Benefits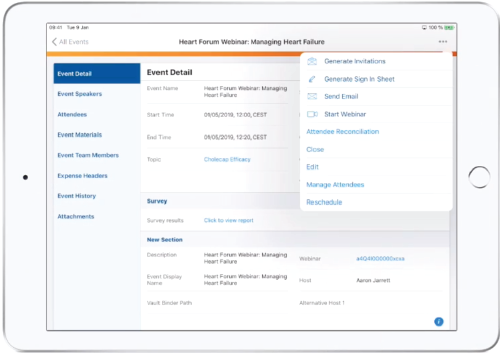 Integrated
Optimize speaker and attendee management and get a complete view to tailor your event strategies.
Compliant
Maintain budgets and regulatory requirements by tracking all events in a single system.
Standardized
Enterprise approach to streamline, simplify, and harmonize remote engagements.
Expand Your Events Virtually
Expand customer engagement by turning any event into a virtual event with Veeva CRM Engage.
Built on Veeva CRM Events Management for simple webinar scheduling and execution using industry-leading Zoom technology
Integrated voice and video to deliver speaker content to hundreds of attendees
Intuitive user interface with minimal training required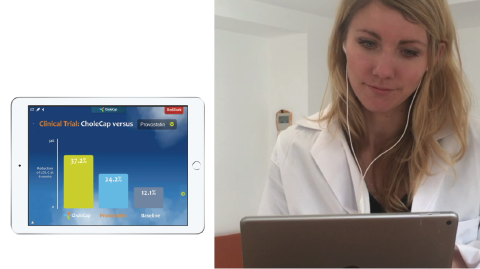 ---
Streamlined Processes Across All Event Types
Embedded in Veeva CRM Events Management to provide unified processes for approval, budgeting, and tracking of the HCP before and after the event.
Sent invitations directly from Veeva CRM Approved Email
Create, execute, and close out events faster
Understand where customers joined or left the webinar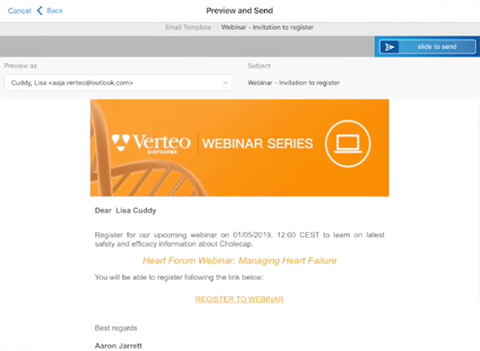 ---
Ensure Compliance
Meet the life science industry's strict regulatory compliance requirements.
Veeva CRM integration makes it easy to ensure the right attendees participate in your virtual event
Leverage QR self sign-in for hybrid events
All actions automatically tracked and recorded in Veeva CRM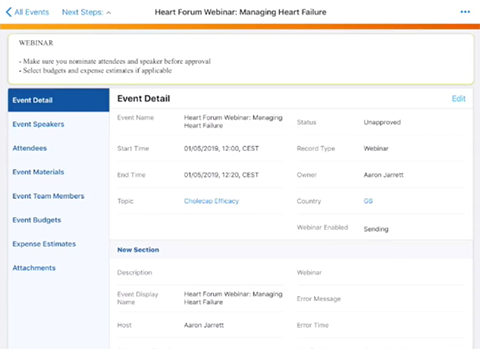 ---
Complete Customer View
Capture rich insights from each interaction and across all channels.
Updated in real-time in Veeva CRM to respond quickly to customer needs
View Engage for Events activity in the account timeline
Enterprise-approach to streamline, simplify, and harmonize virtual engagements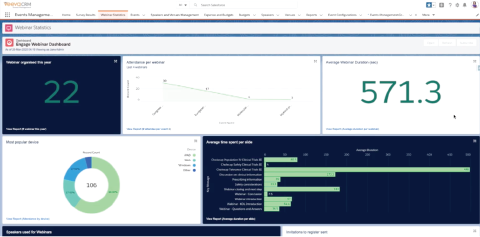 ---
Veeva Engage for Events Management Demo