Veeva Align
Get the right alignments in minutes by leveraging powerful cloud technology and field feedback in a single global solution.
Veeva Align enables a modern territory alignments process that gives commercial teams more direct control of the business process by reducing the administrative burden of alignments, accurately allocating resources to support customer engagement, and enhancing the rep experience.
Align is fully integrated with Veeva CRM, creating alignments in days instead of weeks, delivering end-to-end multichannel cycle plan generation and execution, and providing rep feedback directly from CRM. Your commercial organization is fully empowered to create fast, integrated, and flexible territory alignments.
BENEFITS
Fast: Perform major alignment change in days, not weeks.
Integrated: Eliminate manual handoffs and get seamless field feedback.
Flexible: Shift from quarterly alignments to "as-needed" schedule.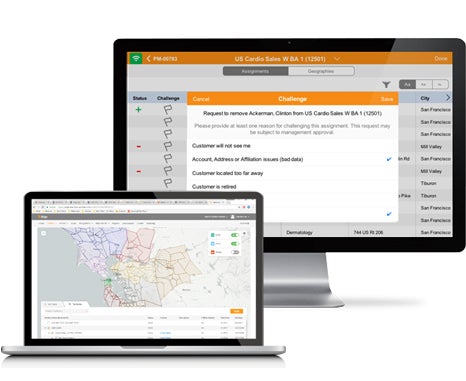 "Veeva Align allows us to make major changes to sales force territories faster and more precisely. Alignments that used to take five days now take as little as a few minutes."
Ian Knowlton | Senior Director, Head of CRM, Astellas

Find Out More
Features
Veeva Align manages geography, roster member, product, customer, and target assignment to the territory to significantly improve alignments, reduce administrative burden, and lower costs compared to non-integrated solutions.
Seamless Veeva CRM Integration
Schedule imports of live customer data from CRM, ensuring your alignments are built on the most current and accurate customer data. Create alignments with future start dates and let Align manage the data loads to CRM for you.
Robust Rules Engine
Support complex criteria using geography, customer profile, and relationship data to drive assignments. Expand your thinking about assignment rules, ensuring a more robust and accurate approach to territory and target plan creation.
Territory Modeling
Allocate your resources accurately by modeling alignment, roster, and targeting changes to optimize results. Compare models and leverage the reporting platform to choose the best alignment for your teams.
View Product Brief
Contact Us
Target Planning with Multichannel Cycle Plans
Define simple or complex criteria to segment channel activity across your customer base. Prioritize activity goals to your unique customer segments and business needs. Use Align to drive simple, face-to-face cycle plans, or take your multichannel engagement to the next level by including goals for Events, Approved Email or custom channel activities.
Integrated Field Feedback
Get early field feedback directly from Veeva CRM, providing greater visibility and an opportunity for the rep's voice to be heard. Eliminate spreadsheets and significantly reduce the potential for errors in your feedback process.
Resources

Product Brief
The Right Alignments—Faster