Compiling accurate customer data has been a constant challenge for life sciences companies. With no comprehensive solution for a master data strategy, companies have cobbled together customer information solutions from multiple vendors and a myriad of data providers.
Despite high upfront and ongoing costs, complicated integrations between systems, attempts at validation and even manual intervention, life sciences companies still struggle to find a single source of truth. Duplicate records, incorrect addresses and unreliable data issues have remained.
With increasingly constrained budgets, tighter regulations and evolving channel preferences, an accurate and complete view of the customer has never been more crucial for the industry.
Introducing Veeva Network.
Veeva Network is a complete, cloud-based customer master solution that combines healthcare professional, healthcare organization, affiliations and reference data, software and stewardship services in a single solution that's seamlessly integrated with Veeva CRM.
Data comes from hundreds of authoritative industry sources and is refreshed on a regular basis. Additionally, since Veeva Network is securely accessible via the cloud, users also benefit from the 'network effect' of life sciences companies electing to work together to contribute updates, through hundreds of thousands of CRM users, to a global master database. Hundreds of Veeva data stewards verify these updates, as well as those from industry sources requiring manual resolution, on an ongoing basis, further improving the quality of the data over time.
Select customers of Veeva Network include Eli Lilly and Company, Accera Inc., and Dyax Corp.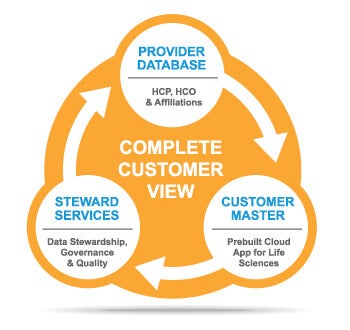 Single solution for your master data strategy.
Veeva Network provides the essentials of a master data strategy – customer data, an industry-specific customer master and ongoing services for data stewardship –in a single, cloud-based application. Pre-integrated with Veeva CRM and with an open API and prebuilt integrations with major data providers, Network brings together all the relevant pieces for an effective master data strategy for you, ensuring unparalleled quality and data integrity – without the high costs of a patchwork solution.
Complete view of the customer.
Veeva Network gets you to a complete customer view. A seamless integration with Veeva CRM puts accurate customer information at the finger tips of sales and marketing users, helping drive more effective multichannel initiatives and better customer engagement.
Veeva Network Consists of
Veeva Network Provider Database, which contains millions of verified HCPs, HCOs, and affiliations, eliminating the need to subscribe to multiple external data sources.
Veeva Network Customer Master, an application that cleanses, standardizes, and de-duplicates HCP and HCO data from multiple sources to form a single, consolidated master record with stored references to originating sources.
Veeva Network Steward Services, an effective alternative to having in-house data stewards to verify internal updates to data. Veeva data stewards can research and make outbound calls to confirm data accuracy, freeing up resources to focus on higher value business tasks.
Continuous updates, continuous innovation.
Not only does Veeva Network enable continuous updates of your customer master data, but it also receives major system enhancements several times a year. As with all other Veeva solutions, Veeva Network delivers new functionality to customers at no additional cost and without interruption to your service. Updates happen automatically and behind-the-scenes – just turn on the features that are right for you.
Accurate data in the cloud.
The true multitenant cloud architecture of Veeva Network enables all customers to be on a single platform, which means they are all continuously contributing to and improving data. All data change requests are verified by Veeva data stewards on an ongoing basis before they are accepted, so only the latest and most accurate data is available in Veeva CRM.
"Multitenant cloud applications offer the potential to address some of a life sciences company's most challenging problems in radically new ways. Customer data management is one of these opportunities."
- Eric Newmark, Program Director, Business Systems Strategies, IDC