3 Ways to Future-Proof Digital Clinical Trials
Apr 26, 2022 | Anusha Shetty
As the COVID-19 pandemic spread and intensified, life sciences companies shifted to decentralized clinical trials (DCTs) to make trials more accessible and convenient for patients. But while DCTs provide benefits, as the Veeva Digital Clinical Trials Survey Report reveals, the rapid deployment of DCT systems and processes introduced new challenges in study execution.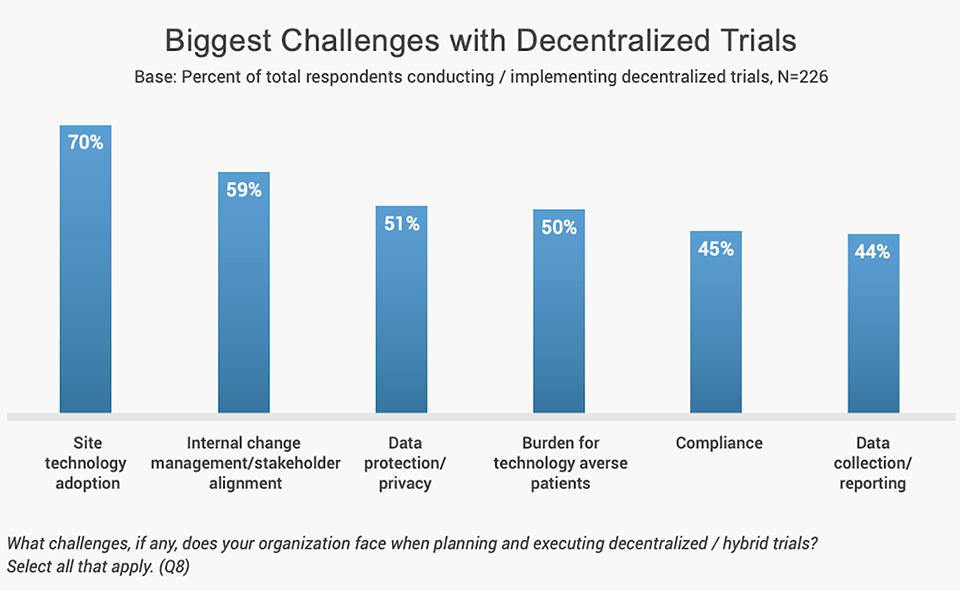 In fact, the study—which surveyed over 280 clinical leaders worldwide—found that 99% of sponsors and CROs have significant challenges with DCTs. As a result, the industry is progressing toward a digital trial environment that connects patients, sites, and sponsors to drive seamless execution and flow of data across stakeholders. Doing so can increase trial speed and reduce costs by 25% —another reason sponsors and CROs view the digital transformation of clinical trials as a top priority. Digital clinical trials improve site experience and engagement, increase data accuracy and connectivity, and drive patient-centricity, among other advantages.
Future-proofing digital clinical trials
With 95% of survey respondents indicating they plan to increase their use of DCTs within the next two years, decentralized trials are here to stay. But many benefits have yet to be fully realized. Despite making progress, fragmented and siloed technology has created additional challenges. Only 56% of clinical leaders said the move to DCTs has improved the patient experience, and less than a third have seen improved site engagement, lower costs and shortened trial timelines.
Sponsors and CROs are rationalizing systems and processes to create a more holistic approach that better connects stakeholders, improves study quality, and accelerates the development of therapies. But with so many opportunities for improvement and room for growth on the horizon, discovering ways to make the transition to digital clinical trials is paramount. To future-proof clinical trials, there are three key things to consider and actions to take:
1. Adopt a site-focused approach to technology
Due, in large part, to disruptions caused by the pandemic, the industry is experiencing an unprecedented willingness to adopt new technologies to facilitate digital clinical trials. While these technologies can eliminate the transactional headaches that are all too common in traditional trials—creating frictionless ways to support collaboration and build relationships—sites already use an average of 12 clinical systems to manage trials.
Many sites are often reluctant to bring on new systems. In fact, this is an issue sponsors and CROs report, with 70% saying site technology adoption is their biggest challenge with decentralized trials, reflecting the already complex technology landscape. A site-centric approach to technology can enable sites to streamline operations, reduce administrative burden, and free up time to spend on patient care.
2. Boost patient engagement and improve their experience
One of the key considerations when adopting digital clinical trial technologies is the opportunity to improve patient enrollment and retention by making trial participation more accessible and convenient. When trials are conducted digitally, companies can provide a more patient-centric experience while increasing diversity across a broader demographic and geographic area. And when you consider that patients now expect a more consumer-like experience, delivering a more humanistic experience is key for trial access and participation.
But since only 56% of sponsors and CROs report that decentralization has had a positive impact on patient convenience and retention, it's clear that many aren't employing the most effective digital strategies. Instead of adopting more technology, they need to be leveraging the right technology with a focus on consolidating and connecting applications, improving the patient experience, and making the system more accessible and convenient.
This approach focuses on patients' value to provide trial experiences that keep them connected and informed during all trial activities while study data seamlessly flows to all stakeholders. By automating tactical, task-driven administrative components, the number of handovers can be reduced and make virtual visits with patients more focused on building relationships.
3. Ensure data connectivity and interoperability
There's a clear need to balance new ways of conducting clinical trials that don't sacrifice interoperability. Digital clinical trials increase interoperability across systems and processes, which delivers visibility and real-time trial oversight.
On average, sponsors and CROs have adopted four new eClinical applications since the beginning of the pandemic. They include remote monitoring—which is the most widely adopted at 89% for CROs and 76% for sponsors—as well as eSource, eCOA/ePRO, eConsent, sponsor portal, and eISF/eReg solutions. But as fragmented technology continues to be a big challenge for the industry, study results demonstrate that a lack of interoperability has a significant impact on site and patient burden, site adoption, and data collection and reporting.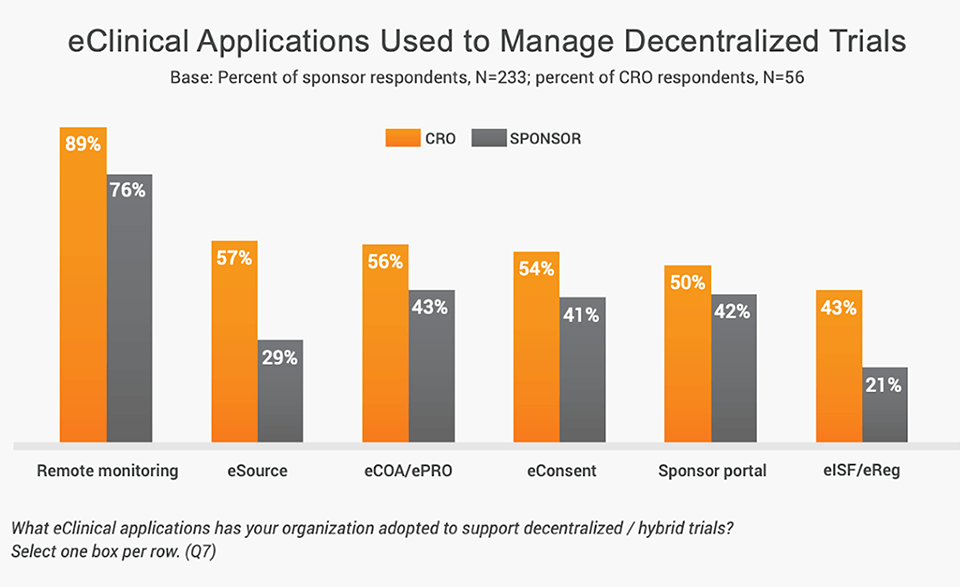 Establishing formal data strategy, governance, and operational models to manage data flow is essential for maintaining compliance and accessibility, as well as stabilizing and organizing data tools and techniques. By expanding the foundational elements that already exist in core operating systems and data connectivity, it's much easier to scale and achieve the necessary interoperability in the clinical trial ecosystem.
What's next?
Digital clinical trials offer the opportunity to meet the diverse and growing needs of sponsors, clinical research sites, and patients while improving their connectivity and reducing costs and timeframes. As the industry progresses toward a holistic, end-to-end digital framework for clinical trials, the ability to elevate the level of patient care and innovative therapies will improve.
View all the results of the Veeva Digital Clinical Trials Survey to learn where the industry is heading, how your peers are progressing, and best practices for designing and conducting digital clinical trials.
Interested in learning more about how Veeva can help?