4 Key Takeaways from SCOPE 2023 That Will Guide Your Strategy For the Next Year
Mar 23, 2023 | Jim Reilly
This year's Summit for Clinical Operations Executives – better known as SCOPE – was a whirlwind. With over 3,000 attendees and 28 tracks, we covered a lot of ground. Now that the dust has settled and we're all back to our routines, here are four key takeaways that will set the tone for your clinical trial strategy as 2023 continues.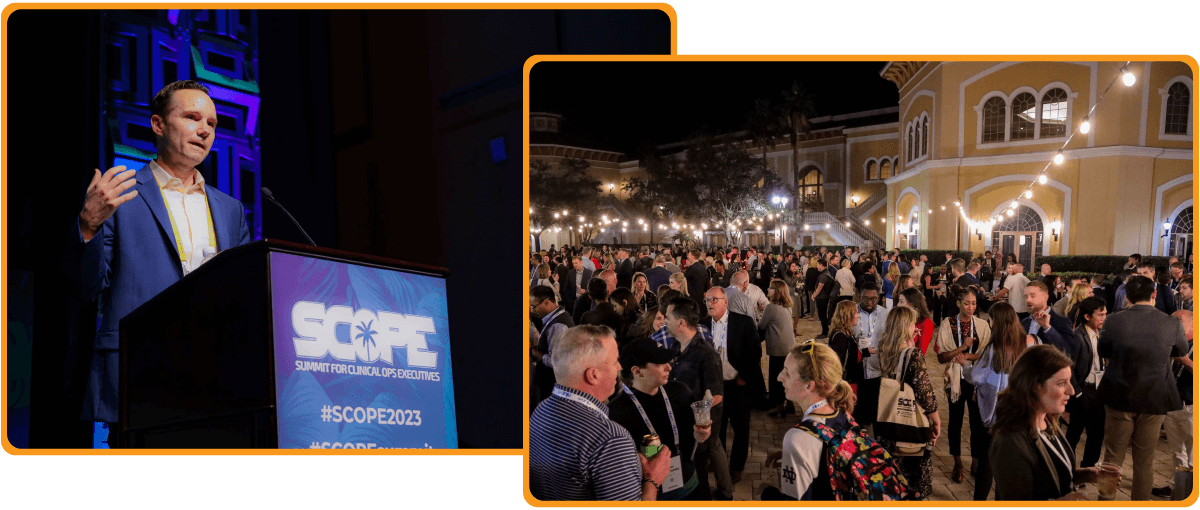 Focus on simplifying advanced protocols
Matt Southwick, executive director of clinical data science at Gilead, said it best: "remember that every data point has a cost and a direct burden on the patient." Many SCOPE presentations stressed the need for protocols that balance the "creativity" of advancing science, operational realities, and impact on patients and sites. When designing a protocol, lean into healthy debates with physicians and scientific partners to ask yourself: do we really need to collect that?
Protocols also call for a certain level of standardization. There's no need to reinvent the wheel when evaluating every protocol, especially for trials in the same indication or clinical program. Instead, determine which top studies will be your "jewels" worth customizing and keep the rest simple.
DCTs come with growing pains
Decentralized clinical trials (DCTs) were mentioned 242 times across the SCOPE 2023 agenda. In the past five years, there's been an explosion of DCT technology made with the intention of addressing patient needs. But, have these good intentions yielded results? Have we truly made things easier for patients?
It's important for us to acknowledge that these disruptive changes can make things more difficult for patients and sites in the short term. Lorena Gomez, global head of study start up, PRO management, and digital implementation at AbbVie, pointed out that "especially in sicker patient populations, it may take everything they have to get themselves to the clinical research site in the first place. Now, we're asking them to wear a new watch, carry a new phone, play with a tablet, or remember several different logins." Sites are feeling the impact too, juggling trials with multiple sponsors, different DCT strategies, and hundreds of devices.
To ease these DCT challenges, broaden your scope to think about how trial data is collected and shared rather than where trials are conducted. Decentralization is just a small step toward a holistically, digitally connected clinical trial.
Cut through AI hype
There's a lot of hype in the life sciences industry around artificial intelligence (AI) and machine learning (ML), with 56 total mentions in the SCOPE agenda. One interesting presentation called for us to distinguish between hype – analyzing data for data's sake – and reality. Operational follow-through, or being able to act on those insights with confidence, is what makes AI valuable in clinical trials.
Many presentations also shared AI use cases for data cleaning and automation, including both partner and home-grown solutions. But, sponsors and CROs still stressed that a strong data foundation should still be at the core of each clinical trial. As one presenter put it, "machine learning is not enough. You still need to focus on high-quality data."
Industry collaboration is at a high
The tone at SCOPE was undeniably optimistic. Many presenters discussed the need to keep up the momentum gained in the past three years. Collaborations like SCDM, TransCelerate, CTTI, and CDISC have brought transformative change to the industry. In her keynote, Virginia Nido, global head of product development and industry collaborations at Genentech, a member of the Roche Group, challenged biopharma executives in the room to use their influence to increase adoption and streamline trials.
Many sponsors and CROs also shared their change management best practices to drive successful innovation initiatives around AI and digital biomarkers. Technology alone doesn't ensure success, but rather a successful partnership and process.
Watch our panel discussion where AbbVie, Merck, and Gilead share best practices for driving digital transformation.
Interested in learning more about how Veeva can help?