Assessing the Organizational Impact of EMA's Clinical Trial Regulation
Feb 01, 2022 | Renee Menco
EMA's Clinical Trial Regulation (CTR) aims to create an environment that is favorable to conducting clinical trials in the EU, with the highest standards of safety for participants and increased transparency of trial information.
What does EMA's clinical trial regulation consist of?
With CTR, the assessment of clinical trial authorization will be done in two parts. The Part I assessment is performed by a single, designated member state (reporting Member State) who evaluates compliance with the regulation and completeness; Part II is done by each of the Member States where the clinical trial will be conducted to assess compliance around local legislation with respect to informed consent, compensation of subjects and investigators, suitability of sites, ethics, etc.
Expected benefits of CTR
Mandating the submission and review of all common trial data to a single reporting Member State increases efficiency for trials conducted in multiple Member States in Europe. The key benefits of the regulation are expected to include:
Harmonized electronic submission and assessment process for clinical trials conducted in multiple Member States
Improved collaboration, information-sharing and decision-making between and within Member States
Increased transparency of information on clinical trials
Highest standards of safety for all participants in EU clinical trials
This process will be facilitated by EMA's Clinical Trial Information System (CTIS), which will be the single entry point for submitting clinical information in the EU. The system includes three central areas:
Sponsor workspace – assist sponsors in preparing and compiling data to submit to the system for assessment by Member States
Authority workspace – support the activities of Member States and the European Commission in assessing and overseeing clinical trials
Public website – allow the public to access detailed information on all clinical trials conducted in the EU, in all official EU languages. EMA will make information stored in CTIS publicly available subject to transparency rules.
What is the planned timeline for the clinical trial regulation?
The planned timeline for the CTR is as follows: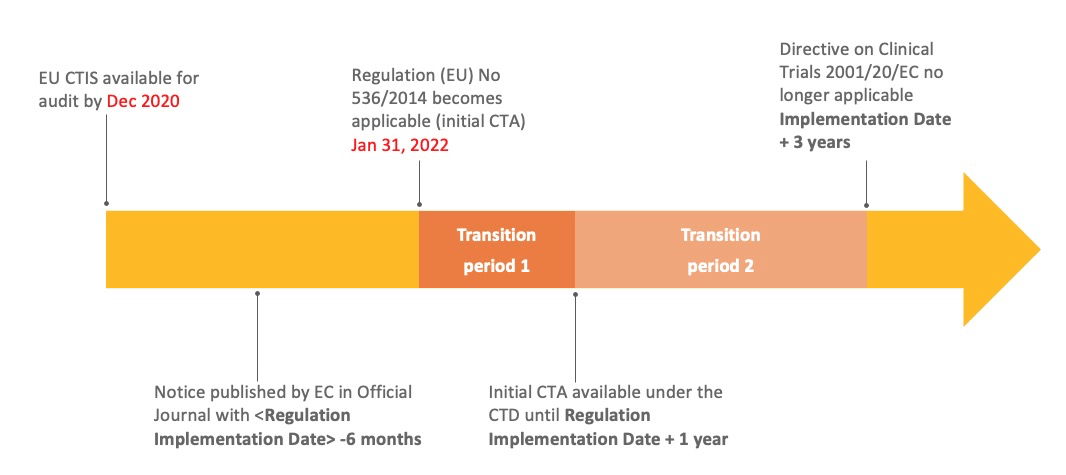 While it's clear that the new Clinical Trial Regulation harmonizes the process for assessing and conducting clinical trials in Europe, it may also blur the lines of responsibility between different functional areas within the sponsor's organization. CTR creates a unique opportunity for sponsors to rethink how they manage data and documents. Traditionally, planning, managing, and conducting clinical trials sits within the clinical domain, while the submission of data to attain approval and ensuant interaction with health authorities is the responsibility of the regulatory organization. However, the new regulation may encourage sponsors to re-evaluate the value of this approach.
CTR does not mandate a submission in the traditional sense, but rather it requires sponsors to upload clinical documents and data points into CTIS, which in lieu of interfacing capabilities is a manual process. Since the vast majority of data and documents that govern this process are generated throughout the lifetime of the clinical trial, it may be more efficient for the clinical domain to own the interaction with CTIS directly.
To learn more about how Veeva helps customers adapt to evolving regulations, check out these tips for managing the Brexit transition.
Interested in learning more about how Veeva can help?