Building COVID-19 Studies in 5-10 Days with Vault EDC
May 07, 2020 | Ami Mehr
Veeva has developed a way to get EDC studies for COVID-19 trials built and deployed in a matter of days instead of weeks. The current pandemic demands speed and people from all parts of Veeva are looking for ways to do things faster for our customers.
When the urgency of COVID-19 became clear, Veeva's CEO sent out a communication to all employees recognizing that the coming months wouldn't be business-as-usual. He asked us for new ideas and encouraged us to get creative about ways we can help the industry. In my role at Veeva, I see lots of protocols and help scope the effort to configure new EDC casebooks for data collection. It became clear that the industry was about to see an explosion of COVID-19 trials, so I started thinking about how to dramatically reduce build times. Trials needed to start immediately and shouldn't be delayed by the typical months-long startup process. Speed has never been more important, and companies need clinical process innovations to deliver speed without sacrificing quality. The final process must meet the quality needs of our customers and the regulatory bodies.
Our rapid build process for COVID trials was inspired by a customer that runs multiple trials in a single therapeutic area. They have standards and move quickly by leveraging a standards-based template as their starting point. This template is validated, and for each new study they only need to review and validate the differences from their standards, not the entire casebook.
With that as our inspiration, we developed and validated a highly flexible casebook template for COVID-19 studies. But there is more to it than just a template – there are four elements that produce greater speed while preserving quality:
COVID-specific forms – We've built a template study based on existing standards for COVID studies. The forms include all the questions one would likely ask a COVID patient, and we have tested and validated the template study. If a question or form is not pertinent to a study, we simply remove it.
A highly flexible visit structure – Casebooks in Vault EDC are typically configured using a dynamic visit structure. We build one master treatment visit and incorporate all the potential variations. Then during the study, site coordinators can add a new treatment visit with the click of a button. As soon as a visit date is specified, the appropriate forms are dynamically populated into the visit.
A mechanism to minimize review and validation requirements – Vault EDC is a metadata-driven system. Because the metadata values are what configure and drive our casebooks, the system can generate accurate documentation describing exactly what was built. By comparing those descriptions, Vault can also produce a study differential report that identifies and documents any and all changes between studies. We use that report to identify all study-specific changes made for a particular sponsor. That report narrows the user reviews, testing, and validation to only what's needed.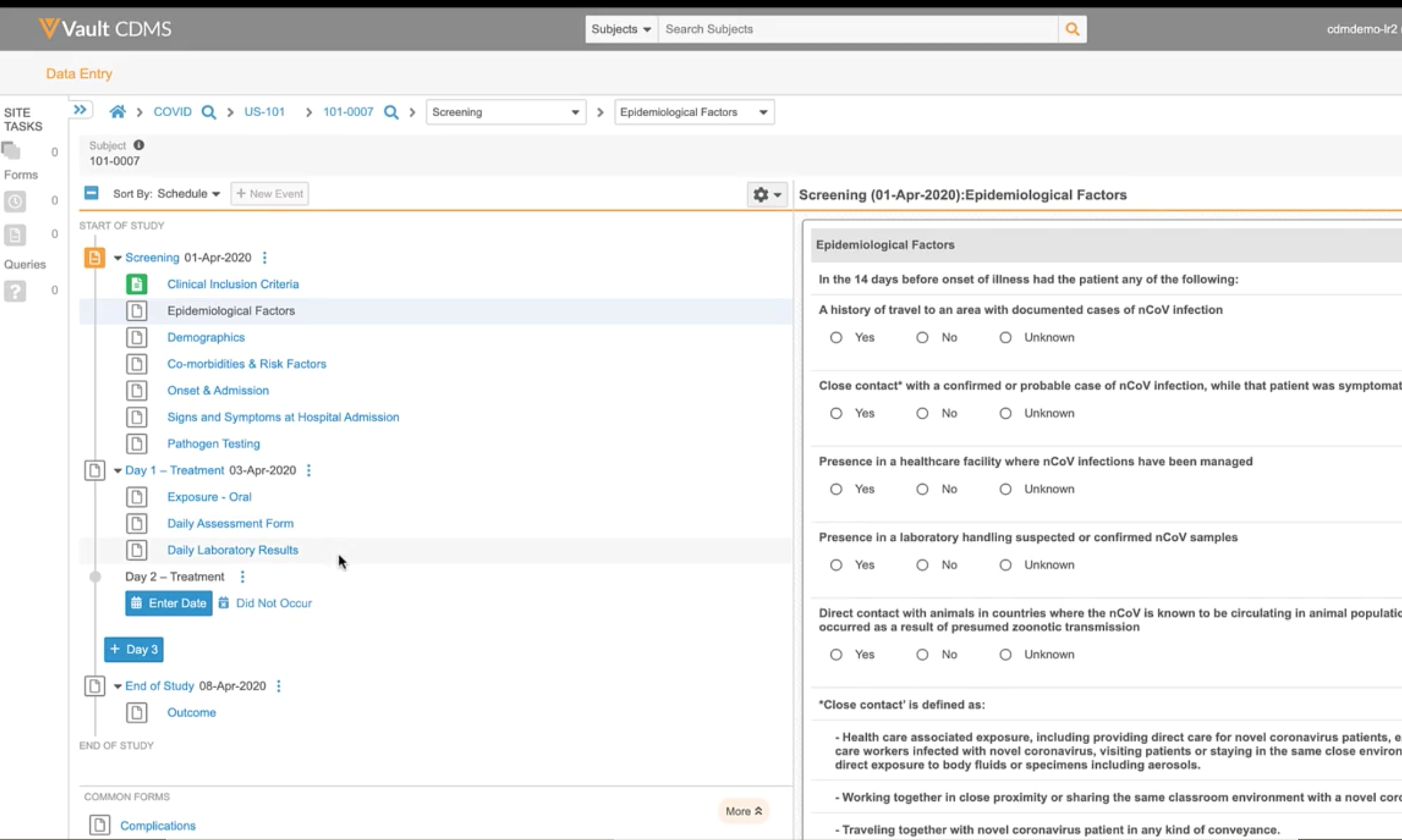 1. Study forms based on ISARIC, WHO, and CDC standards for COVID-19 studies.
A process that eliminates iterations – Once you hand us the protocol, we don't meet again until UAT. We have a highly talented team of study designers, many of whom can read a protocol and create or modify CRFs as needed to reflect study-specific requirements. When sponsors give us their COVID-study protocol, we start with our template, make the additions and adjustments as needed per the protocol, and meet with the sponsor again for a live UAT.

Everything in Vault EDC can be updated without requiring a push to production or a migration, so we make and review changes with the sponsor in real-time. By the end of the meeting, the casebook is approved to go live.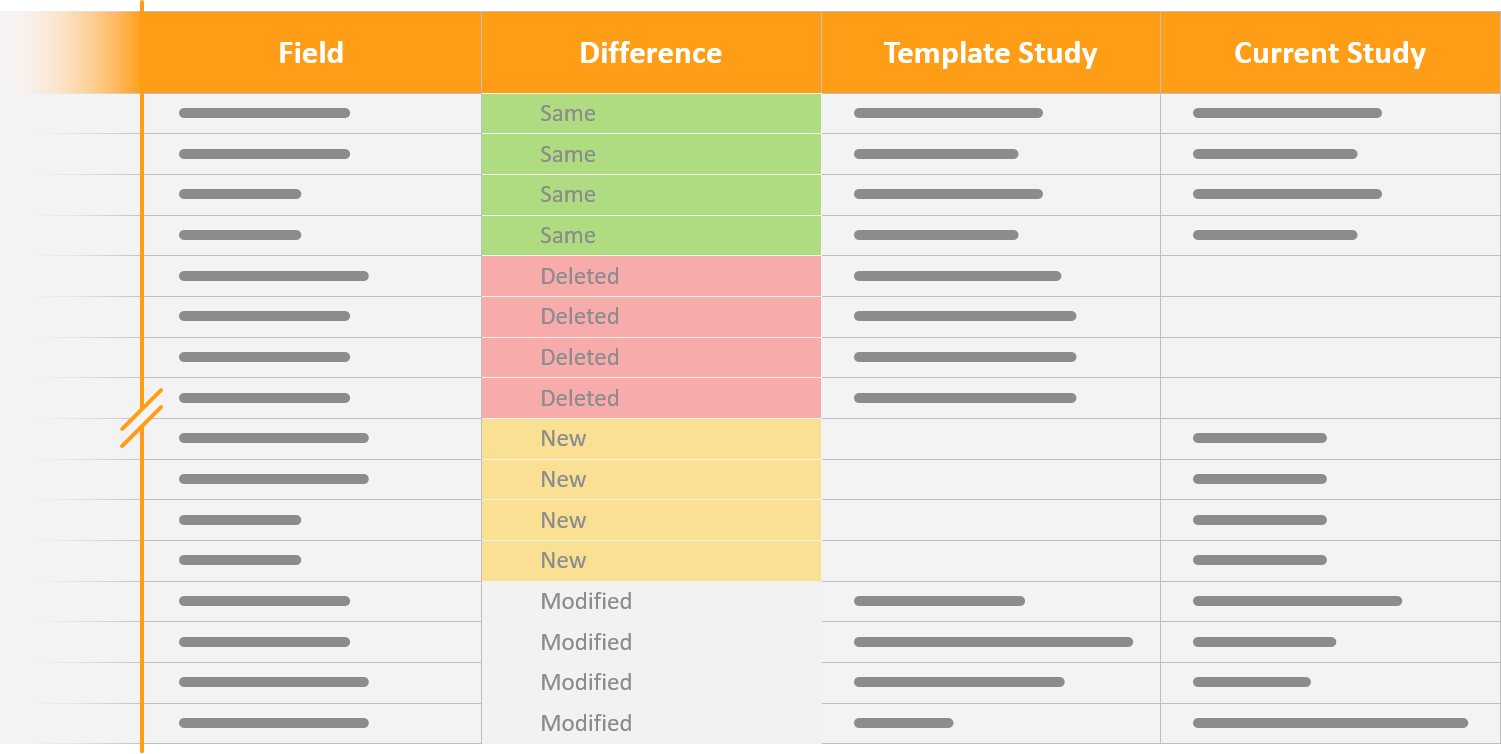 2. Reviews, testing, and validation are narrowed to only what is unique about your COVID-19 study
What we came up with is simple, it works, and we already are seeing success with our COVID-19 study builds. The pandemic has created an urgency that is driving innovation. As an industry, we need to innovate in our operations in addition to our science. You can see a demo of our template study and an overview of the process here.
If you are planning a COVID-19 trial and want to move quickly, please contact us – we'd love to help.
Interested in learning more about how Veeva can help?