Correcting the Misconceptions of ICH E6(R2) Compliance
Jun 08, 2020 | Chris McSpiritt
I recently met with the clinical operations team at a pharma company to discuss the team's goals, priorities, and initiatives. Not surprisingly, one of their key mandates was to be fully compliant with
ICH E6(R2)
to ensure they wouldn't receive any inspection findings. While the leadership team was concerned they didn't have the right processes and technologies in place to be compliant, a few of the clinical operations functional leads didn't foresee any issues.
Current Data Collection Approach for Study Oversight
One program lead was convinced they could demonstrate oversight compliance to regulators with their existing data warehouse that synchronizes data from their CRO partners' systems. Because his team has access to the data and communicates with the CROs on a regular basis, he felt they were properly informed about their trials.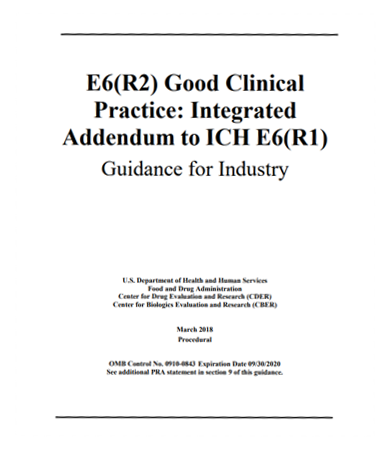 During our discussion, we discovered they are only addressing one half of the oversight equation. I explained that two aspects are needed to perform successful and compliant oversight:
Access to the appropriate data
Ability to act on the data and document actions
Many organizations have the first aspect "under control" – they receive data from their CROs and review Excel reports, sync the information to a data warehouse, or view information in a data visualization tool. I used quotes around under control because too often, incomplete and inconsistent data drives sponsors' understanding of the study, and many don't explicitly express to their CROs the data and format they require. This results in a lack of foundational understanding, which is further augmented by each CRO's unique view and criteria for how they report study status. Additionally, because data comes from multiple sources such as CRO CTMS applications and EDC systems, it can be difficult and time-consuming to reconcile and normalize the data to get a comprehensive view of the study.


The Compliance Challenge
As stated in ICH E6(R2), inspectors expect to see evidence and documentation of how the sponsor performed oversight of the study. We see organizations struggling with the first aspect, which makes the second aspect nearly impossible to successfully execute. Yet it's critical to be able to quickly see trends and issues, then drill down into the details to accurately analyze what the trends show and take action. When companies rely on Excel graphs and visualization tools, there isn't a way to consistently analyze potential issues and risks, determine if further action is required, and track actions until the issues are addressed. The process of reviewing and tracking issues often occurs in meetings with CROs, so many sponsors believe the meeting minutes are sufficient to demonstrate oversight. Yet meeting minutes are typically sparse, with only pressing risks and issues documented. Since inspectors expect study teams to analyze, review, and determine if action is required, sponsors must document the entire review, regardless of the outcome.

The Two Aspects of ICH E6(R2) Compliance
How can an organization provide evidence of effective oversight to comply with ICH E6(R2)? First, sponsors need access to all of the data that may contain signals of how the study is progressing and if action is required to ensure the study remains on track. This is best accomplished by collaborating with CROs and clearly defining the criteria for data completeness. Then, this data should be aggregated into a system that allows for easy review of the data at both summary and detailed levels. Lastly, the system should allow sponsors to define review periods, track the study reviews, and manage risks and issues – from identification through to resolution.

Visibility needs to drive action for effective study and CRO oversight. For more on ICH E6(R2) compliance, watch this webinar. Stay tuned for the next blog in our series to learn how Vault CTMS can help you be more compliant with your oversight requirements.
Interested in learning more about how Veeva can help?