CSL Behring: The Impact of Automation in Medical Information
Nov 16, 2023 | Callum Hawes
ChatGPT is generating a lot of attention in the medical landscape for diagnosing a rare disease in seconds and even passing the medical licensing exam. This technology has created considerable mainstream buzz and renewed interest in automation's promising use cases across the healthcare ecosystem.
While AI might be the hot topic, automation already has numerous more practical applications across the medical information lifecycle that can add value today. At CSL Behring, automation is a key focus. Their efforts to reduce repetitive, manual tasks save time and improve customer experience.
Automation applications in medical information
Automation can describe many things, but simply put, it's about reducing human intervention in processes and tasks. It's not a one-size-fits-all solution but rather a spectrum of applications with varying levels of complexity. While it may be tempting to jump all in and explore the more sophisticated applications, a progressive approach to automation – following the spectrum from most simple to complex – will set your organization up for success.
Automation Spectrum

"We've explored many automation possibilities," shared Janis Witzleb, director of commercial enablement, medical affairs. "It's important to have the foundational elements in place, like the right data structure. If you don't, moving toward anything AI-related will be more challenging."
Customers expect accurate, reliable information in near-real time. However, manual, labor-intensive processes impact the ability of med info teams to meet these expectations.
Like CSL Behring, many organizations are already using – or looking to apply – automation to drive efficiencies.
"Our med info team is very interested in removing clicks and reducing the time they need to spend in their information management system," said Witzleb. "This is very valuable, especially when talking about the high-volume processes that characterize this space."
Integrations: The unsung hero of automation
Companies often overlook integration as a form of automation, but it's necessary for driving more efficient work outcomes. Building connections across the broader medical ecosystem reduces manual re-entry and duplication of effort between teams. This is vital for med info teams since they often share data with other groups or downstream systems.
A typical example is an adverse event. When this type of inquiry occurs, a team member must send the information to someone in the safety organization, who then re-keys it into a separate system. This manual, repetitive data entry could be automated through integration, transferring pertinent data to the appropriate systems in just a few clicks.
Applying integrations across the med info lifecycle can support other forms of automation that lead to faster inquiry response and improved customer satisfaction.
Examples of automation across the med info lifecycle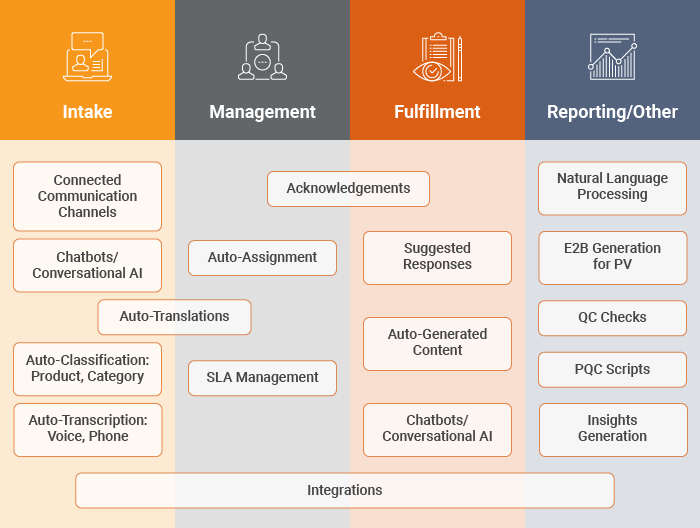 Automation in action at CSL Behring
At CSL Behring, Witzleb has successfully implemented many types of automation across the med info function. These applications have helped the team save time by removing extraneous actions and manual processes. This has improved the experience for their internal and external customers, who now have new avenues to connect with the team and benefit from shorter response times.
Intake
Witzleb and her team recently implemented a live chat function. This function allows HCPs and caregivers to chat with med info specialists in real time and get information immediately without waiting for the typical email response. This type of access is beneficial when stakeholders need answers immediately and it is something they can do quickly between patients. "Live chat allowed us to test the waters of automation," said Witzleb. "We're monitoring the function to see how it's performing and also to brainstorm how we might further automate functions of the chat in the future."
The data from the live chats allows the system to learn and become more mature over time. "We need to build the intelligence and maturity of the brain so if and when we move to an AI-powered channel, we can be confident it's going to answer the same as a human," says Witzleb. "This is what we mean by a progressive approach to automation, and it takes time."
Fulfillment
The most common request from Witzleb's team is to remove steps from the fulfillment process. "Every click, slow refresh, or required field is a burden," says Witzleb. "It seems simple, but if you're the person doing it all the time, it's burdensome to do one more click."
Using integration and an API, Witzleb's team has created a one-stop shop for their medical content. Publications are automatically pulled into the system, making it easy for the med info team to incorporate the most up-to-date and approved content into their communications. As Witzleb puts it, "It's a fairly simple form of automation by definition but a great example of taking away a lot of manual steps."
Reporting
CSL Behring has also created a global medical dashboard by bringing information from multiple systems into one easily accessible place. This central data hub connects information from various systems, including Veeva Vault Medical, Veeva Medical CRM, publications, and more. Local teams can pull a dashboard from the global dashboard specific to their region. "To access that real-time information from one dashboard is key," said Witzleb. "Not only does it help reduce steps and manual intervention, but it's also provided visibility into the time it takes to complete tasks, enabling process improvement so we can speed up and be more efficient."
While automation benefits the med info team and its internal stakeholders – removing manual and duplicate tasks, increasing productivity, and supporting response time KPIs – it also improves the customer experience. HCPs and caregivers get the information they need quicker, which helps them do their job better and positively impact patient outcomes. Witzleb says, "The less time we spend doing things manually, the faster we can get information directly to the HCPs, which is better from a community standpoint."
See how Veeva Vault MedInquiry leverages automation to streamline med info processes.
Interested in learning more about how Veeva can help?