Five Essentials to Boosting Sales Effectiveness with Better Data
Oct 03, 2018 | Rebecca Silver
Data is foundational to making better, smarter decisions and getting closer to customers. That's why 78% of commercial operations teams have a data quality initiative, or will have one in the next two years. Take these essential steps to boost your sales team's effectiveness with better data.
In the era of personalized medicine and rapid drug innovation, sales and marketing teams are charged with getting more information to more physicians. At the same time, rep access to doctors is changing,1 and organizations are navigating evolving regulations to stay compliant. As a result, the ability to reach, educate, and inform healthcare professionals (HCPs) is getting more complicated and challenging.
Amid these dynamics, life sciences is focused on improving engagement with HCPs through multiple tools and channels. However, a first step that is critical to success – yet often overlooked – is getting the right data in the right people's hands to improve the effectiveness and efficiency of pharmaceutical sales teams.
In fact, 87% of respondents in a recent industry survey say they face data quality challenges.2 Sales reps often have wrong addresses, don't know which HCPs to contact, or have outdated data about a physician's specialty and license status. Consequently, it is estimated that as many as one in 25 sales calls is unsuccessful.3 More importantly, incorrect data leads to compliance risks.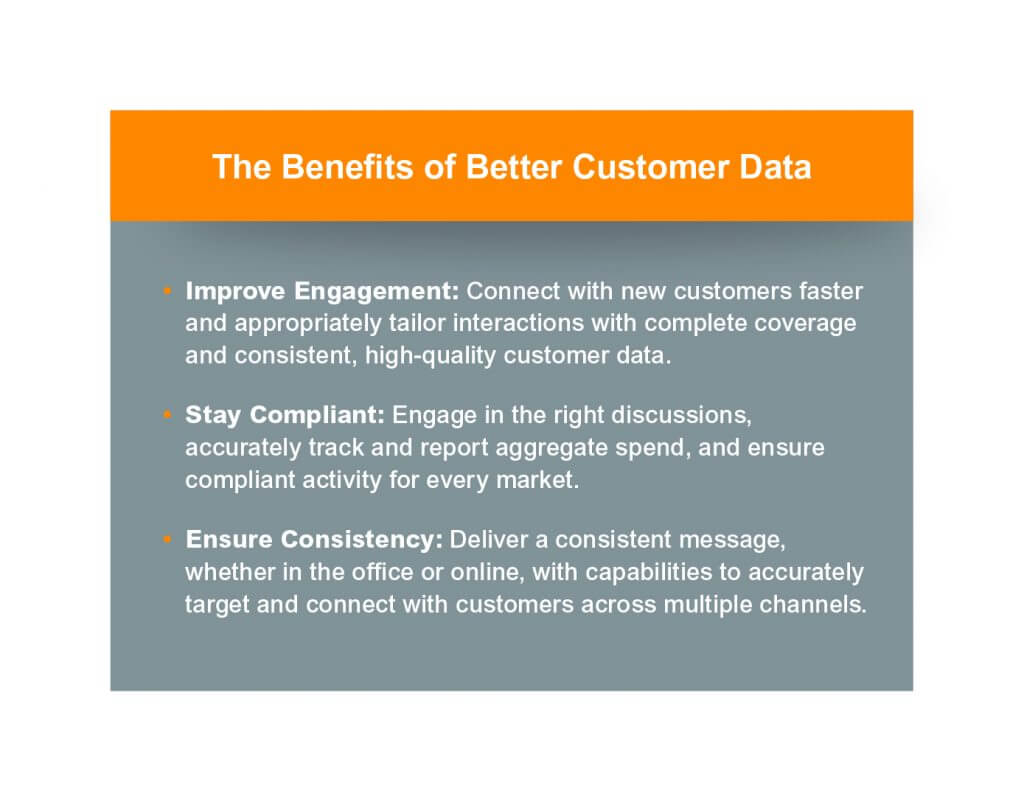 Accurate customer data is essential to increasing sales and marketing efficiency, improving analysis and decision-making, and gaining a complete, real-time view of the customer. When the right customer data flows into a CRM system, sales teams can drive meaningful interactions with HCPs and stay ahead on compliance efforts. For example, accurate specialty data in CRM helps sales reps avoid the potential for off-label detailing.
As a result, three-quarters of life sciences decision makers are prioritizing customer data quality initiatives to operate more effectively in today's multichannel commercial environment.4 A greater emphasis will be placed on data quality to deliver clean, complete, consistent information that the entire company can leverage.
Now is the time to overcome your data limitations. Following are five essentials to improving data quality and achieving greater sales success.
Essential #1: Eliminate the Burden of Data Integration
Many companies "own" integrating their data with their CRM software. Simplified data integration is possible in the cloud, and can remove the burden of data governance and help speed how you serve your sales teams the data they need. This will kick start your engagement efforts and help get the right information to customers through the channels they prefer. Also, avoid duplicating your data efforts by finding ways to consolidate data providers for customer demographic data and compliance data, for example, to get more consistent, accurate information.
Essential #2: Get Proactive on Compliance
Compliance rules are tough to keep up with, especially for busy sales and marketing teams. Put dedicated data resources in place to monitor state and federal changes for you, so that data is ready in advance of any new regulations. This will ensure your data is complete before you need it and safeguard reps against non-compliant activity.
Essential #3: Leverage Expert Data Stewards
Identify an expert data stewardship team that can maintain customer data more effectively, less expensively, and more quickly. Leverage their in-depth processes for continually monitoring your data, analyzing it, making updates, and eliminating data duplication or inconsistencies. Data stewards can deliver the most accurate levels of data quality and timeliness so that reps have the information they need to be effective.
Essential #4: Get Updated Records in Days, Not Weeks
Old data leads to frustrated sales reps, missed opportunities, and an increased compliance risk. Sales teams often work with outdated information, such as physician specialties or information preferences, because data change requests take weeks or months to complete. The standard should be at most three days – less if that is what your business requires. Don't settle for slow data change requests. When customer information is updated faster, your sales force is more productive and compliant.
Essential #5: Know Your Data Roadmap
Many data quality problems arise due to data vendor limitations.5 Understand your vendor's documented plan for delivering innovation in their data services, such as emerging specialties and new healthcare organizations, so that you can effectively plan and ensure that your data is meeting your current and future requirements. It's important to make sure that regulatory changes are on the roadmap and that your data provider can deliver in advance of regulatory deadlines.
Get the Most Out of Your Data
Customer data is foundational to developing the correct business strategies and tactics, as well as maintaining regulatory compliance. Good data is key to powering your technology. By taking a hard look at your data now, you can set your sales teams up for success and, most importantly, deliver the right information that HCPs rely on.
###
Learn more:
Contact: Request your complementary data health check
News: Industry Survey Reveals Transition Underway to Improve Customer Data Quality
eBook: A Single Source of Customer Data to Optimize Engagement
1AccessMonitor 2014 (ZS Associates), July 2014
2The Veeva 2016 European Customer Data Survey (Veeva Systems), December 2016
3Veeva internal company estimate.
4The Veeva 2016 European Customer Data Survey (Veeva Systems), December 2016
5The Veeva 2016 European Customer Data Survey (Veeva Systems), December 2016
Interested in learning more about how Veeva can help?