How a Top 20 Pharma Used eTMF as a Strategic Asset to Transform Operations
Jan 06, 2022 | Hugo Cervantes
A top 20 pharmaceutical embarked on a digital transformation initiative to drive inspection readiness and operational efficiencies with Veeva Vault eTMF.
The company once relied on paper management of its trial master file. However, the company's director and head of clinical documentation guided the company through a digital transformation initiative that enabled it to achieve best-in-class inspection readiness. We sat down with her to discuss this transformation and the lessons learned.
Q: What was the business landscape at your company prior to and after the launch of Vault eTMF?
A: Our company has three business units to discover, develop, and manufacture innovative vaccines, medicines, and healthcare products. Before, each business unit operated in completely different ways and with conflicting processes, such as how they defined which critical documents required quality checks.
By moving to a digital eTMF, we realized important advantages, including alignment among our three business units. They now operate and speak with one voice, which is important for internal alignment and also for external communication with CROs, sites, and regulators.
Q: How did you roll out Vault eTMF across your company?
A: We managed the project in four steps, which started with a seven-month pilot phase. The pilot phase allowed us to test, refine, and measure effectiveness before rolling out Vault eTMF for all new studies. After go-live, we migrated legacy data from the legacy systems into the Vault eTMF in two waves.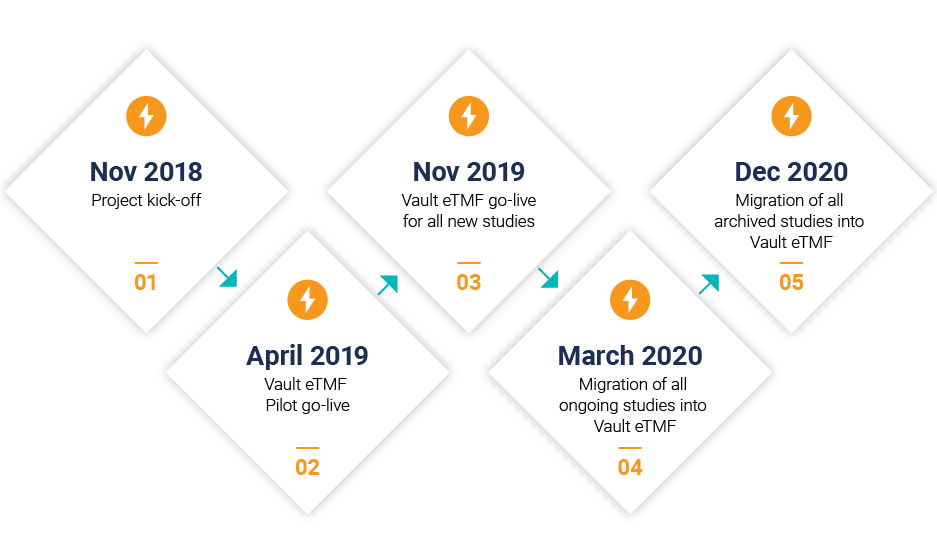 Q: What made the program a success?
A: There are three key building blocks for a successful launch: a purpose-built application, a clear process, and an engaged organization. You can have the best and most beautiful application in the world, but if you don't have a process that clarifies the roles and responsibilities for study teams and if you don't have an engaged and trained organization, your system will not be used properly.
Our four-step process allowed us to meet key milestones including managing more than one million documents, engaging more than 5,700 internal and 11,700 site users, and managing 740 active studies.
Q: How will you continue to optimize and refine your TMF process post-launch?
A: We will continue to improve the way we use our eTMF as a strategic asset for ongoing inspection readiness. Data from preliminary metrics suggest we can further build on the program, including:
Further simplify our processes, with a focus on ensuring a sustainable compliance culture
Build capability on our teams via an ambassador network to connect users and a dedicated resource on each study team to help implement the eTMF process and coordinate quality checks
Improve oversight and monitoring with department-level KPIs to drive eTMF completion, timeliness, and quality
Q: What's next in your company's digital transformation?
A: We'll continue to evaluate opportunities to simplify the journey of our users and work closely with Veeva, adopt the benefits of new releases, and align across applications including Vault Study Startup and Vault CTMS. We'll also look to increase automation and build further reporting capabilities.
To learn more, access the TMF Trend Report for five trends to watch in 2023 and tactics to prepare your organization.
Interested in learning more about how Veeva can help?