How GSK's Field Reps Save 30 Minutes a Day With Veeva CRM MyInsights
Mar 15, 2023 | Phil Wellerstein
GSK's field teams use Veeva CRM more than any other tool in their day. So, when I first heard about Veeva CRM MyInsights and the tailored experiences we could create for our reps, I knew right away this was something we had to try.
Since implementing MyInsights three years ago, we've made a number of impactful customizations at GSK. They've helped us with everything from pre-call planning and affiliations management to our direct-to-practitioner (DTP) sampling process.
Here's how we made our reps more efficient by embedding unique insights and functionality into the Veeva CRM interface.
Saving reps 30 minutes a day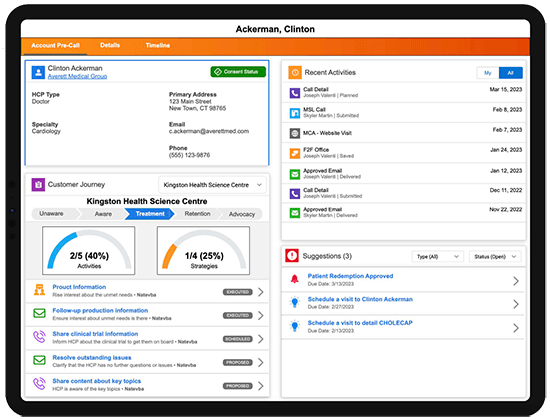 We began by building a pre-call planning page with the help of Veeva's Technical Services Team. This was an excellent place to start because it was immediately useful, and we could tangibly measure the benefits it brought to our field teams.
We designed the pre-call planning content to help reps prepare for a call more quickly by showing them all necessary information while removing any extra noise. A single, cohesive view brings together data from several different places in Veeva CRM and puts it front and center for our field teams.
On average, reps reported saving 30 minutes per day in their pre-call planning alone with the MyInsights page. By not wasting valuable time searching for needed information while wading through extraneous clutter, our teams are better prepared for each meeting.
Updating affiliations faster and easier
At GSK, we allow users to create or break an affiliation between an HCP and an HCO. Before, that meant they had to go to the CRM details page with the related members list, find the right HCO they want to create or break the affiliation for and then go through the changes. It works, but it's several steps.
With Veeva's help, we're building this capability directly into a MyInsights screen so that when the HCP detail page is launched, the affiliations are there too. Then changing the status is simply a matter of clicking a button on the same page. With this page, we're giving our field reps only the most relevant information and enabling them to take action against it swiftly – all in one place.
Customizing the user interface
Another way I'm able to tailor Veeva CRM to our specific needs is with MyInsights Studio. I got hands-on experience with this last year after we moved to a fully DTP sampling process.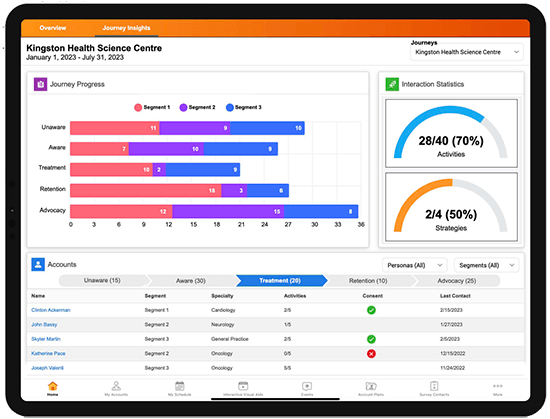 With physical samples, our reps knew what their inventory was and how many they could give out. But with the new virtual system, we utilize sample limits to show the quantity remaining. Unfortunately, reps could only see those limits when they were in front of an HCP asking them to sign up for samples.
With MyInsights Studio, we're able to show each rep exactly how many samples they had left – and setting it up was a lot easier than I thought. I didn't need any coding knowledge; I was able to pull together my own content and deploy it quickly.
Tracking usage in the field
With some help from Veeva's Technical Services, we are able to capture all information about rep usage. Once our MyInsights pages are live, Every activity, box they click on, and dropdown they select is all recorded and collected so we can analyze it on the backend.
We want to make sure that the pages are accessible and interactive so that our field reps are actually gaining value from them. If we find low usage, we revamp or discontinue the content. This way, we can adapt to our field teams' needs and cut down on clutter.
GSK's roadmap with MyInsights
Sometimes I'm asked, why don't you ask Veeva to make a change to their CRM product? And my answer is simple: A lot of what we're doing with MyInsights is not an industry enhancement that would warrant that kind of significant change. It's usually something specific to us, and MyInsights allows us to address these. When it is an industry enhancement that we're after, I have faith that Veeva will make that update.
We've got a number of launches coming up and enabling our reps to collaborate better and more effectively will be crucial to our GTM strategy. Our field teams are now more efficient thanks to tailored Veeva CRM experiences using MyInsights.
Learn more about how GSK leverages MyInsights in this webinar.
Phil Wellerstein has worked for GSK for over 20 years. In his current role, he oversees strategy and operations across all therapy areas in GSK's US Commercial Organization.
Interested in learning more about how Veeva can help?