Risk-Based Monitoring: Let's Bring Simple Back
Mar 29, 2018 | Henry Galio
Henry Galio, Senior Director, Veeva Vault CTMS
Risk-based monitoring (RBM) has been in the spotlight recently, due in large part to the ICH E6 (R2) Addendum, which requires the implementation of improved and more efficient approaches to clinical trial design, conduct, oversight, recording, and reporting.
The goal of RBM is simple – to enhance patient safety, improve the quality of clinical data, and drive efficiencies in clinical research and development.
While the aim is simple, the implementation of RBM strategies is proving to be more complicated.
In fact, despite RBM's exciting potential, industry adoption rates are lagging.
A recent Metrics Champion Consortium (MCC) survey1 reported that while 75% of respondents use RBM on a pilot basis or supported by centralized analytics, only half (50%) use RBM in pivotal trials, and a majority (62%) continue to use traditional 100% source data verification (SDV).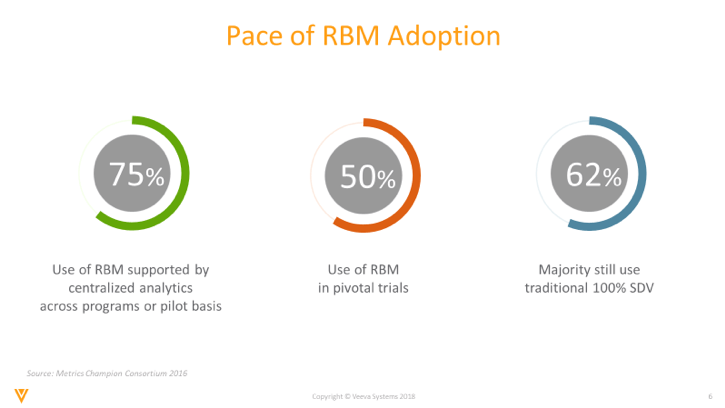 1Korieth, K. (2017). Tracking adoption of risk-assessment and RBM. CenterWatch Publications.
This data begs the question: why has the industry been slow to embrace RBM?
It is widely acknowledged that moving to a systematic and centralized risk-based monitoring approach requires significant change management in how trials are conducted, as the method involves coordination between many different departments, processes, and systems within an organization.2
Moreover, to show compliance with the revised guidance, companies must document and defend the rationale for the chosen monitoring strategy, including the use of systems and processes to ensure robust trial conduct, oversight, and reporting.
Until recently, limitations in available technology solutions have made it difficult for organizations to fully incorporate RBM within their clinical trial processes, including support for remote monitoring, and real-time analytics and reporting.
Fortunately, advancements in cloud technology help organizations address these challenges and implement risk-based monitoring strategies that continuously manage quality throughout a trial's lifecycle to comply with the revised ICH E6 (R2) guidelines.
By embedding risk-based monitoring strategies into clinical trial design and conduct from the start, a modern cloud-based approach enables organizations to recognize the full potential of RBM – enhancing patient safety, improving the quality of clinical data, and driving efficiencies in clinical research and development.
It's that simple.
To learn how cloud-enabled solutions provide real-time insights and actionable analytics to improve clinical trial safety and performance, watch a short presentation here.
2Korieth, K. (2017). Tracking adoption of risk-assessment and RBM. CenterWatch Publications.