Six Signs Your CTMS is Ready for an Upgrade
Oct 29, 2019 | Henry Galio
In a recent industry-wide survey, clinical operations leaders reported that legacy CTMS applications limit operational efficiency.1 Many respondents noted multiple, compounding issues, such as a poor user experience, technical malfunctions, slow response times, difficulties integrating to multiple data sources, and lack of reporting.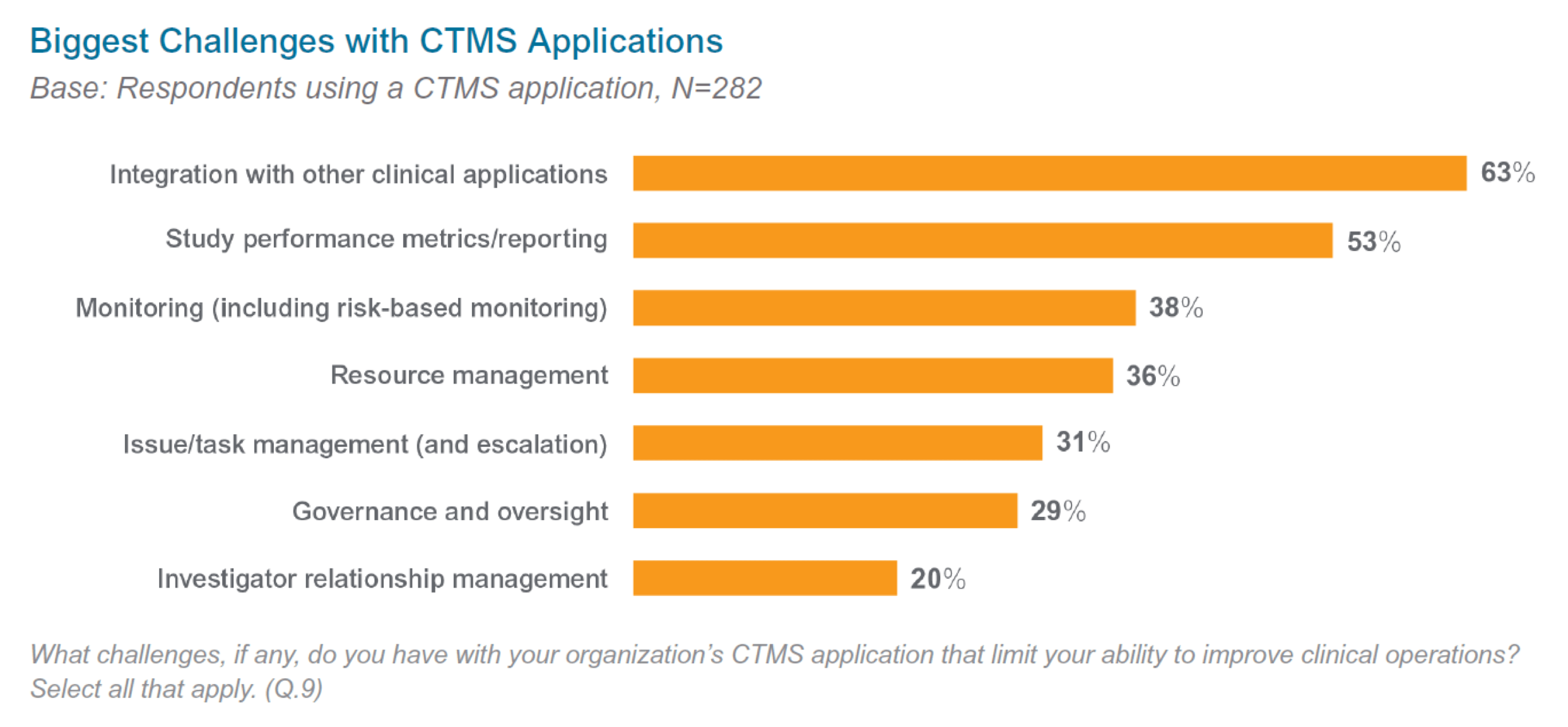 Clinical teams then rely on manual processes to augment legacy CTMS, resulting in duplicate efforts and trial delays. So how do you know it's time to make the move from legacy CTMS? Review the six signs below:
You spend much time manually capturing and tracking protocol deviations and follow-up items for trip reports, reconciling information, and double-checking reporting accuracy.

Monitoring accounts for 25-30% of overall study costs,2 so it's imperative that monitoring is accurate and timely to avoid trial delays. Yet manually tracking information for monitoring reports slows down critical processes, a clear sign you're ready for a CTMS upgrade.

Clinical teams turn to local file shares and emails to collaborate outside of the CTMS because the system is too hard to use.

Poor usability and manual data entry force users to work outside of the CTMS, adding another information source for administrators to track and reconcile. This also limits productivity, which also negatively impacts trial timelines.

You don't have real-time visibility throughout the study due to poorly integrated systems.

CTMS applications require interoperability with other clinical systems to support timely decision-making, oversight, and streamlined communication among stakeholders.3 But custom integrations are expensive to maintain, with the average annual cost of maintaining a single integration hovering around $75,000.4 If you don't have real-time views of study progress, that's an indicator you need a modern CTMS.

Heavy customizations and poorly integrated CTMS applications limit visibility, making required oversight difficult.

Companies must document and defend the rationale for their chosen monitoring strategy, including the use of systems and processes to ensure robust trial conduct and oversight.5 Without real-time visibility into the full lifecycle of a trial, ensuring oversight becomes difficult.

Investigator safety notifications are distributed via post or email, and all confirmations, tracking, and follow-up activities are manual.

By 2020, sponsors are expected to outsource 72% of clinical trials to CROs.6 Co-development of drugs and multiple CROs per study will lead more users to supplement with Microsoft Excel spreadsheets, paper documents, and scanning for information tracking and exchange. Increasing operational efficiency and reducing administrative burden in an outsourcing model requires greater collaboration across study partners, which is difficult to achieve with manual, paper-based methods.

You're unable to assess the health of your trial because creating reports involves disparate tools and spreadsheets.

Reporting and analysis are constrained when using multiple tools and reconciling information from disconnected datasets adds additional steps. As 48% of sites fail to meet their enrollment targets7, proactively identifying low-enrolling/no-enrolling sites becomes even more crucial. If you are unable to pull this information quickly and easily from your legacy CTMS, that's a clear sign it's time for an upgrade.
These six key signs will help you determine if your organization could benefit from a CTMS upgrade. For more industry trends and drivers for improvement, watch this webinar. Read the next blog in our series, "How to Assess the Health of Your Trial Management Operations."
___________
1. Veeva 2019 Clinical Operations Survey
2. www.clinicalleader.com/doc/measuring-the-financial-impact-of-remote-digital-clinical-trials-0001
3. First Analysis Securities Corporation. eClinical Solutions: Streamlining the introduction of new drugs and medical technology. January 2018.
4. Source: Veeva Value Engineering Analysis
5. Integrated Addendum to ICH E6 (R1): Guideline for Good Clinical Practice E6 (R2). 2016.
6. Research and Markets: The New 2015 Trends of Global Clinical Development Outsourcing Market. January 2015.
7. Mary Jo Lamberti and Kenneth Getz. Profiles of New Approaches to Improving the Efficiency and Performance of Pharmaceutical Drug Development. Tufts CSDD White Paper. 2015