Six Tips for Driving Successful Remote Meeting Adoption
Jun 09, 2021 | Sebastien Noel
Remote meetings proved their relevance as an alternative to face-to-face interactions and as a channel for more profound and meaningful HCP interactions. This shift from primarily face-to-face engagements to purely remote meetings has disrupted existing processes, mindsets, and approaches.
Life sciences companies need to adapt their multichannel strategies and address roadblocks to thrive in this landscape.
Here are six tips to consider to help your commercial teams better leverage digital engagement capabilities.
1. Overcome internal resistance
Changes, whether minor or significant, generate resistance. Introducing a new and unfamiliar channel can trigger fear, anxiety, or denial with your field force. Managers and sponsors have essential roles in handling this resistance, ensuring clear value communication for reps, KAMs, MSLs, and the entire organization. By understanding the field force's receptiveness to change, you can create an engagement plan to ensure that they feel heard and supported throughout the process according to their reactions to change.
Common Reactions to Change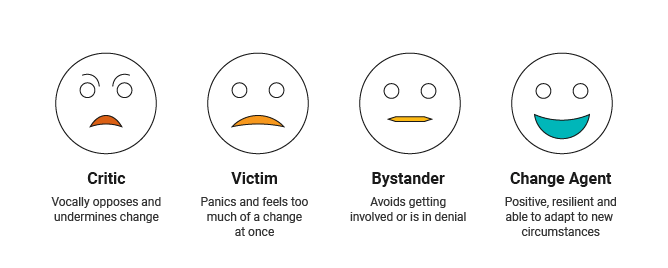 For instance, see how you can leverage your change agents as champions or buddies to help critics or victims move up the scale. Ensure that everyone in the team understands that they are core enablers of the digital strategy.
2. Optimize content for remote meetings
Over the last year, roughly 80% of virtual meetings used compliant, pre-approved commercial content versus just 30% of face-to-face HCP calls.1 While leveraging existing CLM (closed-loop marketing) content for remote meetings may seem intuitive, it is worth considering the differences in delivery between in-person and remote channels. For instance, body language and expressions are essential to a face-to-face presentation, and slides are merely visual aids. For remote meetings, however, slides are the forefront of the interaction. By optimizing your content, reps can follow up with more detailed information through approved e-mails or self-service HCP portals. Another tip would be to work closely with marketing teams to close the loop on the interaction and collect feedback from reps and HCPs to adjust the content accordingly.
Top Content Elements to Consider for Face-to-face vs Remote Meetings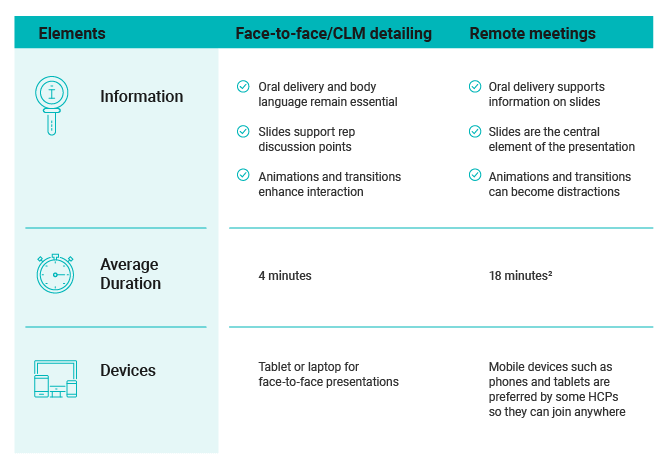 3. Develop a robust training program
A robust training program for reps is critical in successful remote meeting adoption. To maximize impact, create a separate program for technical training such as basic troubleshooting and interface tips and tricks. Complement this program with soft skills training to help your reps navigate through the intricacies of a remote meeting.
Your soft skills training plan can revolve around these three areas:
Telegenic skills to manage eye contact, tone, and pace.
Active listening skills to ensure engagement and minimize distractions.
Time management skills to respect and maximize your time with your customer.
Role-playing is also a crucial element to put theory into practice and ensure the maximum effectiveness of the program. Role plays represent significant efforts for a company as it relates to adoption. They are more effective if done within a structured training program.
Ultimately, the most critical aspect of any training program is ensuring first-line managers, district managers, or sales managers' involvement in the program. By involving the local leadership teams, they can influence adoption and provide valuable insights and feedback to adjust your training program.
4. Think of creative ways to gather consent
Consent capture plays a significant role in ensuring customers remain engaged with your company across the end-to-end multichannel experience. While consent is not required to engage in some touchpoints, it enhances the customer experience by allowing more avenues for engagement and tracking the end-to-end customer journey.
An Example of an HCP Multichannel Consent Journey for Natevba®*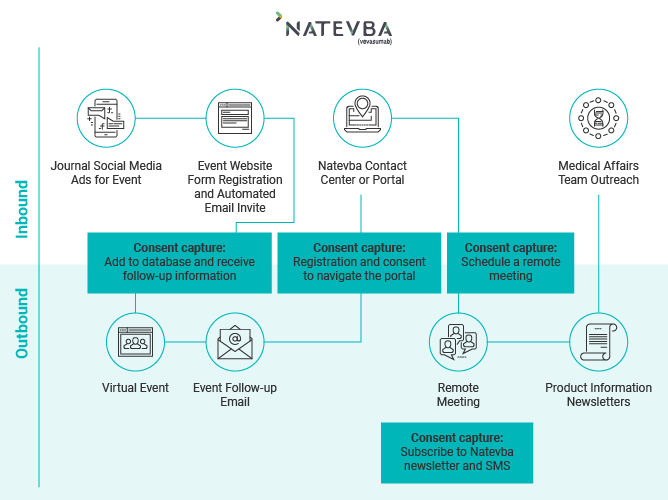 Having a solid consent strategy allows your company to move from a push to a pull marketing approach and leverage insights to optimize the customer journey.
5. Work closely with compliance teams
As a highly regulated industry, life sciences companies face unique challenges in accelerating their digital transformation. The recent shift to remote engagement provides an opportunity to challenge ways of working between commercial and compliance teams and collaborate on more compliant operating models.
For instance, in some European life sciences companies, field teams still gather consent via paper. With digital channels, commercial teams gain more visibility and traceability into customer activities. By working more closely with compliance at the beginning of your implementation, you can anticipate potential roadblocks and future-proof your processes.
6. Test and develop new use cases
Most life sciences companies view remote meetings as a substitute for face-to-face engagements when physician access is challenging. There are multiple ways to get the most out of this channel beyond a traditional meeting. See how to leverage this channel to help HCPs in their daily practice, like patient support programs or other initiatives that complement traditional meetings. Find ways to adapt these programs and expand to other stakeholders such as pharmacies and nurses.
As life sciences companies, HCPs, and patients navigate the changes brought about by the accelerated digital transformation from the past year, implementing remote meetings provides learning opportunities for the industry. Life sciences companies can innovate and adapt engagement models and expand to other digital channels such as virtual events to establish more meaningful connections with customers.
Visit this page to learn more about how virtual meetings are driving more meaningful HCP engagement.
___________________________________
1. Source: Veeva Pulse Data, global comparison from March 2020 to May 2021
2. Source: Veeva Pulse Data, global comparison from March 2020 to May 2021
* Natevba® is a fictional drug. This graphic is for illustration purposes only.