Speed Content Creation and Reduce MLR Bottlenecks: What's New in Vault 19R3
Nov 04, 2019 | Emma Hyland
At the 2019 Veeva Commercial and Medical Summit, we announced two new capabilities to help you streamline content creation and get a more complete picture of your medical, legal, and regulatory (MLR) review process.
I'm excited to share that both features – Vault Auto Claims Linking and Standard Metrics – are available to customers in our 19R3 release:
Vault Auto Claims Linking: automatically generate reference links when reviewing promotional claims
Standard Metrics: track metrics with greater consistency to optimize content creation
We're also highlighting 3 more features during this release, and sharing an update on our new Vault Content Partners program:
Veeva CRM Data Sharing: get a 360-degree view of your medical inquiries and associated information – regardless of whether you raise them in Vault MedComms or Veeva Medical CRM
Adding Roles to Optional Tasks: add reviewers from any role to the middle of a workflow
Automated Image Renditions New Support Capabilities: create image renditions for Adobe Photoshop and Illustrator
Vault Content Partners Program: learn how we've evolved Veeva's Content Partner Program to better serve our customers from content creation through distribution
See a deep-dive of these features and announcements below:
Vault Auto Claims Linking
Artificial intelligence has changed the way companies and people process and receive information, from creating a more personalized shopping experience to predicting the weather.
AI has also shown great promise in the life sciences industry. Doctors and pharmaceutical companies are already using AI to predict patient outcomes and research new life-saving treatments. AI will also help simplify meticulous yet important tasks like verifying promotional claims.
By law, all life sciences companies are required to substantiate every promotional claim with the correct evidence – a process that often requires hours of diligent, manual work.
In many cases, companies pay large fees to outsource this process to agencies. But with the possibility of human error, there's no guarantee that references will come back 100% accurate – which may cost companies even more time and money.
Vault Auto Claims Linking is the step change that will transform our ways of working and solve this problem. With the power of AI, Vault PromoMats automates the creation of reference links on claims made within a promotional material. After scanning a library of claims, Vault annotates each claim in a document with a link to the supporting reference information, such as a clinical study.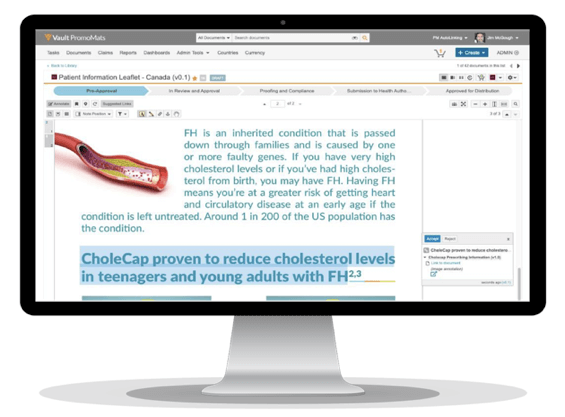 For medical, legal, and regulatory reviewers, Vault Auto Claims Linking gives them the peace of mind that promotional claims are substantiated by the right references. This saves these time-constrained resources the worry of double-checking the accuracy of reference links. In one click, they can easily find the relevant study that supports each claim.
As a result, teams no longer have to stress whether claims link to the right reference document. They can also lower costs on additional agency hours and instead focus their efforts on producing great materials.
Vault Auto Claims Linking Update from Peter Gassner
Standard Metrics
Our next feature of 19R3, Standard Metrics, will help customers optimize content creation and track metrics with greater consistency.
Many teams struggle to understand certain aspects of their MLR process, such as the length of a review cycle or content cost. Without a uniform way to track these metrics, it's difficult to address bottlenecks that slow material time to market.
With Standard Metrics, customers can unlock key insights to better gauge how efficiently their content moves from draft to distribution. Standard Metrics achieves this by providing a built-in picklist to organize documents. Categorizing materials according to a specified set of doc types enables Vault PromoMats to automatically calculate key data points about the MLR process, such as:
How long different content types spend in review
The number of review cycles by content type
How long different content types take to become approved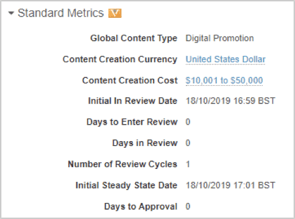 Teams get instant access to this information through Vault's reporting and dashboards and can use this data to pinpoint possible process bottlenecks.
What's more, the power of Standard Metrics isn't limited to just your company's data. As more customers use this feature, we will begin to define industry-wide benchmarks so you can compare your company to other organizations. For example, you can look at approval times for different types of content and determine whether your company is operating better than, at, or below average. This context will empower teams to identify areas where they can sharpen processes even further.
Standard Metrics is available as an opt-in feature for 19R3. It will be required for 20R2 (August 2020).
Standard Metrics Update from Peter Gassner
Veeva CRM Data Sharing in Vault MedComms
On the medical side, we are focused on strengthening the value of the connected medical ecosystem by improving the exchange of information between Vault MedComms and Veeva CRM.
With CRM data sharing, teams can now view and manage medical inquiry cases raised in both Vault MedComms and Veeva CRM.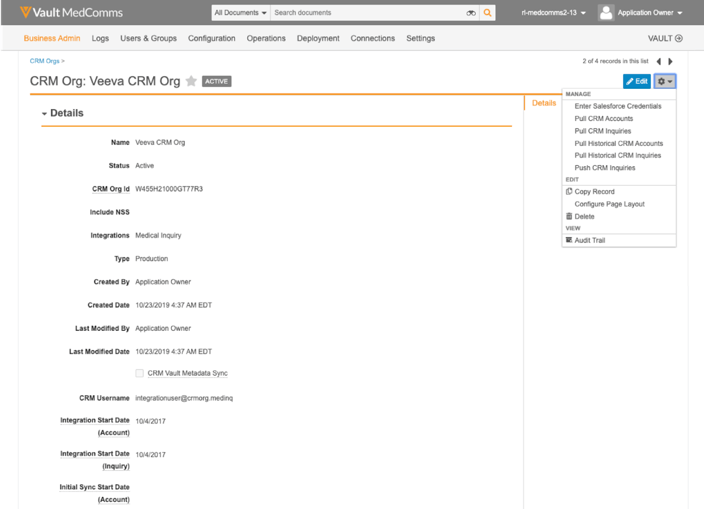 Let's say an MSL raises a new medical inquiry case in Veeva CRM. This integration allows any relevant information and account details to flow seamlessly from Veeva CRM into Vault MedComms. Vault MedComms then recognizes the inquiry and automatically creates a new case within Vault. Medical teams can instantly begin resolving the case, saving teams the extra steps and hassle of manually transcribing this information.
Back in Veeva CRM, the field force can now view case status information for their aligned accounts. This gives field users – who traditionally don't have access to Vault MedComms – insight into case progress, providing them a 360-degree view of all interactions to enable better customer engagement.
Our last two features of 19R3 focus on simplifying everyday tasks and reducing time spent on manual work.
Add Roles to Optional Tasks
Traditionally, Vault users can add new reviewers in the middle of a workflow – but only if the role exists at the beginning of the cycle. For cases where the role is not defined, uses had to either cancel the workflow entirely, or create a new cycle with these reviewers.
Our customers have asked us for a simpler, more streamlined way to include participants after a workflow has started. Now, we've expanded this functionality across all roles in Vault. This enables workflow owners to add participants from any role at any time.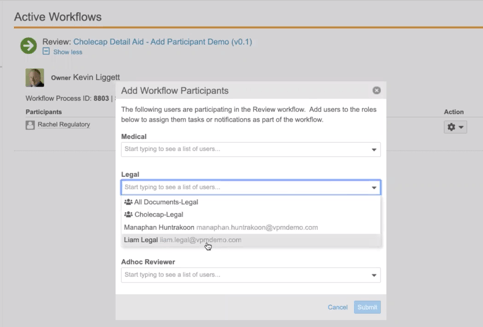 For example, if you initiate a review with medical and regulatory who later ask for input from legal, you can simply add this new role to the workstream without disruption. This not only streamlines review and saves cycles, but also ensures that the right people review content at the right time.
Automated Image Renditions for Photoshop and Illustrator
Our dedicated focus on digital asset management (DAM) is giving customers more control over their content as they continue to evolve their DAM processes and strategies.
Back in 19R1, we released Automated Image Renditions, which allow users to define up to 15 image renditions that Vault creates at the point of upload. For instance, when uploading a TIFF file, users can instruct Vault to also develop PNG and JPEG versions of the image. This helps teams cut down on time spent reproducing and replicating files.
In 19R3, we've expanded this feature to support Adobe Photoshop and Illustrator native formats. When uploading any new images, you'll now have the ability to generate these formats with one click. You can also create Adobe renditions for images already in Vault – simply re-render the document, and instruct Vault to produce these file types.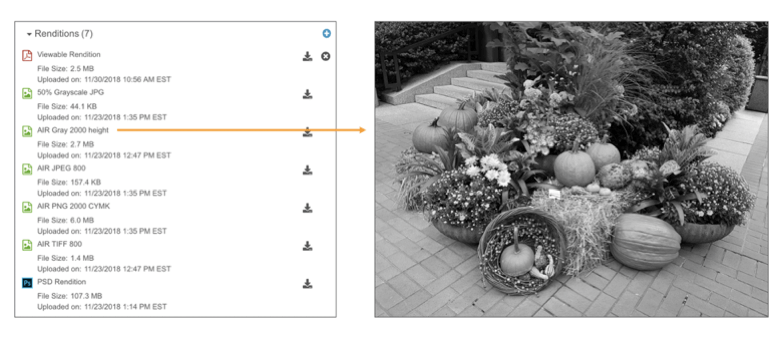 Support for Adobe native formats will enable customers to automate more processes as they continue to explore new areas for DAM innovation, like modular content.
For example, some teams are beginning to use InDesign packages — which include photoshop files — as content modules. With this feature, customers can quickly convert the photoshop file to a high-resolution image that they can use for other channels like web and email. Teams no longer have to create these images manually. This helps them save time and maintain compliance by ensuring the right image is used for the right situation.
Vault Content Partners Program
Ensuring customer success with Vault PromoMats requires more than just developing new features. We're also dedicated to providing customers with access to the right resources, services, and partners so you can focus on delivering life-saving treatments to the patients who need them.
In addition to these new feature enhancements for 19R3, we've also evolved Veeva's Content Partner Program to better serve you.
Marketing, brand, and commercial operations teams work with many external agencies, spanning content creation to rights management. As a result, it's crucial that these partners can provide you with the right level of assistance to achieve your goals.
Veeva is proud to offer customers an extensive and robust partner program that provides support for Veeva's multichannel products. We are expanding our partner ecosystem to cover the full content process, from creation all the way through distribution.
As a Vault customer, you can now get expert advice from certified Veeva partners in areas such as digital asset management (DAM), modular content, Brand Portal, and more.
Interested in learning more? Check out veeva.com/contentpartners, or contact contentpartners@veeva.com.
If you'd like more information on the key features for 19R3, check out the release kit or
visit the Veeva Support Portal. We'd love to hear from you.