The Future of Clinical Development
Jun 30, 2017 | Laurie Wood
Highlights from Veeva's 2017 Unified Clinical Operations Survey Presentation at #DIA2017
Over 7,000 life sciences professionals from more than 50 countries came together in Chicago last week to discuss the future of clinical development and share their valuable experiences at the DIA 2017 Global Annual Meeting. The 53rd annual meeting provided a rare opportunity to meet people from around the world in an open exchange of ideas, research, and trends impacting the global life sciences community. Veeva was delighted to attend the conference and participate in the numerous activities and discussions taking place throughout the event.
In his DIA Innovation Theater presentation, Veeva's Michael Burton presented the findings from Veeva's 2017 Unified Clinical Operations Survey. As one of the industry's largest global surveys, the research found that 99% of respondents see the need to unify clinical processes and systems for faster study execution, improved study quality, and lower costs.
Top Drivers of Unification

To the degree your organization needs to better integrate/unify the clinical applications identified in question 3 (e.g., CTMS, EDC, eTMF, etc.), what are the most important drivers? Select all that apply. (Q.5) Percent of total respondents, N=300
To help explain this concept of clinical unification, Michael used the analogy of shopping on an iPhone. Consumers research products, read reviews, view product videos, shop for the best price, and buy online in one seamless experience. At no point does the user need to log in and out of different applications. All the heavy lifting takes place behind the scenes on modern technology platforms, designed to provide the best possible user experience. This concept can similarly be applied to improve clinical operations.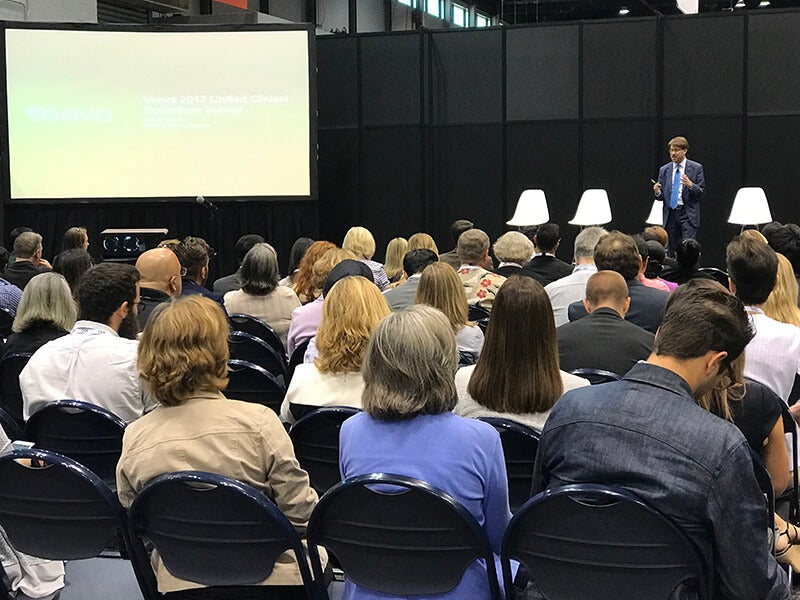 Veeva's Michael Burton explaining unification and delivering the findings of the
Veeva 2017 Unified Clinical Operations Survey
Take, for example, the current clinical ecosystem. Most sponsors report using an average of three to five different applications, each supporting a discrete area, creating information and process silos that prevent efficient study execution and severely limit study visibility. Unlike the seamless iPhone example above, most of the challenges sponsors face today in managing clinical trials stem from the disparate nature of their processes and systems. Nearly all survey respondents cited at least one major challenge with their clinical applications and the top two issues – integrating multiple applications and reporting across applications – are a direct result of system silos.
It is no wonder then that the study reveals universal agreement that organizations need to unify their clinical applications, including EDC, CTMS, and eTMF. The research finds that those who adopt modern, purpose-built applications report fewer challenges and see greater study benefits. And when unified, these applications enable life sciences organizations to establish repeatable, collaborative processes, and increase oversight and accuracy.
While managing clinical trials will never be as simple as ordering a product from an iPhone, there is a tremendous opportunity for life sciences companies to transform their operations and processes through a unified clinical environment.
Read the full global report to gain insight and analysis on the needs, barriers, and opportunities for unifying the clinical trial process.