Veeva Oncology Link
Build deeper relationships with the global oncology community.
With more than 6,000 products in development across all indications, the oncology pipeline is the biggest in life sciences today. Complex science, globalization, and competitive pressure mean engaging the right experts and making an impact is a challenge. Building strong relationships within the scientific community is the key to successful commercialization.
Veeva Oncology Link is an enterprise source of continuously updated oncology market intelligence for better planning and engagement. Tens of thousands of experts and millions of activities worldwide are consolidated into a single, complete source for medical and commercial. As a result, all teams can better coordinate and align around the scientific experts who can make or break the success of a drug. Deep, up-to-date customer insights enable companies to deliver more valued engagements and create a strategic network of scientific partners.
BENEFITS
Coordination: Easy collaboration across geographies, tumor types, and different functions.
Insights: Timely, in-depth customer and market insights.
Efficiency: Elimination of duplicative data spend and manual research.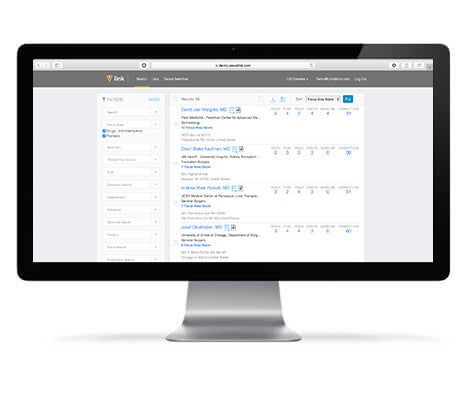 Features
EXPERT IDENTIFICATION
Identify all relevant experts around the globe based on tailored segmentation criteria. Easily search millions of activities and segment by affiliations, expertise, relationships, and sentiment toward companies, brands, and therapies.
EXPERT PROFILING
Gain a complete understanding of each stakeholder based on key criteria such as focus area, role, speaking interests, attitudes, the potential for engagement, and more.
SEGMENTATION MODELS
Easy-to-use Veeva Link software helps you segment stakeholders in real time, by scientific impact, experience, institutional affiliation, network, sentiment, and more. Link leverages powerful search, filtering, and list-building to make information more actionable to medical and commercial teams. This fine-grained segmentation makes it easier to coordinate around shared stakeholders and enables highly targeted engagement planning.
Learn More
LIST MANAGEMENT
Build and manage lists of scientific experts. Cross lists across geographies, functions, and tumor types to uncover synergies and improve coordination.
VEEVA CRM INTEGRATION
Reduce the complexity of reconciling siloed data sources with customer information in CRM. All oncology scientific expert accounts in Veeva CRM are hyperlinked to their corresponding profiles in Veeva Oncology Link, without the need for additional authentication.
DATA PRIVACY MANAGEMENT
Ensuring compliance with GDPR regulations, Veeva Oncology Link addresses data privacy regulations before data is delivered.
KOL Perspective on Industry Collaboration
[Video series] Learn how experts consume complex scientific information and how pharma can meet KOL expectations and deliver value through multiple channels.
Is Pharma Meeting KOL Expectations?
Delivering Value Through Multiple Channels
How KOL Consume Complex Scientific Informations