Veeva Vault PromoMats
Medical, Legal, and
Regulatory Review
Speed your content review and approval process.
Medical, Legal, and Regulatory Review
Speed compliant content review and measure performance for more personalized outreach.
Benefits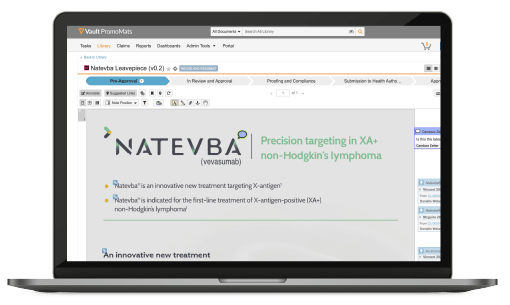 Optimized Workflows
Industry-specific workflows allow your medical, legal, and regulatory (MLR) teams to review and approve content faster.
Global Collaboration
Enables internal teams and external agencies to streamline content development.
Improved Compliance
A clear chain of custody with automated audit trails provides a single source of truth for global content.
Driving Efficiencies with MLR
57%
reduction in review cycle times
55%
reduction in time spent in MLR/PRC meetings
25%
reduction in time spent on compliance procedures
Automated Claims-Linking
Built-in claims library with reference links reduces the administrative burden and risk of managing claims across countries, channels, and assets.
eCTD Compliance Package
Generate submission-ready forms consistent with the latest eCTD requirements.
Flexible Review Workflows
Ensure global consistency while supporting local regulatory needs.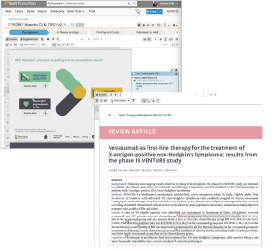 Roche
"The ability to bring everybody together and have the MLR review automated,
and the digital content stored on one single repository,
and to be able to push it out in a common way… that's amazing"
Excellence Operations Enterprise Marketing, Roche
Learn more

"It's important to recognize that MLR review is a requirement for all life sciences companies. It's critical to focus the resources we have to manage the process efficiently for all stakeholders, while ensuring we support the business in all our initiatives compliantly."
Manager, MRC and Medical Operations, argenx
Learn more
Previous
Next
Veeva Vault PromoMats Demo
Veeva Vault PromoMats Auto Claims Linking Demo
Previous
Next
Resources for Vault PromoMats
Learn more about Veeva Vault PromoMats