Veeva Vault Study Startup
Modernize and Accelerate
Study Start-Up
Eliminate costly delays by bringing together study start-up
activities and processes in one easy-to-use application.
Manage trial start-up activities
Vault Study Startup manages feasibility, qualification, and activation of research sites.
Simplify site selection
Feasibility surveys are sent to research sites during the site selection phase. Sites are automatically scored based on their response, and those selected are routed into the site activation process.
Drive site activation
Vault Study Startup drives site activation through standard tasks and milestones. These are controlled through provided and flexible country intelligence templates that specify the processes and documentation required before activating a site.
Get complete visibility
Information is collected, tracked, and presented in dashboard views to deliver visibility of start-up progress and timelines.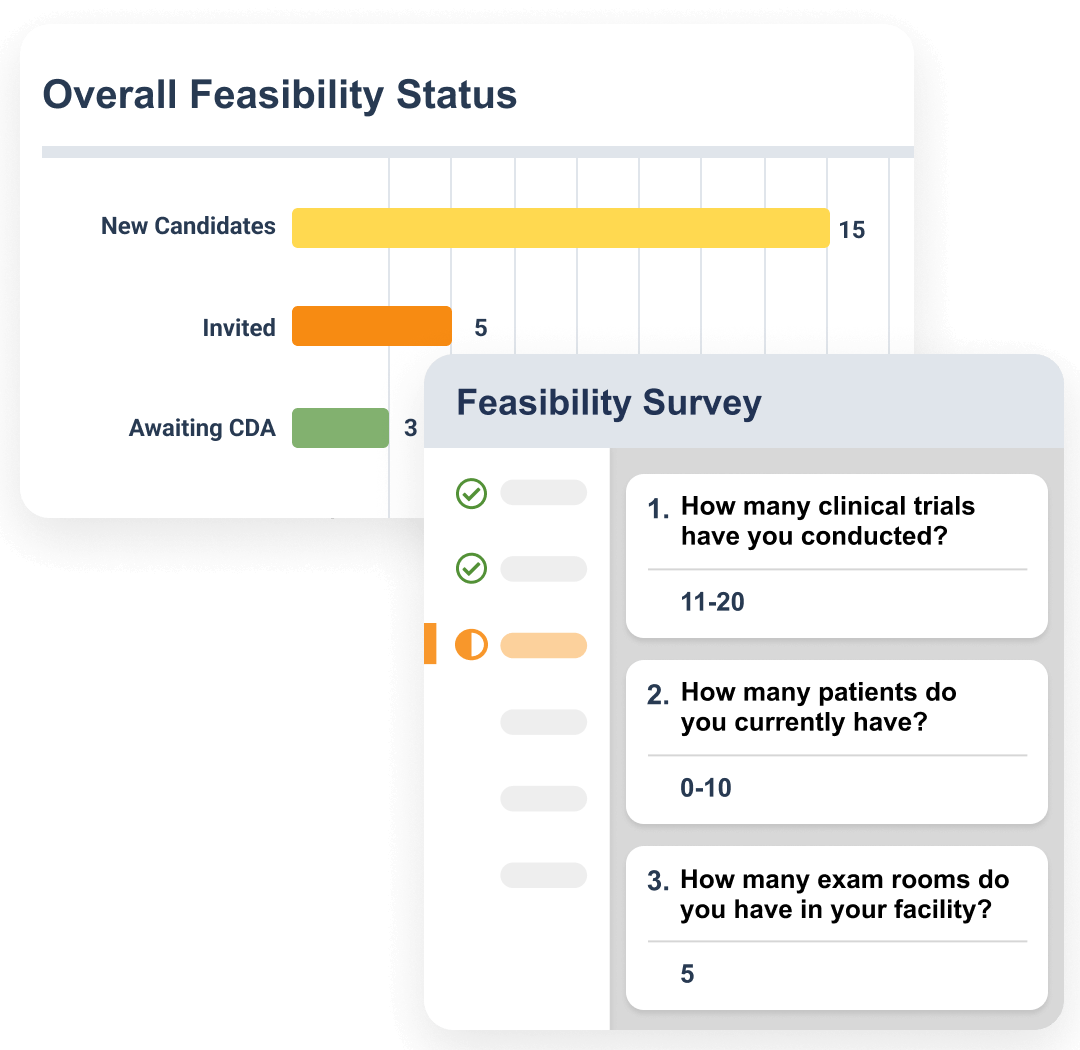 Why Vault Study Startup
Faster site activation
Speed study start-up

Streamline site selection and feasibility, ethics committee approvals, and site contract management to execute trials faster.

Enable effective collaboration

Achieve greater alignment across study partners through seamless exchange of trial information that drives better decisions.

Make better, more informed decisions

Get insight and prioritize dependent and at-risk tasks, documents, and milestones through automated critical path management.
Improve operational efficiency
30%
decrease in Site Selected to Site Activated cycle time
36%
decrease in Start-up Packet Sent to Activation cycle time
10
top 20 pharma activate sites with Vault Study Startup
"The addition of Veeva Vault Study Startup enables Ora to speed global site selection and activation."
Ed Leftin, Director, Clinical Systems
Ora
Learn more
"We now have a single place to track start-up activities for all global trials, providing visibility and transparency across the organization."
Lorena Gomez, Global Head, Study Start Up,
PRO Management, and Digital Implementation
AbbVie
"Our goal was to eliminate 90% of manual processes. We're on track to do even better than that."
Dewey Denham, Sr. Director, Global Quality Control
Fortrea
Watch video
Interested in learning more about how Veeva can help?