THOUGHT STARTER SERIES
The past decade has seen pharma systematically working to improve the way it engages with HCPs, primarily by leveraging digital to provide more personalized and impactful omnichannel experiences. New engagement models are being rapidly designed, implemented, and iterated in response to COVID-19, following what has already been a steady decline in physical access.
Despite the significant effort, many challenges prevent companies from reaching the holy grail of omnichannel—that is, seamless, orchestrated, and personalized—engagement. Some of these challenges are technology- or data-related; it can be difficult to create appropriate architectures or have the structured data needed to appropriately tailor engagement for the next customer touchpoint. A bigger struggle is in converting the paper exercises of an omnichannel strategy into actual execution.
While progress has been made to connect data and technology, a core execution barrier remains due to sales and marketing teams often being disconnected organizationally. Rep-sent email, however, offers a surprisingly quick way to overcome some of these challenges and build the connective tissue for an orchestrated, omnichannel approach.

Rep email is the connector
Veeva Pulse data shows that rep email is the most used digital channel by the field force.1 When used correctly, it can be an essential tactic in your omnichannel strategy by acting as the connector between physical and digital channels.
Rep email can provide a valuable touchpoint before and after face-to-face or remote conversations, enhancing its operational utility for meeting setup and follow-up. Content can also be tailored based on data or qualitative outputs of a previous touchpoint (i.e., whether an iPad detail slide received a positive reaction), and can contain links to content from other channels, such as internal portals, external research, or patient materials. This brings channels together and creates a more seamless flow of engagement that enhances the customer experience and increases impact.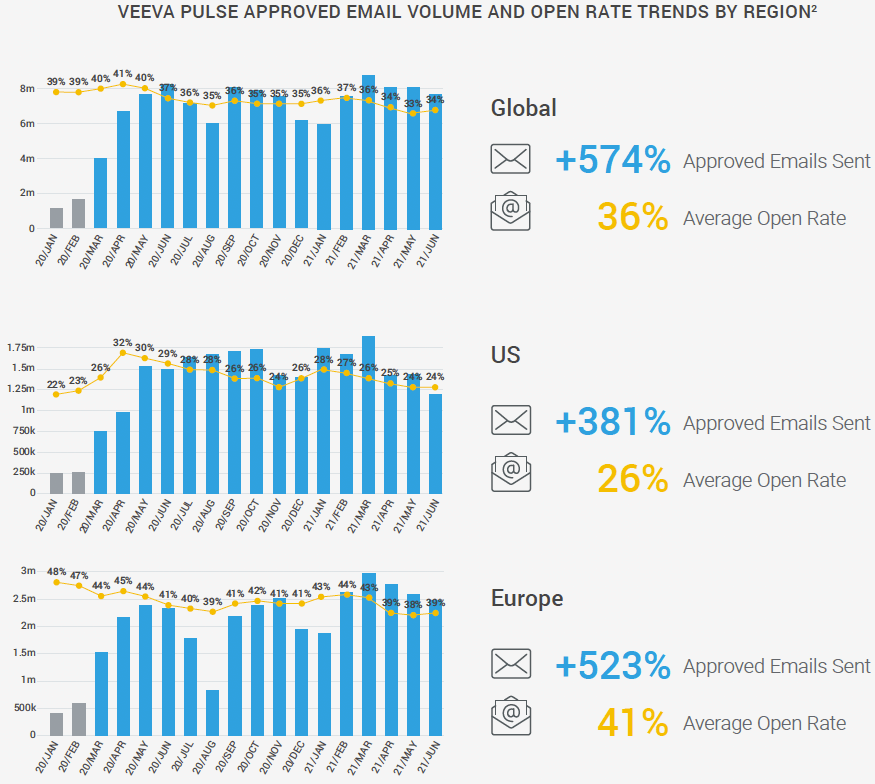 Enabling the hybrid field model
Rep email also enables field teams to become the curator of content and the orchestrator of multiple channels, which can ultimately enhance HCP experiences. To realize this potential, consider the following:
Take a use case approach: There are different types of rep emails, from delivery of information and information gathering to external connections and invitations. Defining these in your strategy is essential and helps focus measurement and execution.
Have a clear tagging strategy: A structured plan to tag and measure the effectiveness of each type of email ensures insightful and actionable data is generated. Comparing the open rates of meeting invitation emails against message-focused content can obscure valuable insights about what content is resonating.
Connect the field to the data: Ensuring the field has access to channel effectiveness dashboards helps empower them to drive this orchestration by revealing the value of each curated channel. Field teams must be in the driver's seat.
Create target HCP journeys: Impactful journeys bring together brand messaging, strategy, content, and channels to form an adaptable template for executing campaigns. Just be sure to include field teams in this design process.
This email-driven approach doesn't require big investment in new capabilities. But it does require focus on maximizing the value of existing channels through careful and organized execution. A rep email can connect meetings, leave behinds and patient downloads, specific portal content, webinars, and surveys—all of which can otherwise be islands of engagement.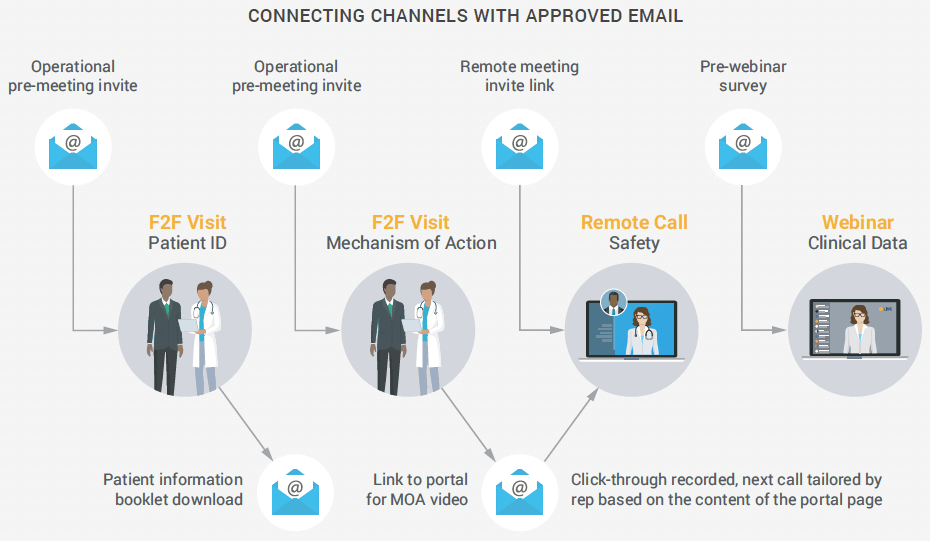 A note on email fatigue
With the rapid, COVID-induced shift to digital channels, email volume has increased significantly. While digital fatigue is an understandable concern, the data tells us a different story: Along with significant increases in email volume during the last year, we have also seen record high open rates of around 41%. The return to face-to-face engagement has seen this even out and decline slightly (~5%) but there is strong evidence that HCPs value this channel and are not getting fatigued by it.
That being said, setting targets for the usage of rep email is always dangerous. It is how you use the channel that matters, not the volume. The continued high open rates have proved that this digital channel, delivered personally by the field, is still well received by HCPs. As with any email, relevance is key.
Key takeaways

Barriers in technology, data, and operating models make omnichannel engagement difficult to achieve, but rep email offers a way to make some immediate improvements.
Emails can be used for a wide variety of use cases to act as a connector between physical and digital channels.
These connections allow reps to curate and coordinate HCP engagement across various touchpoints, putting them in the driver's seat to create better customer experiences.
---
Gareth Allott
Senior Consultant
gareth.allott@veeva.com
About Veeva Business Consulting
Veeva Business Consulting combines commercial and medical expertise with Veeva's proprietary data and technology to deliver better business focused solutions for our customers. Our team of experts offers a suite of advisory offerings, including launch readiness, digital acceleration, and content optimization, all supported through unique HCP insights and analytics.
To learn more, visit veeva.com/business-consulting.
1, 2 Veeva 2021 Global Pulse Report, Veeva, June 2021