3 Top Life Sciences Engagement Insights From Veeva Pulse Field Trends Report
Jul 28, 2022 | Dan Rizzo
Today, it's essential to have insights into when, where, and how life sciences field teams interact with healthcare professionals (HCPs) so you can make strategic and tactical decisions. There are many things to consider, from omnichannel engagement models and channel mix to field productivity across regions, roles, and market segments. But, even after companies undergo the rigorous process of collecting, updating, and analyzing their field data, these insights can lack the context of broader industry trends.
Now that is changing. Comprehensive enhancements to collect information about engagement channels, regions, and user types clearly and consistently resulted in Veeva CRM Standard Metrics. This Veeva CRM feature laid the foundation for the Veeva Pulse Field Trends Report, giving life sciences companies a global, industrywide snapshot of critical data and insights for field team engagement with HCPs.
What makes this data so valuable for commercial teams? Veeva Pulse data derives from field engagement activities of more than 80% of industry representatives worldwide. These insights enable you to quickly and easily benchmark your organization against others in your space and improve your commercial operations. Here are three top engagement trends from April through June of 2022.
1. The return of in-person — and omnichannel HCP expectations
As pandemic-era restrictions began to lift this spring, there was a clear question: to what extent would the life sciences industry return to in-person engagement, or would a new blended model emerge? New Veeva Pulse Insights reveal a roughly 70/30 mix of in-person to virtual engagement (video, chat or text, phone, and email) with HCPs from April to June 2022 (Figure 1). Although in-person remains the predominant form of engagement, omnichannel tactics are a critical part of the mix, now that 75% of HCPs expect a blend of in-person and virtual engagement.
FIGURE 1: GLOBAL CHANNEL MIX

2. Omnichannel offers the greatest benefits — 3x promotional response
Veeva Pulse data indicate that the blended model magnifies the impact and efficiency of engagement activities. When layered on top of in-person meetings, video meetings have a 3x greater promotional response than in-person meetings alone. In other words, video meetings create a promotional accelerator. Also, getting access to HCPs through video is highly dependent upon having an in-person relationship first.
3. Leaders use video 3x more than peers
While virtual engagement via video calls averages only 3% globally today, some companies are better at supplementing in-person engagement with virtual meetings. Representatives from leading companies conduct approximately three video meetings weekly, making up 7% to 8% of their total channel mix (Figure 2). These organizations use virtual tactics to extend relationship touchpoints between in-person discussions.
FIGURE 2: WEEKLY VIRTUAL MEETING USAGE ACROSS COMPANIES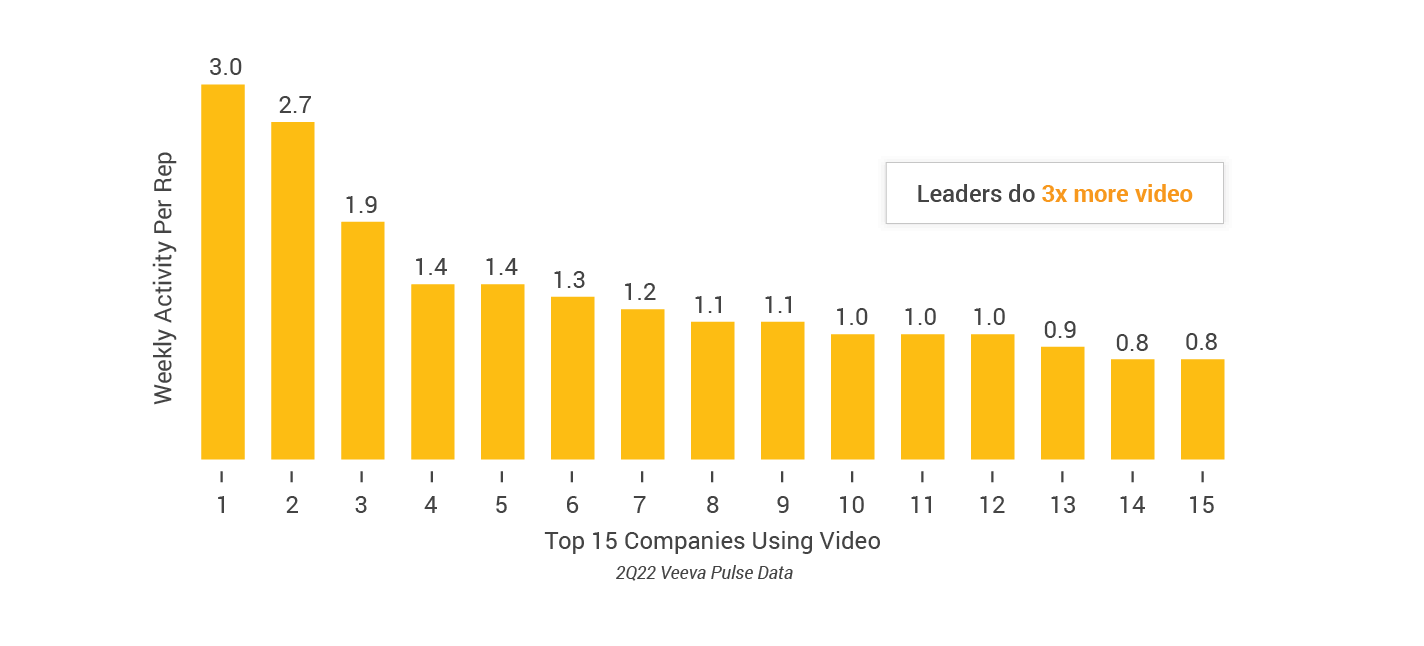 The fundamental drivers of promotional response continue to be time with the customer and content utilization. Although content utilization is higher in video meetings than in-person, it can differ depending on platform usage. For example, content usage is 85% globally via Veeva CRM Engage virtual meetings versus approximately 40% for other video platforms (Figure 3).
FIGURE 3: WEEKLY CONTENT USAGE BY CHANNEL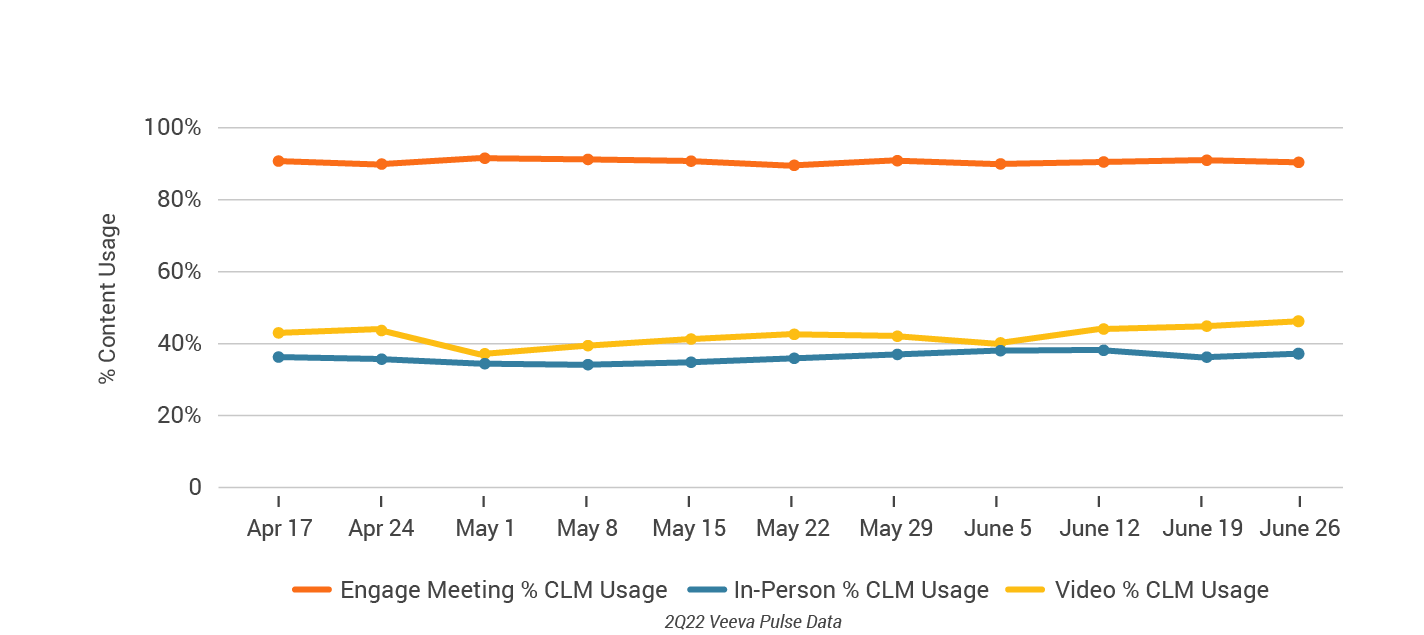 Discover how your team and region compare
There's much more to learn in the full report. For example, using newer channels like chat and text and expanding the use of video and email enables some companies to realize the benefits of "pull" models where HCPs reach out directly for information, alongside their traditional "push" outreach tactics.
HCPs want more digital engagement, so ensure that your mix and frequency maximize the opportunity. Video calls increase promotional response, and leaders are gaining greater mindshare using video calls three times weekly.
Today, the best reps are building deep in-person and digital connections that ensure you're sought after and easy to reach, even when you're not physically present with HCPs. In effect, the best reps never leave the room.
Download the Veeva Pulse Field Trends Report to see all the 2Q22 global field trends and find out what's happening in your region.

Feb. 8 Webinar: Gain More Insights to Inform Your HCP Engagement Strategy. Register Now
Interested in learning more about how Veeva can help?