Driving Customer Success with Standard Metrics, Medical Inquiry, and Claims Management: What's New in Vault 20R1
Mar 26, 2020 | Emma Hyland
20R1 is all about enabling our customers to get the most out of the latest innovations in Vault PromoMats and Vault MedComms. Here are the 4 updates you should know about:
Vault PromoMats Standard Metrics is available to all customers
Continued innovation in Vault PromoMats Auto Claims Linking is driving faster, more compliant claims management
Enhanced Vault MedComms Medical Inquiry email capabilities make it easier to track emails and give HCPs the ability to directly reply to inquiries
Excel templates for reporting let teams upload custom Excel templates directly to Vault
See below for a deeper look at these announcements:
Vault PromoMats Standard Metrics Deployment Update
As we've evolved Vault PromoMats over the years, we've taken great pride in partnering with our customers to drive innovation in life sciences promotional content management. Doing so helps us achieve our main objective – ensuring our products and services align with your goals.
Customers have always asked Veeva to help them find ways to improve and measure their business processes.
After working closely with you to understand your needs and work towards a solution, we developed Standard Metrics. This enables customers to track key aspects of the content review process and, next year, be able to compare this data to the rest of the industry.
We first announced Vault PromoMats Standard Metrics in May of last year at the Veeva Commercial and Medical Summit, North America. The feature officially went live in November 2019 (19R3 release), and as we look forward, our objective is to launch all customers on Standard Metrics and provide support to ensure success.
In 20R1, Vault PromoMats Standard Metrics will be turned on in all PromoMats Vaults. This means:
Standard Metrics is available to all customers and will be mandatory in 20R2 (August 2020)
No configuration or mapping is needed until 20R2. End users do not need to complete the fields
The Standard Metrics section will be visible in Document Information but will remain collapsed on Document Upload
Customers who are ready right now can begin using this feature to build reports and dashboards in preparation for the Veeva Industry Benchmark reports (mid-late 2021)
We encourage customers to prepare for 20R2 (August 2020), when Standard Metrics fields will be mandatory
If you have any questions about this change or would like support with the feature, please contact your CSM. We've also compiled some helpful resources for you to consume and share with your teams:
Standard Metrics Webpage – 4 steps for getting ready for the feature
Vault PromoMats Auto Claims Linking
Vault PromoMats Auto Claims Linking automates the creation of reference links on claims made within promotional materials. This speeds the claims review process and gives teams the confidence that claims are accurate and substantiated by the right references.
Since December of 2019, our customers have been hard at work piloting the feature and incorporating the new functionality into their claims management processes. In 20R1, we're excited to share how Vault Auto Claims Linking will transform the creation and review of claims and revolutionize the ways of working for promotional material review teams.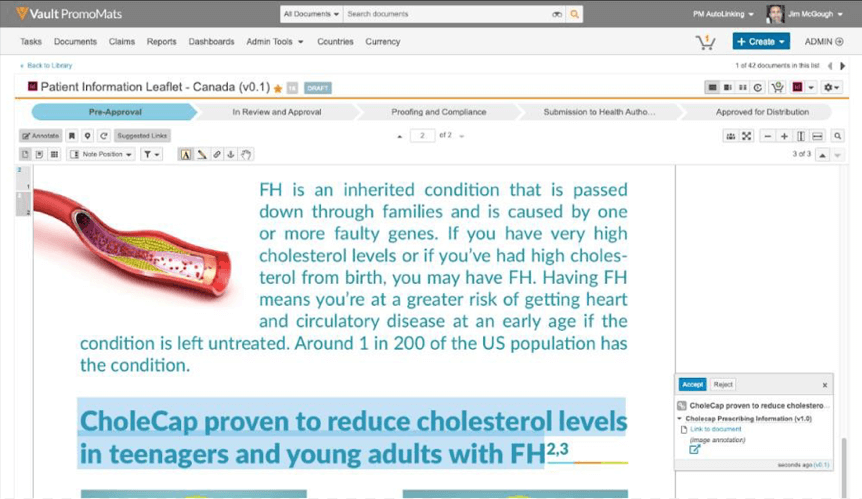 Centered on flexibility, compliance, and speed, Vault Auto Claims Linking brings automation and simplicity to a notoriously tedious and error-prone process. Here's how Vault Auto Claims Linking will help you:
Flexibility

Teams don't always use the same exact phrases when making a claim in a promotional material. For example, marketing teams might adjust messaging depending on whether the document is intended for an HCP versus a consumer.

Vault Auto Claims Linking accounts for variability in language to streamline the review process for ad/promo teams. Vault allows for up to 5 variations – all supported by the same reference – for a single claim record. This gives teams the ability to review different language for the same claim, simplifying the approval and tracking of claim language.

Compliance

One of the most important aspects of claims management is ensuring compliance and that all claims are accurate, approved for use, and withdrawn once expired.

Vault simplifies complaint claims management by giving teams visibility into which claims are in use. Claim objects now contain the full list of promotional documents that are linked to the claims record. This empowers teams to easily track claims and quickly update or remove outdated language.

Let's say the data value in one of your claims changed from 20% to 30%. Instead of searching separately for each promotional material with this claim, users can simply navigate to the claim object record to view the full list. In addition to ensuring compliance, teams can reduce manual claims tracking and lower search time from hours to minutes.

Speed

Vault Auto Claims Linking brings speed to virtually every key part of the claims management process, from expediting the review of claims and their variations to reducing the time required to track claims in use.

Vault also makes it easier and quicker to track and update claims before expiration. Users have the ability to copy claims – and related records – at the same time. This eliminates the need to manually re-enter a claim's information.

If a team needs to modify claim verbiage to support a claim, they no longer need to copy over each reference anchor individually. Instead, they simply need to copy the claim and change the claim's variations to account for the updated language.
These enhancements are just the first of many ways we're working to optimize the claims management process with Vault Auto Claims Linking. We will have dedicated sessions on this feature at the upcoming Veeva Commercial and Medial Summit, North America – register today and be on the lookout for Vault Auto Claims Linking on the agenda.
Enhanced Medical Inquiry Email Capabilities
On the medical side, we're focused on speeding communication to and from doctors to further streamline the medical inquiry process.
Since launching Vault MedComms Medical Inquiry in 19R1, we've evolved the feature to include Veeva CRM data sharing and more. In 20R1, we're continuing the momentum with updated email capabilities. These enhancements will make it easier for medical affairs teams to understand the status of medical inquires and give HCPs the power to quickly reply to emails.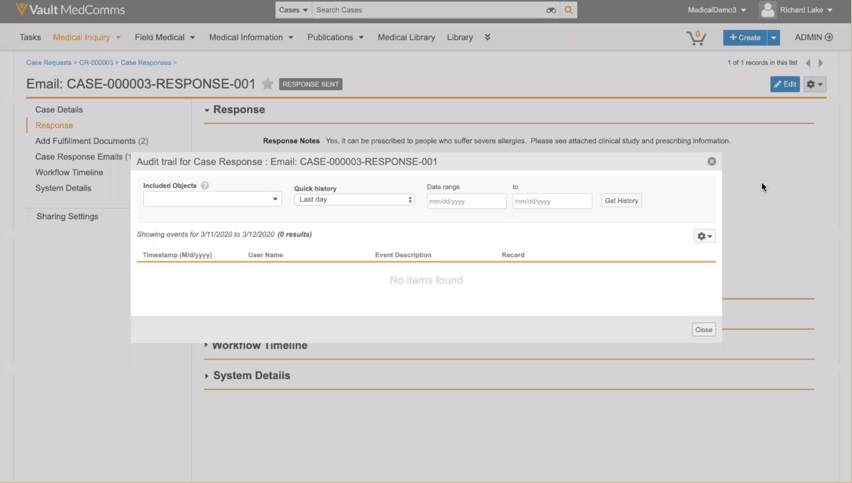 Vault MedComms Medical Inquiry now includes email tracking so teams can get a more accurate view of their emails including sends, deliveries, opens, and even bounces. These metrics offer teams the ability to learn which customers receive – or don't receive – the medical information they need to be successful.
We're also empowering doctors with an easier and faster way to obtain answers with the new "reply to" functionality. This allows HCPs to respond directly to medical inquiry emails. Enabling HCPs to get their questions answered right away removes barriers to the important – and sometimes urgent – information.
Excel Templates for Vault Reporting
Our next feature brings together the computing power of Microsoft Excel with the rich data and metrics in Vault. With the increasing volumes of content and data in Vault, it's more important than ever to maintain a single source of truth for materials and associated reports.
In 20R1, customers can now upload custom Excel templates to Vault and easily export report data – including metadata like the report's name and filters – into these spreadsheets.
Vault users currently leverage Excel in about 20% of Vault reports in order to apply specific formats or perform complex analyses. With Excel templates for Vault Reporting, users can prepare an Excel document upfront with the desired formats, formulas, charts, etc., and then directly upload this template to Vault.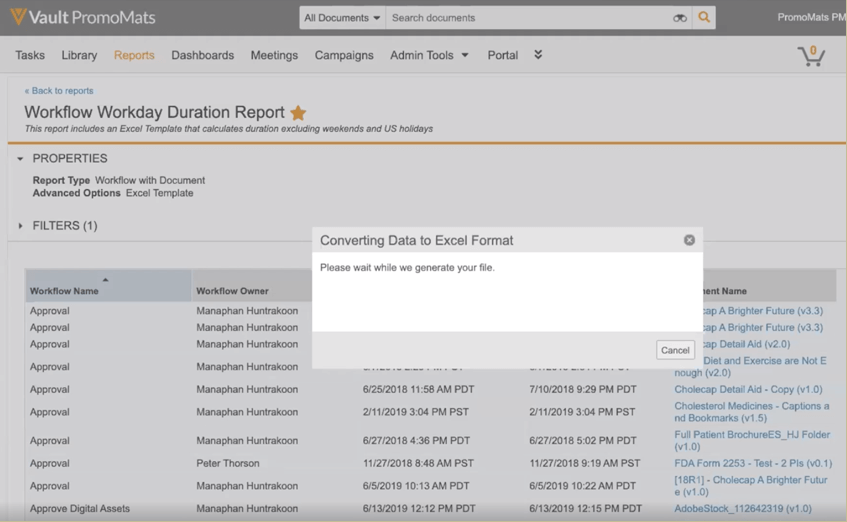 This simplifies the data sharing between Vault and Excel and gives other Vault users access to the same template.
Let's say your team wants to know how many days content spends in review – excluding weekends and holidays. Creating this template in Excel and adding it to the library of Excel templates in Vault gives other teams the ability to quickly calculate these metrics for their own brand or region. It also makes it easy to replicate the same calculations at a later date with a more recent set of documents.
Thanks again for partnering with Veeva. Check out the resources in the 20R1 release kit for more info on everything new and exciting in the 20R1 release. And as always, reach out to your customer success manager with any questions, or feel free to ask a question in the Veeva Support Portal. We'd love to hear from you.