Eisai: Laying the Foundation for Centralized Medical Information Management
Nov 13, 2020 | Callum Hawes
As a global pharmaceutical company, Eisai manages thousands of medical inquiries about their commercial drugs and emerging research. After using disaparate medical information databases that couldn't scale, they identified the need for centralized medical information to create consistency across the regions and affiliates and a more robust audit trail.
In a recent webinar, David Robertson, business solutions director for Eisai EMEA, and Elizabeth Rance, head of medical information for Eisai EMEA, shared why they selected Veeva Vault MedComms for medical information management and their experience to optimize their medical information, processes, and technology, especially during the COVID-19 pandemic.
"We have really all been affected by COVID-19 and it's caused us to think very differently about the way our business is going to work in the future. So, we're very concentrated on global digital transformation," says Robertson.
Laying the Foundation
Once the technology decision was made, Eisai decided to implement the system in several phases. Phase one focused on their UK European Knowledge Center to establish the foundations.

"We wanted to ensure that we had a strong base in the UK to build on," says Rance who oversaw the implementation.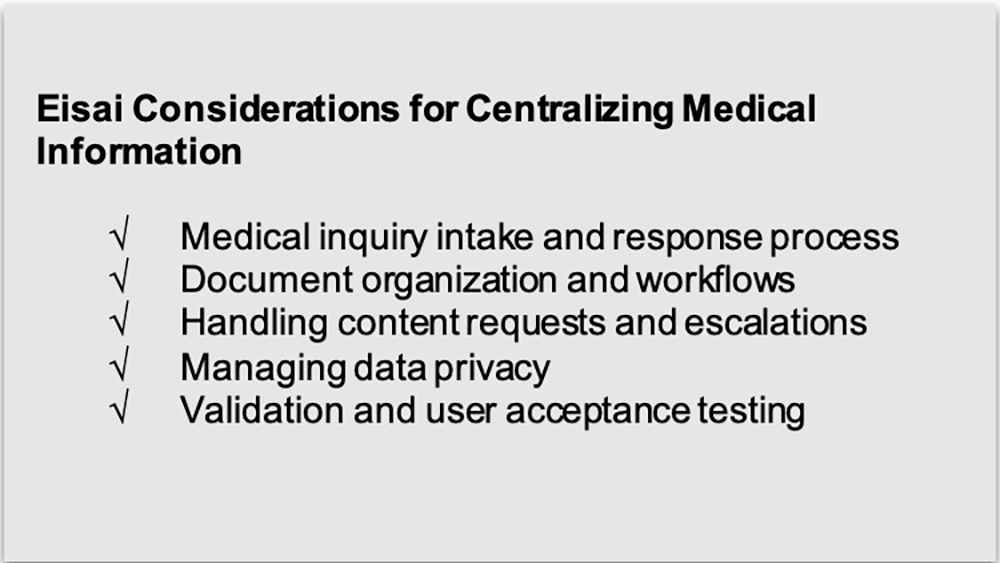 Rance discussed how laying the foundation in phase one helped the team refine the process, learn from the experience, and feel confident in their approach before deploying across EMEA in phase two.
The phase two regional deployment will satisfy all the local requirements in each of the countries and build their centralized system across EMEA in order to roll up reports to leadership and increase their efficiency and compliance as a team.
A Single Medical Information Management System
Robertson shared how they historically experienced inconsistencies and a lack of transparency with medical inquiry responses at the affiliates and that multiple databases lead to duplication and manual tracking of content.
By replacing disparate systems and workflows with a single source of truth for medical information, the team ensured that headquarters and affiliate teams not only have accurate content and a clear inquiry response process, but also a robust audit trail for traceability to reduce compliance risks.
"We wanted a system that would give us a holistic approach to managing medical information inquiries," noted Robertson.
Intelligent Insights to Make Informed Decisions
With Vault MedComms reporting, Eisai has the ability to understand how teams are managing medical information inquiries and what content is most utilized. "We worked hard with Veeva to make sure we had the type of reporting and insights that brought value to our business," shared Robertson.
The team reports on questions asked, product inquiries, and what country the inquiry is from. This reporting gives leadership the insights that help them make continuous improvements in their medical information management operations.
Learn more about end-to-end medical content management here.
Interested in learning more about how Veeva can help?