Highlights of 2020 European Veeva Safety Forum: Seamlessly Integrating Service Providers into PV Organizations
Jun 10, 2020 | Jennifer Markey
More than 170 safety professionals representing almost 100 companies joined the first virtual 2020 European Veeva Safety Forum to hear how companies are transforming their pharmacovigilance organizations and about Veeva's progress in the safety industry. A key theme was greater biopharma and outsourced service provider alignment. With many companies outsourcing key services to CROs and service providers, and safety decisions being data-driven, enabling integrated processes is no longer a nice-to-have but a requirement for successful partnerships. "The criticality of the CRO role in the management of patient safety is ever more important, "said Ian Kovacs, global head of safety, TFS International AB. "And, when you outsource safety work such as the safety database, you need to consider the limitations that might exist when you don't have direct access to the data."
Vault Safety enables TFS, an end-to-end global safety services provider conducting trials in over 40 countries, to deliver optimized client workflows, integrated processes, and real-time sharing of information and data. For example, providing data access to a biopharma that is outsourcing a study but is performing medical review and QC, makes workflows much easier and faster. The service provider can see the sponsor / client questions or comments that need to be addressed in order for the case to be processed in a timely manner. As the number of sponsors and clients grow for TFS, Vault Safety can easily support them, controlling who has access to which data and what they are permitted to do in the system.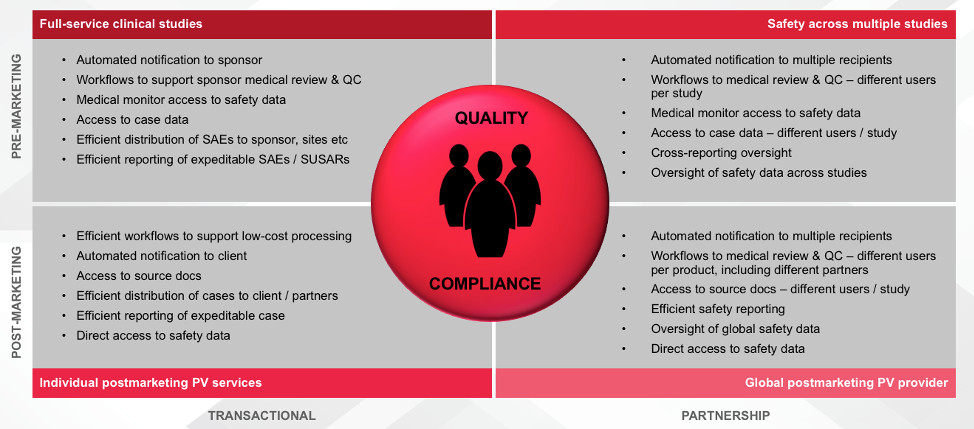 The safety solution needs to align with TFS customers that have different requirements (as shown above) and their clients are positive about the transition – especially the direct data access. It will give TFS' clients greater decision-making transparency and new ways of collaborating.
Modern safety solutions can also enable greater pharmacovigilance (PV) automation. Anna Lukyanova, chief operating officer at Ariello discussed how an open and flexible safety solution can integrate with other applications like Intellicase to accelerate the ICSR workflow from a reporter to the safety database. She also shared best practices for implementing Vault Safety and their future vision.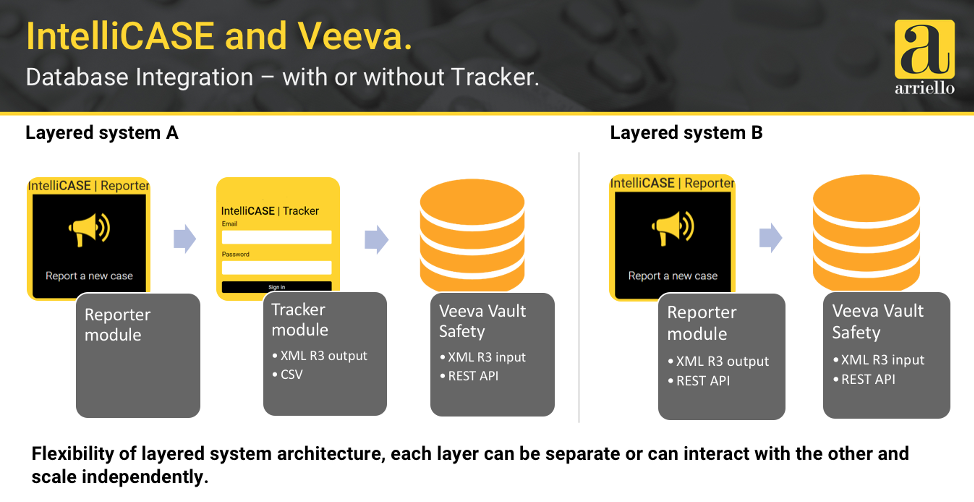 For customers like Arriello, Vault Safety Suite is transforming PV by enabling end-to-end safety processes and includes case intake, periodic reporting, document management, and submissions. Veeva is expanding the suite to include Vault Signal that will manage signals from detection through risk evaluation, mitigation, and tracking of outcomes.
Safety links to many other organizations like regulatory, clinical, quality, and medical communications. Veeva's vision is to integrate and consolidate these data, reducing duplication and providing a single source of the truth for all safety data and content.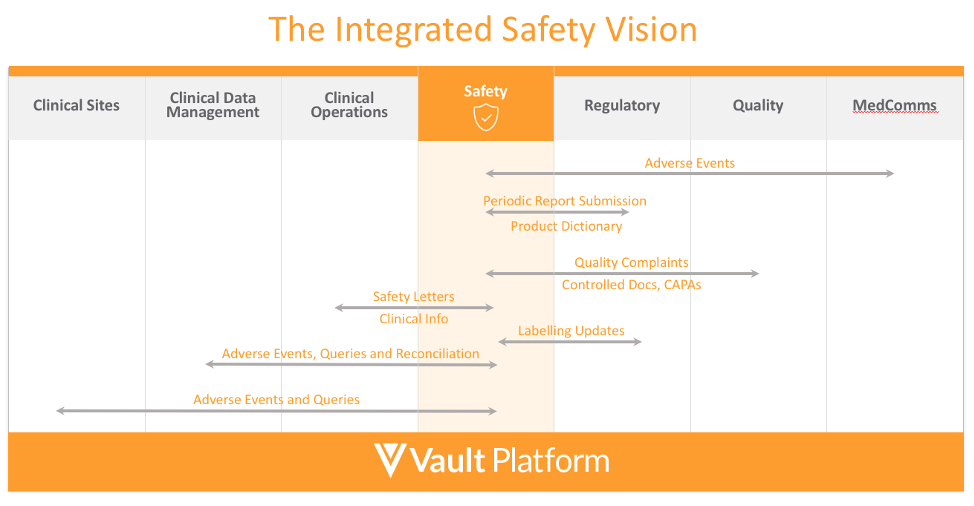 To enable greater customer success, Veeva is also offering safety business consulting to help companies develop capabilities including operational strategies, planning internal and outsourced activities using industry standard competency models, and execution of programs for organizational change management. These end-to-end services are led by Mike Kruczek.
If you would like to hear more, join us at the Veeva North American Summit digital event on October 12-13, 2020. Please register here.