Privacy-safe Targeting is Non-negotiable
May 12, 2020 | Ashley Slavik
This week we announced that Crossix officially joined the Network Advertising Initiative (NAI) as a member for both our targeting and measurement approaches. While we have worked closely with the NAI for years, we are excited to formalize our relationship with the organization.
The NAI is the leading self-regulatory association dedicated to responsible data collection and its use in digital advertising in the United States. It promotes privacy and trust by creating and enforcing standards for responsible data usage. Crossix is the latest company to join the ranks of more than 100 leading advertising technology companies that have committed to furthering high standards for consumer privacy in digital advertising.
Crossix was founded based on the notion that data vital to helping healthcare companies reach their audiences effectively should be connected in a manner that protects patient privacy. Our suite of solutions has always met or exceeded NAI standards, including the 2020 NAI Code of Conduct.
In January, the NAI released updated guidance for the creation of audience segments to reach health audiences. In the guidance, the NAI explained how health-related audience segments can be considered "de-facto non-sensitive." Crossix audience segments are built to be de-facto non-sensitive according to these requirements. Specifically, across therapeutic conditions, health audience segments created by Crossix:
Target at least 10% of the total targetable population;
Are based only on demographic attributes including age, gender, education level and residential setting; and
Are labeled based on the demographic makeup of the audience
Targeting approaches that do not meet these standards may use Sensitive Information, which the NAI defines as "information, including inferences, about any past, present, or potential future health or medical conditions or treatments, including genetic, genomic, and family medical history, based on, obtained or derived from pharmaceutical prescriptions or medical records, or similar health or medical sources that provide actual knowledge of a condition or treatment."
Companies that choose to use Sensitive Information for tailored advertising must obtain opt-in consent directly from users or through contracts with their publishers or partners to be in compliance with the 2020 NAI Code. Opt-in consent is "an affirmative action taken by a user that manifests the intent to opt in to an activity described in a clear and conspicuous notice." This means that consumers must be provided with clear, detailed information about the collection and use of their data and choose to allow the company to use it for targeting purposes.
Because Crossix has exclusively leveraged de-facto Non-Sensitive Information to power our solutions, users are not required to opt-in, and their privacy will never be compromised. Here is an easy way to determine whether a health-related audience segment contains Sensitive or Non-Sensitive Information: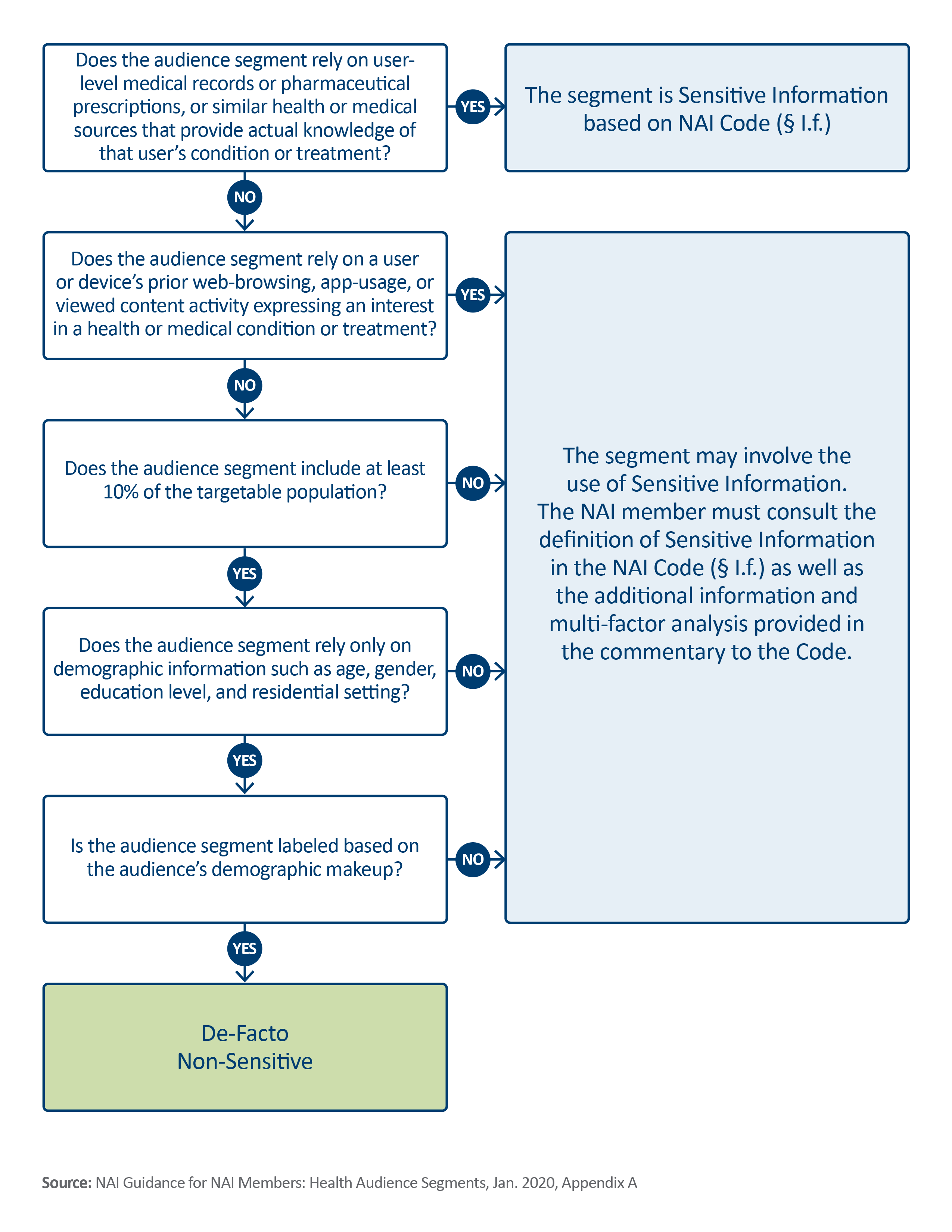 We are proud to help health marketers optimize their campaigns by striking an appropriate balance between a reasonable expectation of privacy and the value of distributing helpful information to a relevant audience. Interested in seeing how we can help you engage your most valuable audiences in an NAI-compliant way? Contact us.
Interested in learning more about how Veeva can help?