Veeva Heroes Recognized for Advancing Commercial Operations in Life Sciences
May 31, 2017 | Roger Villareal
Veeva customers continue to push the industry forward with digital initiatives to make multichannel engagement more coordinated and intelligent. Recently, at the 2017 Global Commercial and Medical Summit, we recognized nine trailblazers who are driving transformational change within their commercial organizations and across the industry.
And the winners were…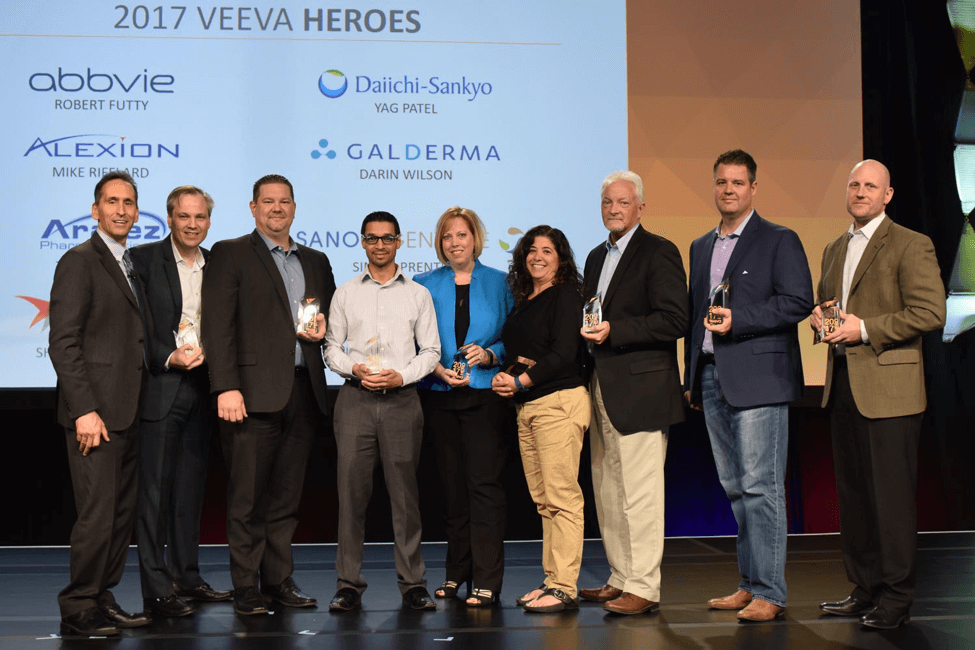 The 2017 Veeva Commercial and Medical Summit heroes receive their award from CEO Peter Gassner
Robert Futty, AbbVie
Robert's extensive experience embedding digital into commercial processes helped a successful rollout of Veeva CRM Approved Email at AbbVie, across its U.S. portfolio. He also led the implementation of Veeva CLM and Veeva CRM integrations, contributing to the company's strategic approach to improve multichannel engagement and accelerate digital adoption. He also leads best practices sharing globally to help his peers advance their digital initiatives.
Mike Rifflard, Alexion
Mike simplified commercial complexity globally by meeting the needs of different teams on one platform. Implementing Veeva Commercial Cloud, including Veeva CRM, Veeva CLM, Veeva Align, Veeva CRM Events Management, and Veeva CRM Approved Email, to unify processes made it easier to support global sales teams with advanced digital capabilities and alignment for more coordinated customer engagement.  
Tara Zibello, Aralez
Tara played an instrumental role in establishing Veeva Commercial Cloud as the foundation of Aralez's customer management data structure. Tara helped to streamline the number of systems and vendors her team manages by leveraging Veeva Commercial Cloud across the enterprise. Implementing Veeva CRM for both sales and medical science liaisons, Veeva CRM Approved Email, Veeva Network Customer Master, Veeva OpenData, and Veeva Vault PromoMats enabled a more efficient and scalable commercial engagement model.
Sharon Miecinski, Astellas
Sharon wanted to bring the visibility of event interactions to the field team's CRM application. As pioneers, they were the first in the market to use Veeva CRM Events Management and played an integral role in shaping the product. Sharon and the team improved event close-out process efficiencies with more accurate linking to attendees.
Yag Patel, Daiichi Sankyo
Yag and the Daiichi Sankyo team moved quickly to replace legacy solutions with advanced technology to help commercial teams compete in the digital age. By implementing Veeva Commercial Cloud, including Veeva CRM, Veeva CLM, Veeva Network Customer Master, Veeva OpenData, and Veeva Align, Daiichi Sankyo improved data quality, decreased validation timeframes, and enabled customer engagement efficiencies for commercial teams.
Darin Wilson, Galderma
Darin's passion is to enable the business with value-added technology solutions and challenge the status quo in ways that benefit Galderma's commercial business. His deep understanding of commercial business systems contributed to the successful implementation of Veeva CRM and Veeva Align. Empowering the business to own, operate, and execute alignments without dependence on IT reduced the resources, steps, and time needed to complete their alignment process.
Simon Prentice, Sanofi Genzyme
Simon is committed to modernizing technology solutions to reduce complexity and deliver a flexible foundation to make commercial teams more efficient. He rolled out Veeva CRM company-wide across both medical and promotional teams to make it easier to access information and get a complete view of the customer. His efforts will provide the business with greater agility and support as Sanofi Genzyme continues to grow.   
John Vitti and Mark St. Ours, Sunovion
John and Mark had a vision to improve customer data quality and speed of information delivery for field reps. They implemented a master data management system and rolled out Veeva Network Customer Master and Veeva OpenData. With their expertise and leadership, Sunovion is leveraging Veeva to transform commercial operations with faster access and more accurate customer data.