2017 Veeva Global Commercial & Medical Summit: Digital and the Evolution of Commercial Life Sciences
Jun 05, 2017 | Roger Villareal
More than 1,300 life sciences professionals and industry experts recently came together in Philadelphia at one of the largest events dedicated to commercial and medical solutions. The 2017 Global Commercial & Medical Summit, now in its ninth year, hosted more than 150 biopharmaceutical companies.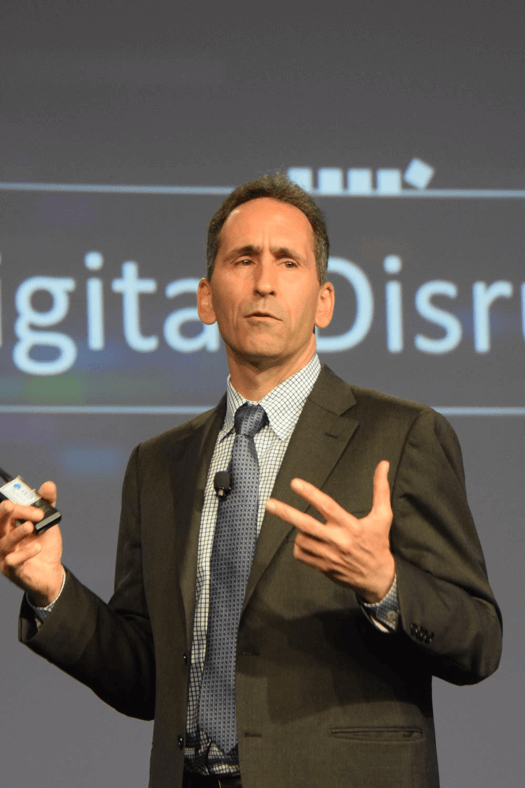 Founder and CEO Peter Gassner discusses the digital evolution of the life sciences industry.
The focus of this year's event was commercial's continued digital evolution. Veeva founder and CEO, Peter Gassner, opened Veeva Summit highlighting the impact of digital disruption and just how far the industry has come in ten years – and the opportunity still ahead. Digital is changing industries and business models. The change is happening in life sciences too, where there is a tremendous opportunity to transform customer engagement.
For Veeva's part, the innovation of Veeva Commercial Cloud over the past decade has helped the life sciences industry unify their customers' digital experience globally. At the core of Veeva Commercial Cloud is Veeva CRM, the company's flagship product. Over the years Veeva has continually innovated and delivered new applications that allow customers to drive greater coordinated interactions and continuous dialogue with their many stakeholders, by offering compliant, efficient, and tailored solutions directly within Veeva CRM.
Veeva CRM has continually evolved to set the standard for CRM in life sciences.
Global leaders such as Bristol Myers Squibb are changing the way they deliver more efficient and effective customer engagement. Veeva recently announced that Bristol Myers Squibb adopted Veeva CRM Events Management and Veeva CRM Approved Email in key markets outside of the U.S. to deliver an orchestrated customer experience. Digital has helped many companies move beyond face to face interactions to increase reach through multiple touch points across field, sales, medical, and external teams.
Press Release: Veeva Commercial Cloud to Help Bristol-Myers Squibb Deliver More Efficient and Effective Customer Engagement
Now the industry is entering a new phase of intelligent engagement where field and medical teams can better use data and insights to drive value-based conversations with customers. Gassner noted that the next frontier in software will be machine learning and data science, which will deliver a new level of data and insights to help the industry be more efficient, knowledgeable, and precise in their interactions with customers.
In fact, this new level of insight will make the role of the pharma sales rep even more valuable as the industry continues to rely more heavily on digital innovations. In a fireside chat between Matt Wallach, Veeva president and co-founder, and Alex Azar, former president and former deputy secretary, U.S. Department of Health and Human Services, the industry leaders highlighted the foundational role sales reps play in building relationships with healthcare professionals.
"Sales reps don't just do short sales," Azar noted. "They build relationships over the long term and add value over time." With speed of action so critical in life sciences, digital channels will better enable reps to drive more value in their engagement with physicians and assist them in caring for their patients.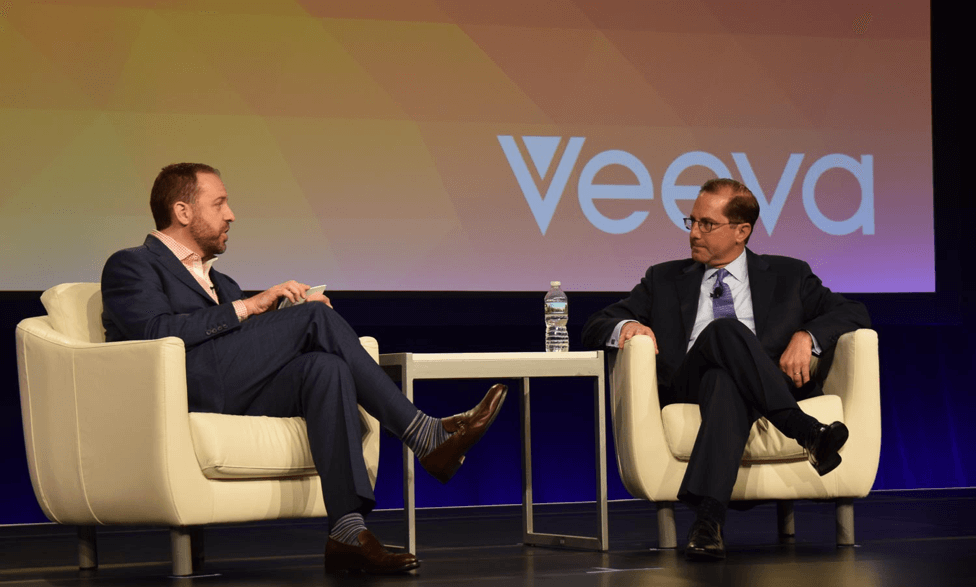 Matt Wallach and Alex Azar discuss the value of the pharma sales rep in building relationships with physicians and doctors.
Equally as important as the use of digital channels is ability for reps to combine execution with insights, according to Paul Shawah, senior vice president of commercial strategy at Veeva. During his keynote, he introduced and demoed Veeva CRM MyInsights, a new data visualization capability that delivers tailored insights directly in Veeva CRM. These actionable insights empower field teams to drive better execution at the point of planning and decision making with a library of pre-existing dashboards. Thus far, there has been strong industrywide endorsement for Veeva CRM MyInsights, with nearly 20 partners certified to build custom data visualizations for customers.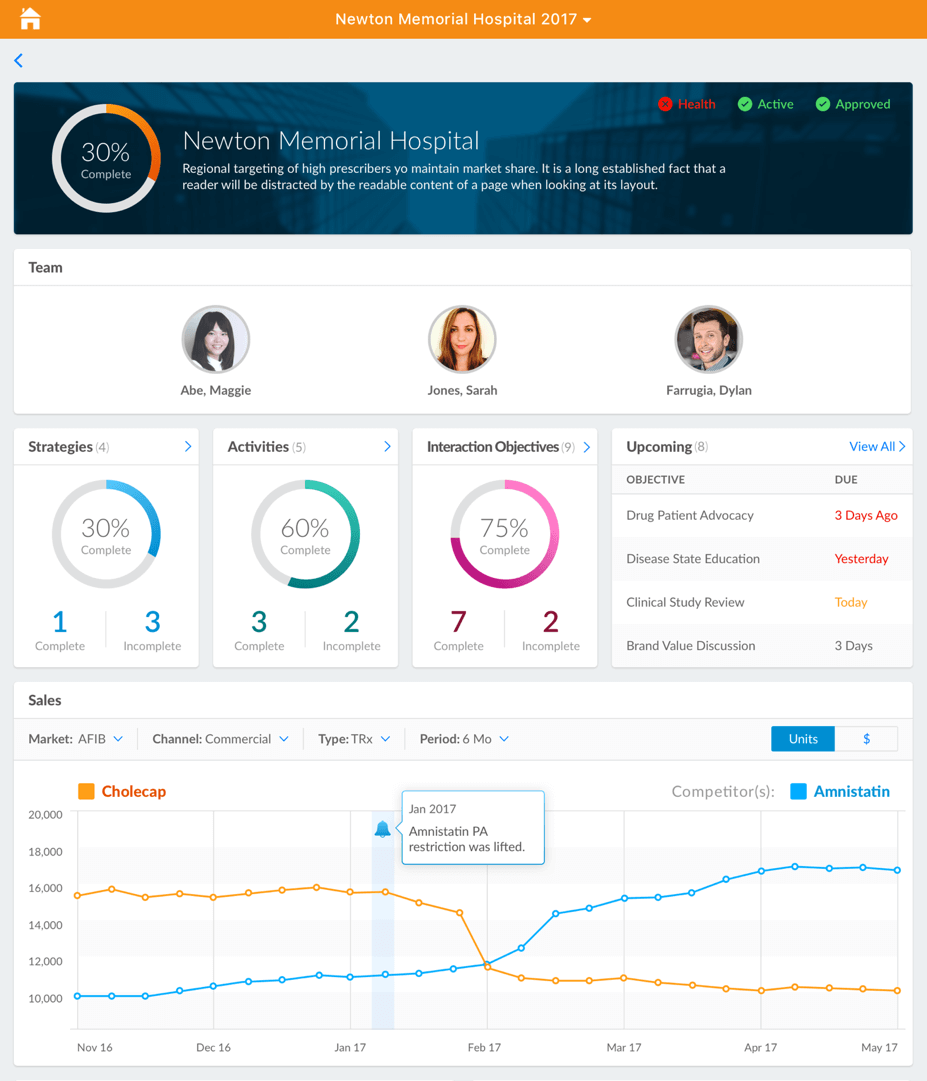 Press Release: Veeva CRM MyInsights Empowers Field Teams with Actionable Insights for Better Execution
Many Veeva customers are paving the path toward digital and intelligent engagement. Each year, Veeva recognizes the Veeva Heroes and individuals that are that are leading innovation and driving transformation in the industry. Their leadership is not only having lasting impacts on commercial operations within their own organizations, but also having a positive ripple effect throughout the entire industry.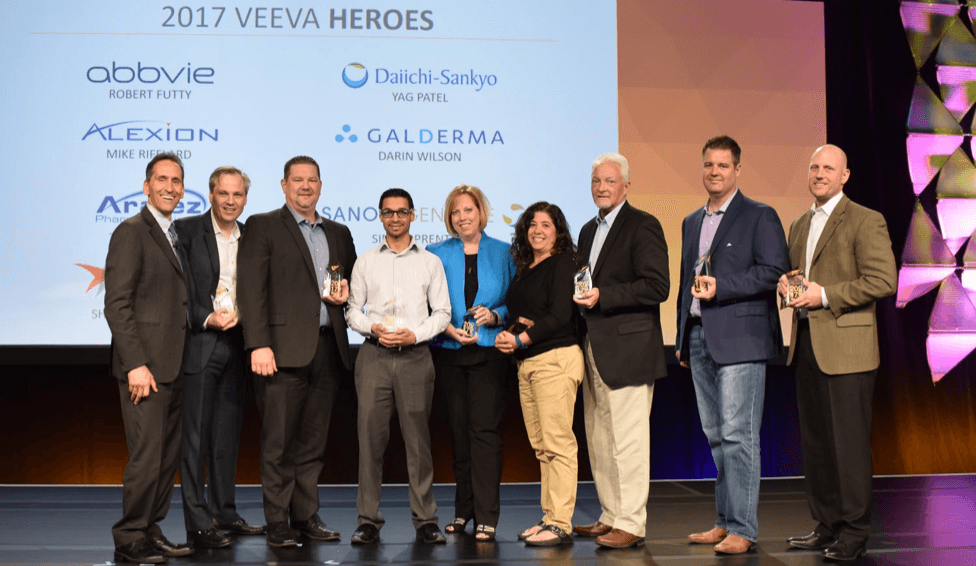 Veeva CEO Peter Gassner honors the 2017 Veeva Heroes for their innovation and industry leadership.
The importance of quality customer data to drive better interactions and enable multichannel customers was also a big highlight this year. Life sciences companies, including Allergan, are moving to Veeva OpenData for more up-to-date and complete customer reference data. This year at Veeva Summit, Veeva announced its 100th customer milestone for Veeva OpenData, another pillar of Veeva Commercial Cloud. Veeva OpenData helps close the gap between the quality of customer data and what is needed in a multichannel commercial environment to drive effective engagement with stakeholders.
Press Release: Veeva OpenData Reaches 100th Customer Milestone
Moving forward, Veeva will continue to help the industry navigate the digital landscape and evolve their commercial operations. Data and insights will be more critical as customers move from multichannel to intelligent engagement. As Veeva moves forward into its next decade of being in business, the next wave of innovation and partnership with the industry promises to be even more exciting.