LINK SOLUTIONS FOR CLINICAL
Real-Time Intelligence
for Clinical Teams
Optimize trial design and site selection.
Optimize your clinical trial design and recognize the right study sites for your protocol
New intelligence solutions from Veeva Link will provide deeply curated, real-time views of all relevant trial information for study protocols and sites across the globe.
Link TrialBase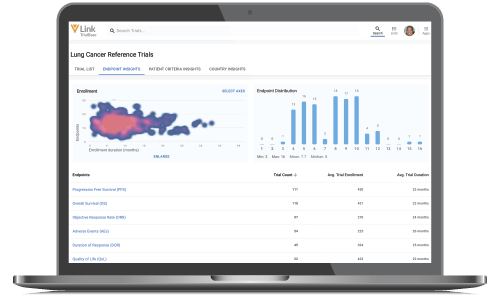 Real-time intelligence on clinical protocol design including current trial status, inclusion and exclusion criteria, protocol design, and endpoints.
Reliable Competitive Data
Effortlessly explore and analyze the global design landscape.
Actionable Insights
Uncover powerful new design elements for your protocol.
Improved Trial Design
Optimize your study design to achieve more predictable timelines.
Planned availability late 2023
Link SiteBase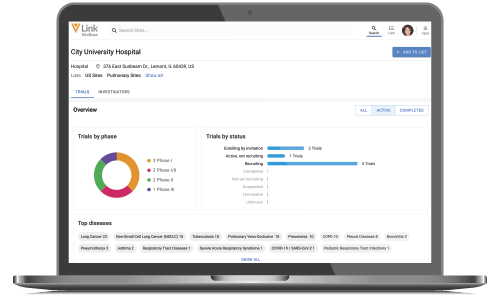 Real-time intelligence on clinical trial sites and investigators from a variety of sources, including trial registries, publications, and conferences.
Comprehensive Reference Data for Sites
Identify, compare, filter, and rank research sites across the world.
Accurate Landscape of Sites
Discover top, emerging, and untapped sites and investigators.
Predictable Enrollment Targets
Accelerate trial development with a clear understanding of a site's potential.
Interested in learning more about how Veeva can help?