MyVeeva for Patients
MyVeeva is a single, intuitive application that makes trial participation easier for patients, and streamlines study execution for research sites and trial sponsors.
With capabilities for eConsent, virtual visits, patient adherence, and ePRO, MyVeeva for Patients simplifies management of patient solutions through a connected clinical ecosystem that increases study team efficiency and reduces administrative burden for sites.
Benefits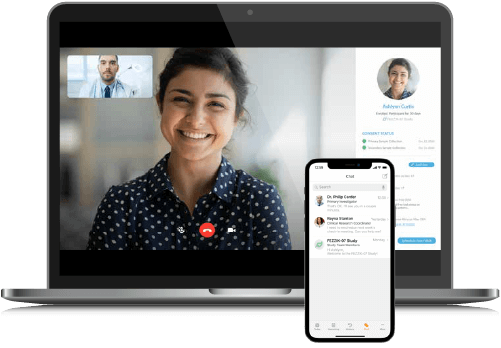 Improve the Research Experience for Patients
Keep patients informed and connected through a single application for all their trial activities.
Enhance Site Engagement
Reduce administrative burden for sites by providing an easy to use solution to manage patient interactions across all studies.
Streamline Study Execution
Gain efficiencies and get studies up and running faster through integrated workflows that streamline end-to-end management of patient solutions.
Features
Improve patient experience through a single, easy to use application to share information and collect patient consent electronically.
Virtual Visits*
Collaborate remotely with audio and video capabilities, allowing seamless communication between sites and patients.
ePRO*
Enable patient data capture for traditional, decentralized, and hybrid trials through a single application on their own mobile device.
Patient Adherence*
Help patients take medications and adhere to their treatment regimens. Send reminders to patients about study activities to support protocol compliance.
Messaging & Scheduling*
Enhance the site-patient relationship through direct messaging, including visit management and ongoing communication.
Connected Clinical Ecosystem
Simplify the management of patient solutions through an end-to-end solution that provides complete visibility across studies.
*Planned in a future release