Vault Site Connect
Vault Site Connect automates the flow of trial information between Vault Clinical applications used by sponsors and CROs, and Veeva SiteVault, a compliant eISF application for clinical research sites.
With Vault Site Connect, study partners streamline information sharing across end-to-end trial processes for better collaboration and faster trials.
Planned Availability: August 2020
Benefits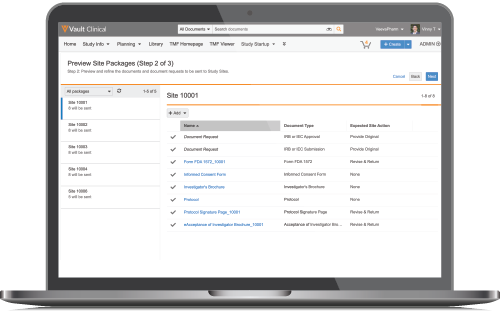 Faster Trials
Seamlessly automate the flow of information across study partners, processes, and systems to speed trials.
Increase Site Engagement
Sites spend less time on administrative activities to focus on treating patients, improving collaboration and efficiency.
Improve Study Quality
Eliminate manual processes and gain real-time visibility of information throughout trial operations to improve quality and inspection-readiness.
Features
eTMF and eISF Connectivity
Clinical documents are automatically shared across Vault Clinical and SiteVault to reduce manual steps associated with sponsor TMF and site eISF reconciliation activities.
Site Document Distribution Packages
Easily manage and distribute site document packages during study initiation to speed study start-up.
Safety Letter Distribution*
Guarantee delivery and tracking of important safety letter information sent to sites so that principal investigators stay informed.
Site Feasibility Information Exchange*
Automate the collection and reuse of site feasibility information in Vault Study Startup so that the right sites can be selected and activated for each study.
Full Support For Your Sites With SiteVault Free
Eliminate the need to manage external site accounts in your sponsor Vault with SiteVault Free, a compliant eISF application for sites. Training and support provided by Veeva, so that you can focus on higher-value engagement with your sites.
*planned for a future release
"Veeva Vault Site Connect will transform how sponsors and sites work together and
help get studies up and running much faster."
member of SCRS leadership council and former head of U.S. site management and monitoring at AstraZeneca
Read the press release
Vanderbilt University Medical Center
"Veeva Vault Site Connect will eliminate the many portal interfaces, manual handoffs, and
multiple steps it takes to share data with sponsors during a trial."
Director, Vanderbilt Institute for Clinical and Translational Research, Vanderbilt University Medical Center
Read the press release
Previous
Next