Veeva ePRO
Veeva ePRO simplifies the design, management, and completion of electronic Patient Reported Outcomes (ePRO), with seamless data flow that ensures access and transparency throughout clinical studies.
Benefits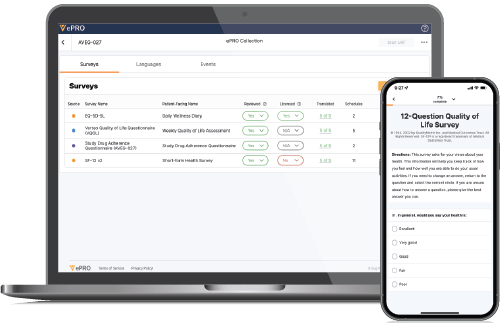 Streamline Study Execution
Drive efficiencies and reduce the burden of data stewardship through a unified platform that eliminates the need to manage data across multiple standalone systems.
Faster Access to High-Quality Data
Seamless data flow across a complete clinical platform ensures data is accurate, complete, and readily available data from study design to close out.
Increase Site Uptake
Remove administrative burden by enabling sites to manage ePRO without the need for additional systems or applications.
Better Patient Experience
Make ePRO completion easier with a single user-friendly app to receive notifications and access study activities.
Features
ePRO Library
Accelerate study design through a library of reusable and validated ePROs, sourced from both Veeva and sponsor libraries.
Supports Range of Question Types
Incorporate required question options including multiple choice, numerically rated scales (NRS), and visual analogue scales (VAS).
Branching Logic
Only include relevant questions to simplify ePRO completion and enhance patient experience.
Patient and Site Notifications
Notify patients of ePROs requiring completion and alert sites if they are uncompleted or missed.
Enhanced Login Options
Users can login with a username and password or choose to activate biometric authentication (fingerprints and facial recognition).
Optimized for BYOD
Patients can use their own device including android, iOS, and web.
Real-time Data Access
Sites and study teams can access patient-entered data, including adherence, in real-time in the systems they work within – no more data silos.
Amendments and Version Control
Seamlessly manage amendments to the study design which are version controlled and automatically provided to sites.
End-to-end Platform
Unified system seamlessly connecting sponsors, sites and patients across the entire ePRO process.
Validated and Secure Cloud Platform
Veeva ePRO is fully validated by Veeva and supports compliance with HIPAA and regional data privacy requirements.

"Digitizing ePRO and making it available for sponsors to view in near real-time is going to be a game changer for us."
VP, Global Scientific Clinical Operations, Celerion
Learn More
Vanderbilt University Medical Center
"Having the ability to conduct parts of a study remotely is key to a better patient experience and speeding study conduct. It's a crucial shift for the industry and I appreciate the innovation Veeva is bringing to this important area."
Program Director for Investigator-initiated Clinical Trials
Contact Veeva to learn more
Build Studies Faster and Smarter with Veeva ePRO