Veeva Link Scientific Awareness
Get an unbiased measure of your drug's visibility.
Benefits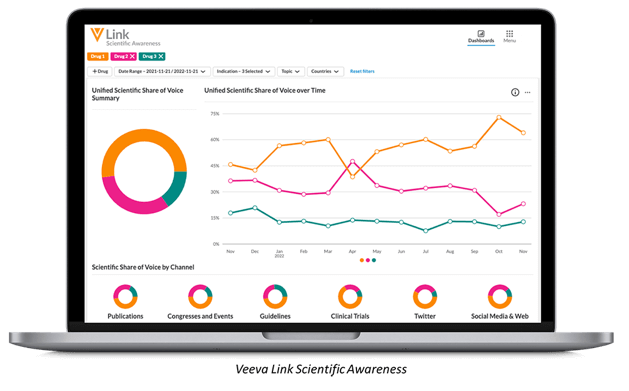 Measure Awareness, Sentiment, and Sentiment Reach
Track key success metrics in a unified and consistent way across teams and products.
Gain Insights
Stay ahead of evolving trends and understand what is driving visibility for your scientific platform.
Inform Your Medical Strategy
Focus efforts on the critical activities for your scientific and medical community and their patients.
Key Success Metrics
Veeva Link Scientific Awareness collects and analyzes data across scientific, digital, and social channels to deliver a comprehensive, real-time view of how the scientific and medical community perceives your company's therapy.

Share of Scientific Voice
Assesses product awareness based on
mentions in scientific and digital sources.
Then compares that awareness to a set
of competitors over time.


Sentiment
Tracks how the science behind
designated products is interpreted.
Sentiment is entirely manually curated by
Link's scientific and medical team.


Sentiment Reach
Identifies how broadly the product
-related conversation is amplified
across channels.
Top 10 Pharma
"Link Scientific Awareness helps guide our strategy and actions, making us more agile and better focused on serving the needs of our healthcare providers and patients."
Global Head of Medical Portfolio Strategy, Novartis
Watch video

"Veeva Link informs us on the potential medical impact of our own products and how they're perceived in the broader multiple myeloma environment."
Global Medical Affairs Lead, Hematology, Janssen
Watch video
Top 10 Pharma
"Veeva Link Scientific Awareness gives us greater clarity of the evolving digital space, which helps us bring medical expert engagement to the next level. We can easily assess product awareness across channels, direct our efforts towards activities that we know will move the needle, and drive more tailored communications."
Medical Strategy and Operations Lead
Previous
Next
Features
Real-Time Metrics
Data is tracked and measured as soon as published, making the analysis available in real time.
Unrivaled Depth and Breadth
Monitors local and global data sources, including 300K+ medical congresses and 1.2B+ social media posts across 85+ countries.
Monitors Key Sources
Covers two core categories of relevant data:
Scientific channels (e.g. publications, congresses and professional events, clinical trials) - available and relevant for product visibility analysis.
Digital and social channels (e.g. Twitter, LinkedIn, Reddit, YouTube, nytimes.com) - Analyzed to measure product awareness as well as sentiment and sentiment reach.
Flexible Dashboards
Analysis can be customized by selecting specific competitors, product indications, geographic regions, and countries. Adjust to constantly expanding data sources as customer behavior changes.
Manually Curated
Leverages advanced technologies to collect and analyze data across scientific and social channels. Accuracy is validated by 1,000+ data curators, and sentiment analysis is reviewed by 100+ physicians.
Strategic Insights Consulting
Team of experts available to distill strategic insights and make recommendations on the right action plans.
Resources for Link Scientific Awareness
How can Veeva Link help your business?