At Veeva's North America R&D and Quality Summit, TMF leaders from top pharma and biopharma companies reflected on the ways the pandemic altered TMF operations and shared predictions for how the function will change in the future.
Here are four TMF trends to watch in 2022 and tactics to prepare your organization:
1. "TeleTMF" Site Reviews
More sponsors will formalize their procedures for virtual site visits, not unlike telehealth visits for patients. To encourage sites to accept this, they can accommodate budget line items to reimburse sites for those reviews.
This will happen alongside increased technology adoption to facilitate automation and reduce the manual steps needed for sponsor TMF and site eISF reconciliation. Applied Clinical Trials noted in a report that sites might lack the budget or expertise to implement additional technologies, adding: "Industry may need to support sites by investing in technologies and trainings to ensure standardization across investigative sites."
Similarly, sponsors and CROs reported in the Veeva Digital Clinical Trials Survey Report that their top initiative to address challenges with decentralized trials and accelerate digital transformation was to better support sites with technology.
Advancing the Move to Digital Trials
Nearly all respondents (95%) are working to establish a unified digital trial foundation that will improve information sharing and collaboration across stakeholders, better support sites, and eliminate silos through a connected ecosystem.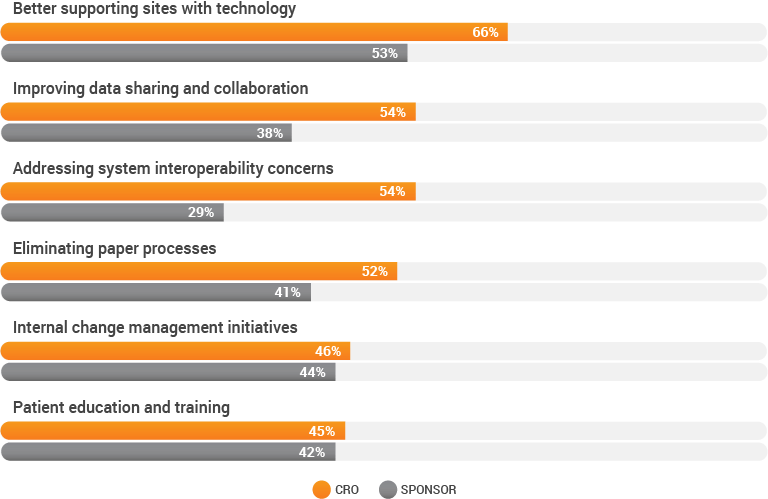 Source: https://www.veeva.com/veeva-digital-clinical-trials-survey-report/
---
2. Risk-Based Quality Reviews

We've moved to a risk-based process where we've identified documents, classifications, and artifacts that carry more risk of being missing either from the sponsor or from the site file. For those, we have a heavy-touch document review that requires different levels of documentation.
— Head of TMF, top pharma
Organizations will also continue to develop processes to differentiate between TMF documents that require reviews and those that don't, streamlining reviews while maintaining compliance.
One top 20 pharma first developed a risk-based approach to address a backlog during the pandemic, but the organization will continue the process moving forward.
Organizations can also split ownership of review activities among groups to prioritize subject matter experts where they'll have the most impact. For example, a centralized records management group can manage document-level quality checks, while subject matter experts manage holistic TMF quality reviews.
---
3. Artificial Intelligence
Artificial intelligence in TMF will increasingly drive efficiencies and enable strategic process improvements for long-term success.
One leading clinical-stage biotechnology company adopted artificial intelligence within their eTMF to help ensure that documents are processed more quickly. They identified that site management documents were frequently duplicated during the handoff between the site startup team and the monitor's first on-site visit after site activation. With artificial intelligence to auto-classify documents, they could process documents and increase visibility for those documents across teams more quickly — reducing the risk that they're duplicated.

Documents Processed 30% Faster
with AI-Driven Document Classification
---
4. Virtual Inspections

The inspections will continue, and health
authorities will expect the same level
of rigor from us, regardless of format.
— Head of TMF, top pharma
It remains to be seen if regulators will continue virtual inspections after the pandemic, but this format offers them increased flexibility and potential monetary savings because no travel is involved. Virtual inspections will likely continue to some degree, with the UK's MHRA noting a "consensus view across global regulators" that virtual inspections will not entirely replace in-person inspections but will serve as an important tool in regulators' toolkits.
Whether organizations face on-site or virtual inspections, they can take similar steps to prepare. These steps include:
Using reports and dashboards to assess eTMF health throughout the study lifecycle
Giving inspectors direct access to the TMF
Providing inspector training and early account access
Developing quick-reference guides that outline the training
Creating an inspection scope report that outlines metadata and key files in the TMF
Innovation in TMF
To learn how industry leaders are driving automation and digital execution in TMF, access content from the inaugural TMF Innovation Forum.
Experts from Moderna, Alexion, Seagen, and more shared TMF best practices and discussed advancements toward connected digital trials.
Watch On Demand