RELATED READING
In 2022, TMF leaders from top biopharma companies shared insights into how the function will change as clinical trials evolve.
Many believe that TMF leaders have a strategic opportunity to evolve TMF management and advance digital clinical trials by enabling automation and connectivity with other functions and systems.
Here are five TMF trends to watch in 2023:
---
1. Prepare for TMF Reference Model evolution
In April 2022, the TMF Reference Model became affiliated with the Clinical Data Interchange Standards Consortium (CDISC) to update the model created for paper processes and ensure it better aligns with eTMF systems. It also gives the group access to additional funding and deeper connections with regulators and the ICH.
This won't immediately change how TMF functions operate, but it signals increased interest across the industry to expand and streamline electronic data exchange standards. Clinical data has established standards, and this will likely introduce similar standards for operational data within clinical operations.
The TMF Reference Model is still freely available, but organizations can join CDISC as members to get involved.
---
2. Adopt risk-based TMF management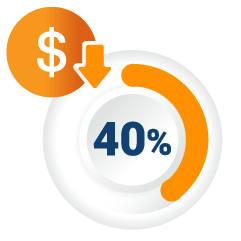 40% reduction in documents to process with risk-based TMF, driving major cost saving
Organizations continue to adopt risk-based and quality-by-design (QbD) approaches to TMF, in line with regulatory expectations that require evidence of these practices in the TMF.
This approach enables organizations to drive critical efficiencies and focus on the biggest risks to trial integrity. For example, one top 20 biopharma created a framework to rank documents by risk for QC. They assigned tiered levels of risk to classifications depending on the criticality of the documents and the amount of effort it would take to collect, replace, or recreate those documents – with Tier 1 being the highest level of risk and Tier 3 being the lowest. The company now automatically approves all Tier 3 records, reducing document QC by 40%.
We shifted to a risk-based model knowing there would be many benefits, but there were additional benefits we didn't anticipate, said the organization's associate director of TMF. We were able to reduce the volume of documents to process by 40%. A 40% reduction represents a major cost saving.
---
3. Implement AI and automation
Organizations are innovating in new ways to automate and streamline TMF management.
For example, some biopharmas are implementing integrations to ingest documents from contract research organizations (CROs) and institutional review boards (IRBs) to improve collaboration and submissions. They are creating robotic process automation (RPA) bots to execute tasks like processing safety information, uploading and promoting documents to final, and performing quality checks. They are also leveraging eTMF systems that incorporate artificial intelligence (AI) natively.
Organizations are also still exploring the best models for managing site document collaboration and eISF-eTMF connectivity.
One leading clinical-stage biotechnology company's view is that automation provides the most value in highly administrative and repeatable tasks. The company implemented AI to auto-classify documents and give document processing teams more time to perform content reviews and QC. Those teams were able to focus on higher-value tasks and also significantly improve the rates at which they finalized documents.
The company's senior clinical oversight lead uses the following guidance to determine when the company automates: You first want to examine task automation versus the value-add of that automation, he said. I see it as a bell curve: The more you automate a task, the more value you're bringing, until you hit a critical point where additional automation won't provide additional value.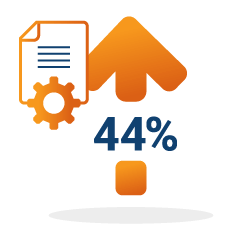 Documents Processed 44% Faster
with AI-Driven Document Classification
---
4. Optimize document QC for speed and accuracy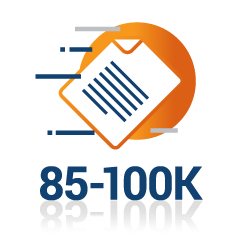 85,000 to 100,000 documents processed per month
Most top biopharma organizations rely on document contributors to process documents. This model speeds document classification and mitigates the risk of misclassification with AI technology and built-in checks and balances during QC. But, there is often no clear standard operating model for primary and secondary QC among these organizations.
At one top 20 biopharma, clinical research associates (CRAs) upload documents, while record management specialists process documents using AI to auto-classify documents and assist with QC. After QC and approval, CRAs also ensure the documents are inspection ready. A smaller team of essential document specialists and leads oversee the TMF and various functional areas. This model enables them to process a high volume of documents, ranging between 85,000 to 100,000 per month.
Decentralized primary QC ensures faster document finalization and leverages the expertise of the document contributor, while centralized secondary QC ensures that a core team focuses on high-value activities to drive quality.
---
5. Prepare for EU CTR impact on TMF
EU CTR aims to harmonize the clinical application process across Europe and increase transparency. Although the regulation significantly impacts study start-up operations, it will also impact TMF operations. It introduces new document types, which are largely mapped to the existing TMF Reference Model.
The TMF Reference Model steering committee noted in a white paper that the regulation reiterates that a TMF must be readily available and directly accessible upon request … irrespective of the status of the TMF, meaning that an archived TMF must also be readily available and directly accessible. The regulation mandates that the TMF be retained for 25 years from the end of the clinical trial.
The regulation also stipulates certain redaction requirements for Clinical Trials Information System (CTIS) documents, including protected personal data (PPD) and commercially confidential information (CCI). Organizations will need to define new processes for document redaction, as well as processes for storing those documents. Some organizations are considering filing redacted documents in their TMF, but that practice would lead to duplication, and those documents do not recreate how the trial was run.
Learn more trends that will help shape the future of TMF and connect with over 1,500 of your life sciences peers at Veeva R&D Summit on September 13-14, 2023 in Boston.
Register Now