How Biopharma Leaders are Shifting to Hybrid Engagement
Jul 14, 2021 | Paul Shawah
After a year of reinvention for life sciences, the rise in hybrid engagement (both in-person and digital) is introducing a new set of challenges for companies to navigate. With HCP channel preferences evolving and digital continuing to change the nature of industry interactions, sales, medical, and marketing teams are rethinking everything from field deployment models to educational and promotional content—and the data that provides a backbone for it all.
Against that backdrop, commercial leaders from emerging biotechs and large pharmaceuticals recently shared their learnings and digital transformation journeys at the Veeva Commercial & Medical Summit Connect, North America. Here are five key takeaways from the evolving commercial and medical landscape.
Relationships matter more than ever
If there's one thing the industry leaders all agreed on it's that digital engagement is here to stay. Across Veeva's customers, the ratio of digital-to-in-person calls has held steady into 2021 (as shown below), even as vaccinations picked up and more organizations loosened restrictions at work. The mid-2020 volume increase in remote meetings and emails continued even as traditional sales calls reached a new baseline.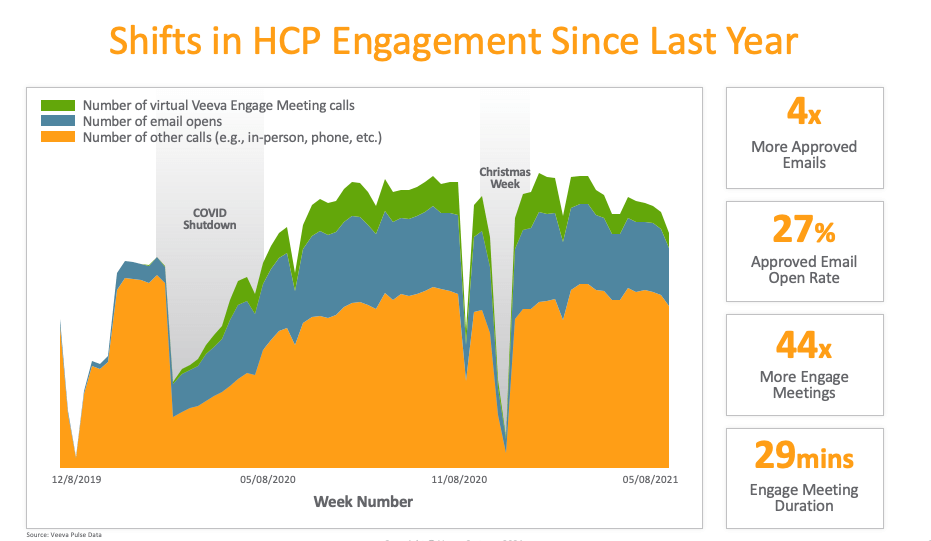 To determine what 'good' looks like in today's hybrid model, we reviewed how digital behavior differs between the most-engaged HCPs (top third) compared to everyone else. We found that highly engaged customers open emails 4x more often, attend 3x more Veeva Engage meetings, and spend 3x longer in those meetings than their peers.1 This tells us that digital works best when driven by rep relationships.
Mark McLaughlin, a commercial leader at one of the world's top biopharmaceutical companies, noted, "As a sales leader, my goal is to tell my team, 'this type of HCP wants to be seen X amount of times per quarter face to face, and receive Y amount of emails.' That kind of insight helps them become the digital coordinator for their customers."
Karena Teves, program manager of commercial operations at Impel NeuroPharma, pointed to the benefits of starting out in a digital-first model. "As a small and nimble organization, we've been solution-oriented as we build our architecture from the ground up," she said. "With our digital foundation, we'll be able to meet the customer where they are, monitor performance after launch, and fully leverage hybrid channels."
"Pull" models better meet HCP needs
In addition, as COVID-19 reset customer expectations and everyone (including HCPs) grew more digital savvy, pull marketing became ubiquitous in our personal lives. Life sciences companies recognize that they also need to adapt their communications to HCPs for a more human and personalized concierge-like experience. Several early adopters of MyVeeva for Doctors described how this new mobile channel builds stronger relationships.
"The MyVeeva for Doctors app is great because it allows real-time, bi-directional interaction between HCPs and MSLs or pharmaceutical sales reps across the whole industry," shared Deborah Sullivan, director of field force automation at Sanofi. "It's the perfect platform for increasing engagement with underserved or hard-to-reach HCPs, so we avoid missed opportunities and can share compliant content when and how physicians want it."
Content goes modular
More digital engagement requires faster content creation and review. The vast majority of virtual meetings (80%) use pre-approved content compared to only 30% of in-person calls.2 This is a reason brands are embracing new modular content strategies that help them quickly deliver and repurpose compliant, personalized content across markets, channels, and regions.
"Delivering personalized experiences at speed and scale is almost impossible if you don't have modular content as a key enabler," explained Raakhi Sippy, head of global pharma marketing operations at GlaxoSmithKline. "Approval timelines reduce exponentially as you move from developing large, fully completed campaigns to modularized content cards and channel frames."
Real-time data optimizes engagement
From content to omnichannel engagement, every customer interaction is richer when informed by accurate, connected data and analytics. In order to find and engage with scientific experts, for instance, companies need real-time insight into the ecosystem around key opinion leaders (such as their speaking engagements, publications, and social media feeds).
To support these efforts, we expanded Veeva Link, our database of deeply curated profiles, to 11 new therapeutic areas. Hosham Al-Mussawi, who leads field operations and effectiveness at rapidly growing biotech Oncopeptides, described how this intelligence supported his company's first commercial product launch this spring. "We had six months to figure out the size of the market, territory planning, targeting, our field force, and more," he said. "With a deeper understanding of important stakeholders, we planned the right engagements to deliver a wealth of education."
Connected, longitudinally complete data improves patient outcomes
Robust data across the entire patient journey is essential for optimizing commercial strategies. "When you're working in rare diseases, it's not just the patient community that's small, but also the prescribers," shared Mamta Chhabra, global marketing lead at UCB. "You need to be more targeted and thoughtful in your approach, making the need for data even more critical."
Eric Solis, director and lead data scientist at Takeda, also noted how data can help companies keep up with changing dynamics. He said, "When we look in the data, everything is shifting away from homogeneous HCP interactions and preferences. The goal is to give each physician the information they need to make a difference in how they're treating patients. Data and analytics can help teams get a sense of their true impact and next best actions for individual HCPs."
For more commercial insights and trends, read the latest Veeva Pulse Field Trends Report.
---
1 Veeva Pulse, U.S. Market, May 2021
2 Veeva Pulse, June 2021
Interested in learning more about how Veeva can help?