Maximize Scientific Engagement with Innovations in Veeva Medical Suite
Mar 18, 2022 | Andrew Freedman
Over the past couple of years, Medical Affairs teams have had to operate in a new environment in which an increasing number of channels are used to meet key opinion leaders' evolving needs. With over a quarter of a million virtual meetings hosted by Veeva's medical customers as well as over 3 million 1:1 personalized emails, there has been a significant uptick in the use of digital engagement by medical teams over the last two years.1 Medical Affairs personnel believe that this trend toward virtual engagement will continue, with only 50% of future MSL-KOL interactions being face to face, and only 35% in Europe.
This new hybrid approach to engagement, which includes in-person as well as digital channels, pushes medical teams to rethink and optimize the way they work. They must learn to deal with more varied interactions over more engagement channels, and with new content formats to support their discussions.
The newest innovations in the Veeva Medical Suite help medical teams leverage engagement opportunities, regardless of the channel or device, to establish long-lasting relationships with HCPs. Here are three key capabilities medical teams should be using to meet stakeholder preferences and ensure a smooth transition into hybrid engagement.
1. Platform flexibility and optimization
To ensure that field medical teams can work efficiently and engage with stakeholders on the devices that best meet their needs, Veeva is expanding digital capabilities across platforms. To provide MSLs with more agility in the way they find and share content, we are especially focused on increasing parity between iPad and desktop. All engagements will be traceable, automatically generating data to inform decisions around scientific messaging.
Enable a hybrid model of engagement
Optimized for MSLs who may work remotely as well as in their home offices, the new Veeva CRM Desktop Experience provides a more intuitive, modern, and tailored user interface with faster access to insights and better digital engagement capabilities. Medical teams can stay productive regardless of the device used to access Veeva CRM. The new Veeva CRM Desktop Experience is available now for all customers that have completed migration from Salesforce Classic UI to Lightning.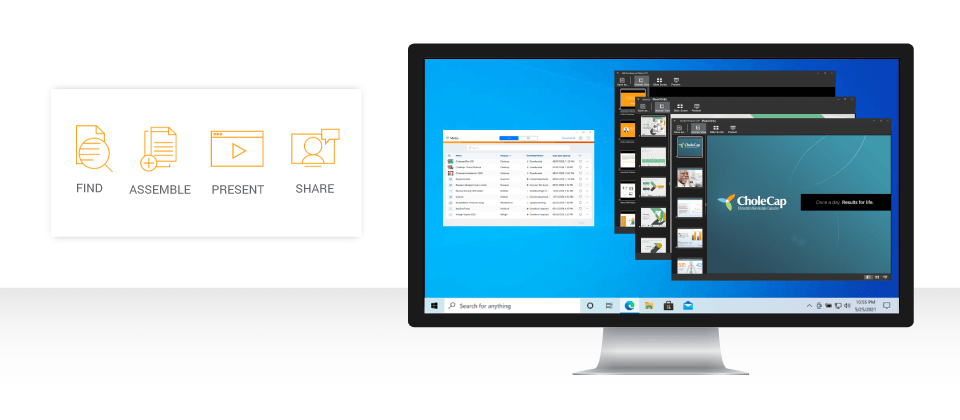 Easily find, present, and share content from the desktop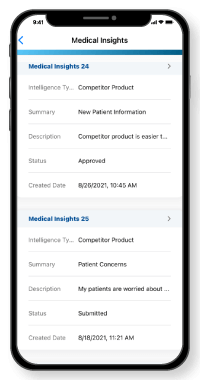 Medical teams typically have a large and continuously growing library of scientific content as a wide variety of materials are required to support discussions with experts. It is critical that MSLs be able to quickly locate the right content to promptly answer questions from KOLs. Field teams can now find, present, and share Veeva CLM content via their desktop, making it easier to meet with accounts face to face or remotely via Veeva CRM Engage Meeting, Zoom, or Microsoft Teams. Automatic tracking of all media activity provides valuable insights into customer interactions and the impact of the content shared.
Capture key medical insights on the iPhone
Capturing key medical insights is a uniquely valuable and frequent task performed by field medical teams. To speedily capture insights, when they are fresh in the mind of the MSL out in the field, Veeva has introduced the ability to create them on the iPhone. With more entry points, field medical teams can be better prepared to meet the unpredictability of medical insights and ensure they are captured quickly and accurately.
2. Better customer intelligence and insights
The adoption of digital technologies can enable medical teams to gain deeper insights into their customer preferences and behavior patterns. To strengthen MSL decision-making, Veeva is delivering valuable customer data and insights directly within CRM workflows. Users can make real-time decisions about what is going on and what to do next without navigating multiple apps.
Create tailored workflows and dashboards
Having actionable insights at the point of planning and decision-making helps MSLs to drive better execution. With Veeva CRM MyInsights, field medical teams have custom data visualizations and dashboards that provide them with a single view of key stakeholders' scientific leadership profiles, history, preferences, and multichannel activity within Veeva CRM. This tailored user experience enables field teams to make data-driven decisions for more personalized engagement. Using the MyInsights Studio, these visualizations can be easily created, modified, and embedded within Veeva CRM Lightning-enabled pages without writing code.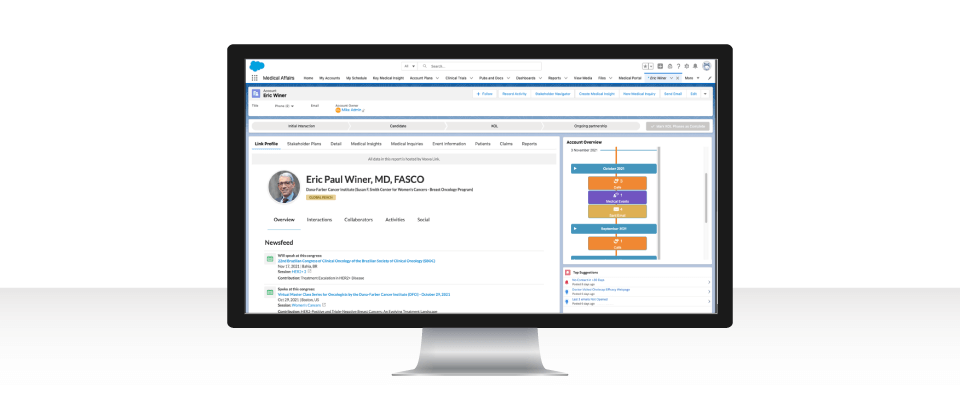 Real-time customer intelligence at your fingertips
MSLs must understand the educational needs, activities, and interests of their key stakeholders to maximize the impact of their engagements and deliver truly valuable information. Veeva Link brings all that information together in one place and is seamlessly integrated into Veeva CRM through MyInsights. Veeva Link's deeply curated profiles have expanded to include over 1 million experts across 77 countries and 21 different therapeutic areas. These rich insights give medical teams the ability to gain a complete view of their customers, make new connections, and inform key experts of the latest developments and newest treatments aligned to their interests.
3. Streamlined user experiences
To help medical teams better manage day-to-day activities, surface insights, review performance metrics, and efficiently respond to medical inquiries, Veeva has improved our user workflows and navigation across platforms and enhanced the desktop experience with purpose-built Lightning applications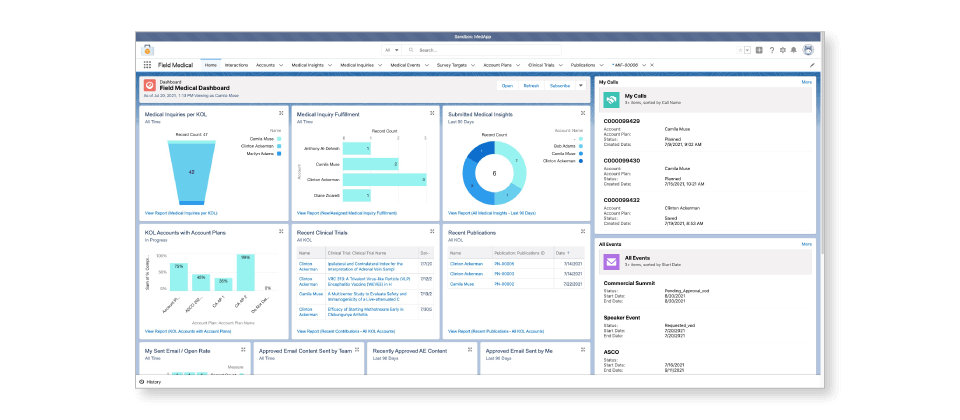 Empower field medical with role-specific app
Field medical users can quickly find and learn more about their key stakeholders, capture key medical insights, research the latest information in publications and clinical trials, and easily access other important information through the new Field Medical Lightning Business App. This new app is included with the CRM license and contains default configuration for tabs, views, and page layouts. This fit-for-purpose data visualization capability gives field medical users an immediate view into all the information they need to effectively execute activities around their key stakeholders.
Efficiently respond to medical inquiries
Medical information teams can quickly capture large volumes of inquiries through the new dedicated medical inquiry user interface in Veeva Vault MedComms. This modern and configurable user interface helps users to efficiently and accurately capture all the important details of a case in one place—including multiple requests, responses, and any adverse events. The clean and simple user experience reduces the number of clicks and increases flexibility, helping end users focus on key information during case intake.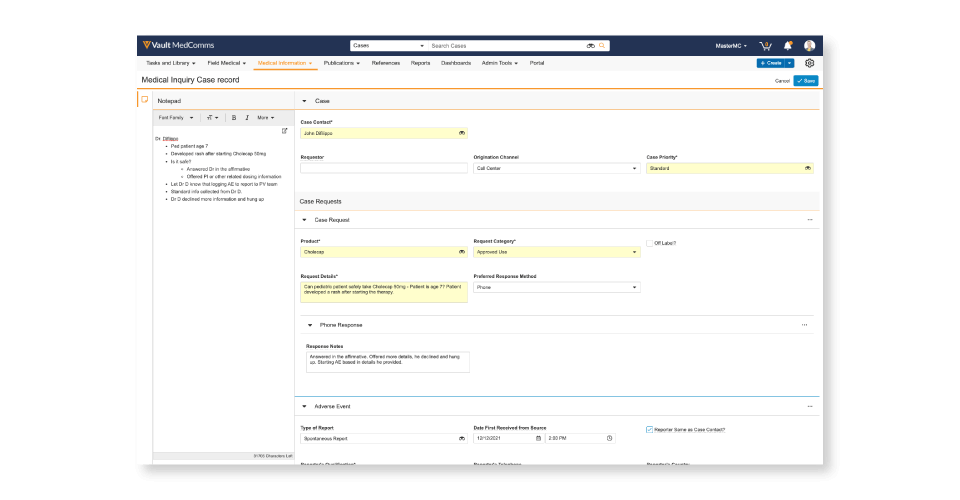 Streamline email medical information requests
For most organizations, email is the most frequent communication channel for medical information requests. New features in Vault MedComms 21R3 enable medical inquiries received by email to generate the automatic creation of a case, pre-populating many of the details. This reduces the work for medical information teams, ensures greater consistency, and quicker response times.
Get a deeper look at these innovations for Veeva Medical Suite and review recent release highlights.
---
1 Veeva Pulse Data, Global Medical Veeva Engage Meetings and Veeva Approved Email across all Veeva medical customers held between Jan 2020 to July 2021
Interested in learning more about how Veeva can help?