"With this connection, we'll have real-time visibility into global variation approvals and each step of the end-to-end change control process from regulatory to manufacturing to packaging."
- Olivier Melis, Associate Director and Digital Quality Partner, UCB
Every year, UCB introduces thousands of post-approval changes that impact product registrations. But disconnected quality and regulatory processes make managing variations difficult, time consuming, and prone to delays.
From Manual to Automated Handoffs
While expanding their Veeva footprint to include Vault QMS and Vault Registrations, UCB seized the opportunity to further streamline variation management with the Vault Quality to RIM Connection. UCB's goal was to eliminate manual handoffs and improve process visibility with automated two-way data exchange between quality and regulatory systems. Closing information gaps would accelerate regulatory approvals and help the quality team make timely product release decisions. UCB is now working with Veeva to align their RIM and quality data models before implementing the Veeva-delivered integration.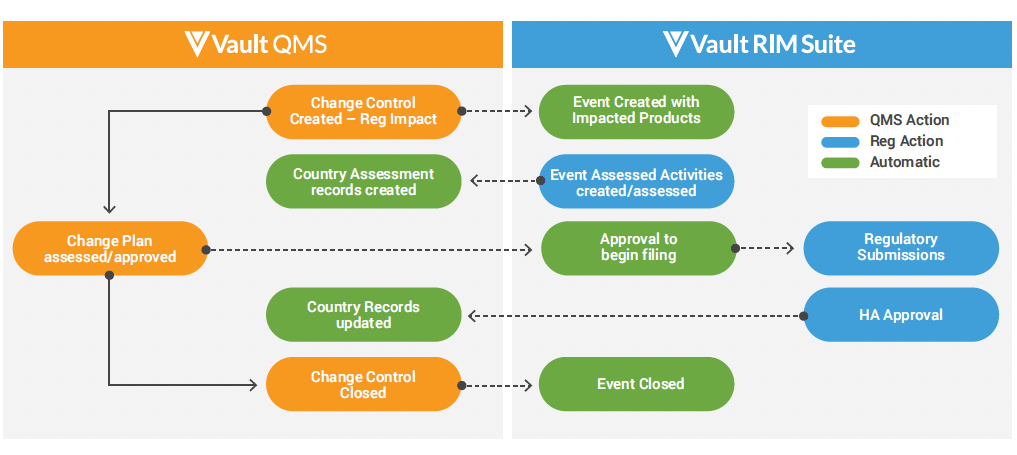 "By aligning the RIM and quality data models, we can have change control and regulatory events 100% synchronized, so it should be a massive saving in time and effort."

Darren Nevell, IT Lead, Core Regulatory & QA Apps, UCB
Increased Visibility and Alignment
With the Vault Connection in place, quality and regulatory teams will stay in sync while working efficiently in their own systems. Regulatory will be automatically notified when change controls are requested, approved, closed, or cancelled and the quality organization will have real-time visibility into regulatory impacts and health authority approvals.
Harmonizing the variation management process across quality and regulatory departments will enable UCB to shorten cycle times, increase information transparency, minimize regulatory risk, and avoid product distribution delays. Looking ahead, UCB plans to implement the Vault Clinical Operations to RIM Connection so clinical and regulatory teams can seamlessly share product, study, and site documents.
Interested in learning more about Veeva?