As disease states become more complex in both treatment protocols and the way diagnosis occurs, understanding how a patient moves through a health system is critical. Patients needing complex therapies commonly visit three to five physicians and go back and forth between specialists throughout identification, diagnosis, management, treatment, and monitoring.
Learn how one top pharma leveraged four connected data sets to understand the patient journey across health systems and develop a unified HCP target list for launch.
Challenge
With one product in market that was receiving a new indication, and an upcoming launch for a product in the same therapeutic class, the company quickly needed to:
Understand how patients were moving within and between healthcare systems across both of their therapies.
Develop a unified list of key physicians based on treatment potential, referral patterns, diagnosis, and key opinion leader (KOL) status.
Plan how to prioritize their time with healthcare providers and have the greatest impact on patients.
Solution
The company leveraged Veeva Commercial Cloud and its common data architecture to bring together four different data sets in a matter of weeks, matched and ready to go. The data came together quickly, effectively, and efficiently. Each provided a unique piece of information and dimension for analysis.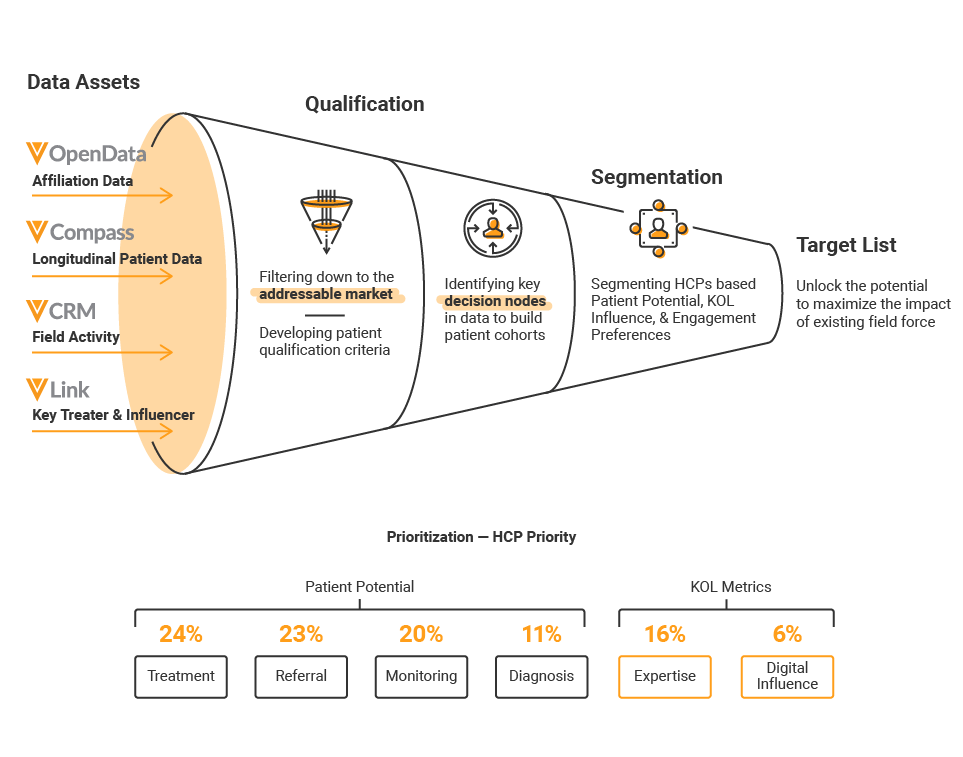 Results
Through the analysis, the company was able to:
Identify key decision nodes within the data, and the patient journey and patient cohorts that were aligned to the different HCPs.
Segment the HCPs, aligning them to various health systems and their points in the patient journey.
Create a prioritized list of HCPs based on both their patient potential and their key opinion leader status.
Develop an action plan to inform the company's launch strategy, call planning, congress strategy, and how their field teams would prioritize HCPs throughout launch.
The company came away with a unified target list that would allow them to maximize the potential of their upcoming launches and have an impact on patients who would be eligible for their treatment.
If you are preparing for an upcoming launch or new indication, explore how connected customer, patient, and KOL data on a common data architecture can help you prioritize and optimize your reach.
Interested in learning more about Veeva?