Veeva Compass Patient Data for Life Sciences
Access longitudinal prescription and medical claims patient data with Compass Patient.
Benefits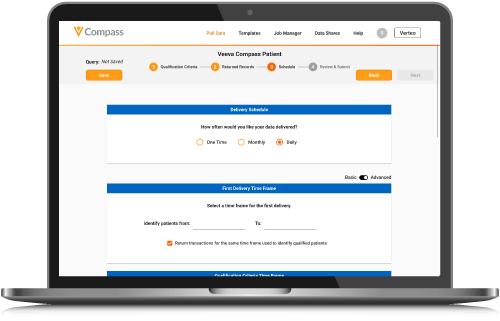 Close Knowledge Gaps
Data from traditional and non-traditional sources offers breadth and depth.
Count on Data Accuracy
Better linking across data sources over time delivers trust
Improve Speed
On-demand data and unlimited pulls offer flexibility.
Patient Data for Pre- to Post-launch
Understand the market and patients at each stage of the brand lifecycle
1

Pre-launch Use Cases
Market landscape and size assessment
Customer/HCP targeting
Patient segmentation
Patient journey analysis
Forecasting
2

At-launch Use Cases
Ongoing market, patient, and HCP analysis
Advanced patient analytics, like source of business/switching
Promotional assessments
3

Post-launch Use Cases
Ongoing market, patient, and HCP analysis
Advanced patient analytics, like persistence and compliance
Ongoing promotional assessments
Predictive modeling and triggers
Top and Emerging Pharmas Rely on Compass










Compass Patient Product Features

Access Data with EaseLog-in and access the data within minutes.

Pull Customized Prescription and Medical Claims Patient DataSpecify product, diagnosis, and procedure codes, and customized timeframes for the records of interest.

Quickly Understand Counts and CoverageUse Compass Explorer to generate a set of key metrics across all data - in seconds to minutes.

Use Templates for Consistency and SpeedCreate and manage templates for your standard and routine queries.

Define Your Schedule and Manage QueriesSet up one-time or recurring data pulls and manage submitted or draft queries.

Select Your Desired Delivery Protocol and LocationChoose where to send your data – sFTP, Veeva Nitro, or Amazon S3.

Share Data with Service ProvidersEasily and securely provide data to analytics and other service partners.

Manage Users and GroupsSet up and manage the users and groups in your portal.
ANI Uses On-demand Patient Data to Launch With Speed
Interested in learning more about Compass?