How to Get Better Data Insights for Sales Planning
Oct 14, 2021 | Brian Mahoney
When COVID-19 erupted, pharma sales teams turned to digital tools to navigate altered healthcare provider (HCP) relationships without knowing where it would lead. To help field reps map the digital sales journey now, companies will need to accommodate variables around how data will be used, and analyze, store and interact with data differently to build a customer-centric strategy. Here's how to get the data insights you'll need for this new sales planning process.
Different stages, different data
Effective sales planning draws on three different stages of data: short-term, medium-term, and long-term. Short-term data sparks the engagement strategy of an individual rep, while medium-term data can affect the operation of a sales team and long-term data can direct the strategy for an entire sales organization.
Short-term data, such as an HCP's channel preferences or offices that are currently open to visitors, is tactical and immediately actionable for field reps. It can help them distinguish between HCPs who never open an email and those who are super-users of digital channels.
Medium-term data is one step up, the data that managers use to guide engagement for a team. It encompasses information on workloads and access data that can help planners determine if a field force should go fully digital or remain hybrid. Medium-term data can also be used to determine the optimal size of the digital field team for a product launch.
Long-term data, meanwhile, is data that will influence the entire sales strategy because it shows the effectiveness of different types of engagements and territory structures. If the data indicates that HCPs like getting an email within 24 hours of a sales call, a company should encourage field reps to do this to reap the benefits of this engagement. And remember, you don't need to rely solely on your own data: Industry-wide benchmark data showing how your prospects interact with other companies can be very revealing, too.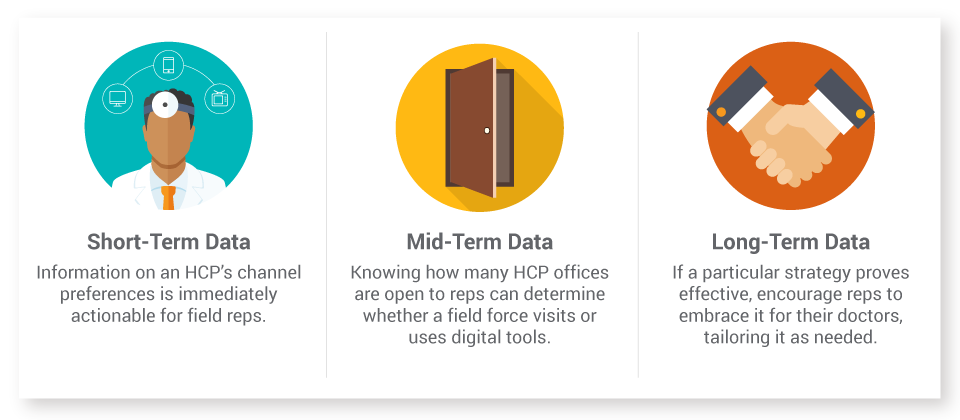 Looking beyond known data types
Working with data that is already known to influence sales strategy is one thing. But there may be interactions among other data that might also offer guidance, if you could see the patterns. Each piece of data from your CRM and customer intelligence systems adds perspective, as do databases on patients and prescribing, but to see the big picture, you will likely need a data science team that can dig through disparate data sources to find the behaviors of greatest importance to your business.
For example, one pharma company wondered whether there was a correlation between the length of an online meeting and its outcome. Its data exploration found that 95% of meetings less than 10 minutes long ended with a sample request. Meetings that were longer than 28 minutes, however, produced customers that were more engaged and had a more positive feeling towards the company. Sharing this kind of information with field reps can help them to adjust meeting times based on what they want to accomplish with their call.
Build data profiles and keep them updated
Companies can use data to build a profile of each customer, but they must also be prepared to update them regularly. By tracking engagement history, preferences, sentiment, and the outcome of each engagement, companies will develop profiles that can be the basis for more customer-centric sales planning. Only a careful analysis can help a company to uncover what is happening and how it might need to change its strategy to act on it.
When the home office sees changes in a customer it can suggest new actions for that relationship or alter the rep's success metrics. If new profile data indicates that a customer prescribed a competitor's product after attending an event that featured a key opinion leader (KOL) working with the competitor, it might modify its sales strategy.
Use data to be more dynamic
An ongoing flow of data can, and should, shorten the sales planning cycle. What happened in a territory yesterday may mean a different approach is needed in your strategy there today.
Rapidly changing field conditions will affect reach and frequency metrics, and companies can no longer wait for the end of a planning period to update them. They need to know immediately if a particular HCP can only be reached virtually or is in a zip code that is locked down. Rapidly changing field conditions, such as those that have happened during COVID, will affect reach and frequency.
Whatever your planning cadence is—yearly, quarterly or monthly—consider using your data, and technology, to make your planning more dynamic. Boehringer Ingelheim's cumbersome, legacy alignment process made planners avoid changes more than once a year. After it switched to a more agile technology that allowed for real-time field feedback, it has been able to do more frequent updates.
Collaborate, don't dictate
While the home office might be tempted to use HCP engagement data to dictate field strategies, that can backfire: A mandate to have a set number of emails opened by the HCP could force the field rep to spam that provider and strain the relationship.
Your goal, instead, should be to empower your field force through the information that you gather. The home office can use its data to draft a new engagement strategy that can be refined with rep feedback. Listen to what they tell you about how an HCP interacted with a digital presentation. Better data will create a better map of the digital sales landscape, and enable reps to navigate it more successfully.
As a result of the pandemic, the future lies in a digital approach to field engagement. That journey is still largely uncharted territory for life sciences. No company has a map yet for doing everything perfectly. But data can be your compass as you and your organization explore the digital landscape to find the path that's right for you.
Want to know more? Download the whitepaper Maximize Digital Channels with Smarter Sales Planning.