22R3 Vault PromoMats Release
A quick overview of the latest key features and how it impacts you
Business Perspective
New key features to improve your user experience with more speed and accuracy.
Modular Content Demo
See how modular content works in Vault PromoMats.
Education: Adopting the latest features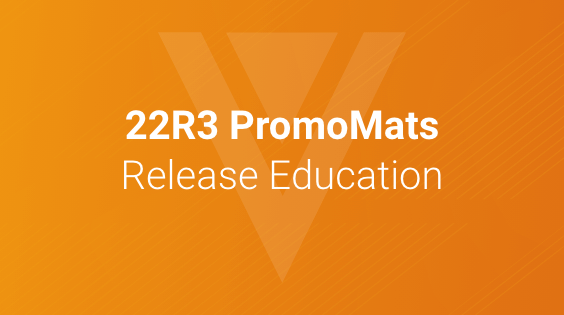 Release Education Webinars
Watch these on-demand webinars to learn more about the new features across Vault PromoMats to optimize content creation.
Vault Promomats
Q&A Webinar 1
November 15, 2022 -- 8 a.m. PT | 11 a.m. ET
---
Vault Platform
Technical Deep Dive
November 16, 2022 -- 7 a.m. PT | 10 a.m. ET
---
eCTD Enhancements
Add promotional material directly to an existing binder in fewer steps. Also, the new rendition type now allows you to add multiple clean versions to a binder for greater flexibility.
Enhanced Suggest Links
Suggest Links now runs automatically when you upload a piece, getting content out to customers faster.
Text Assets Update
Existing Claims Object will now expand to handle both claims and non-claims text within a single object. Store, manage, and approve all your messaging in one place.
Learn More about Our Releases