Veeva CRM Events Management maximizes attendee engagement with features optimized for virtual, hybrid, and live events.
Veeva CRM Events Management is an integrated solution built into Veeva CRM that provides one solution for all events and engagements, supports visibility and control, and drives impactful event experiences. Fully integrated with Veeva's commercial applications, Veeva CRM Events Management leverages key features from Veeva CRM Engage and Veeva CRM Approved Email to capture data along every step of the events journey.
In a post-COVID events landscape, Veeva CRM Events Management features focus on empowering the "new normal" of virtual and hybrid events. With embedded virtual events powered by Veeva CRM Engage, contactless sign-in, and personalized invitation, you'll have everything you need to take your attendee experience to the next level while capturing valuable insights.
Veeva CRM Events Management is available on online and mobile CRM platforms.
Tips & Tricks
GET REAL ENGAGEMENT FROM YOUR VIRTUAL AND HYBRID EVENTS
Veeva CRM Engage connects with CRM Events Management to help power virtual events that spark peer-to-peer conversations. Built on the Zoom platform, CRM Engage has an intuitive UI and allows hosts, speakers, and attendees to share audio, video, and presentations.
Simplify event execution by linking your virtual and hybrid events with the rest of your Veeva Commercial Cloud – pull contacts from multichannel Veeva CRM, automate invitations through Veeva CRM Approved Email, record the session in Vault, and house new data in Veeva OpenData.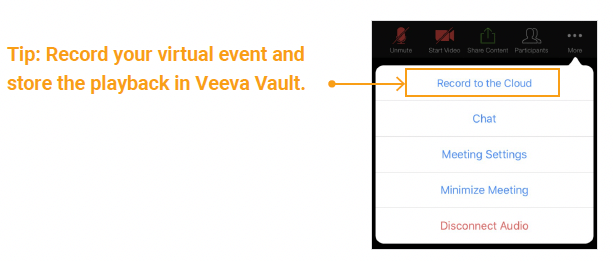 TAKE ADVANTAGE OF FAST AND FLEXIBLE QR SIGN-IN
Contactless sign-in has never been easier. Upgrade your manual processes with QR Code Self Sign-in. Hosts can print, email, or physically display the unique event QR code. Once attendees scan the QR code, they are guided through the sign-in process in the language of their browser. On-site registration for walk-in attendees and meal opt-in options are supported in the sign-in process.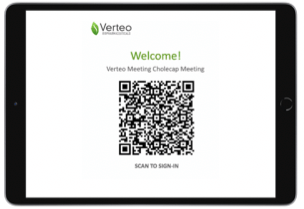 Hosts may access a comprehensive view of the attendee list in the Sign-In Summary Screen, where you can view who completed the sign-in and initiate the process directly from your device.

Tip: Before starting your event, check who has signed-in directly from the Sign-In Summary Screen.
QR Code Self Sign-In is included in your Events Management license. Enable this feature using the following settings: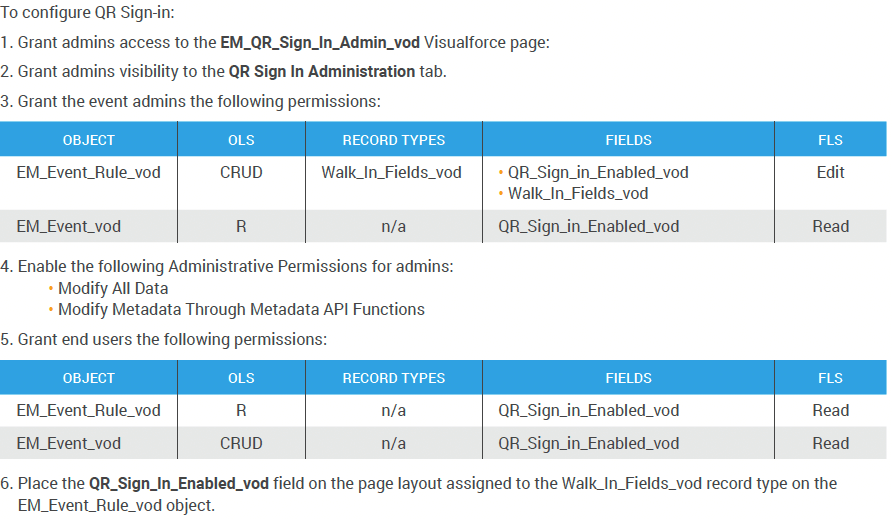 TARGET AUDIENCES, PERSONALIZE INVITATION TEMPLATES, AND GATHER EVENT FEEDBACK
Leverage the effectiveness of email without the regulatory risk with Veeva CRM Approved Email. Fully integrated within Veeva CRM and Events Management, Approved Email automates compliant invitation processes while capturing valuable customer insights. You can send official invitations, RSVP announcements, post-event follow-up messages, and feedback surveys. Use these three Approved Email steps to increase event attendance and satisfaction.
Target your audience by segments: Designate a target audience type (speaker, attendee, team member) for a given email template.
Personalize the invitation templates: Use tokens with email templates to tailor your communication and make it more engaging.
Gather feedback from participants: Capture valuable insights with surveys to gauge post-event feedback. All survey responses are captured within Veeva CRM without the need for additional reporting tools.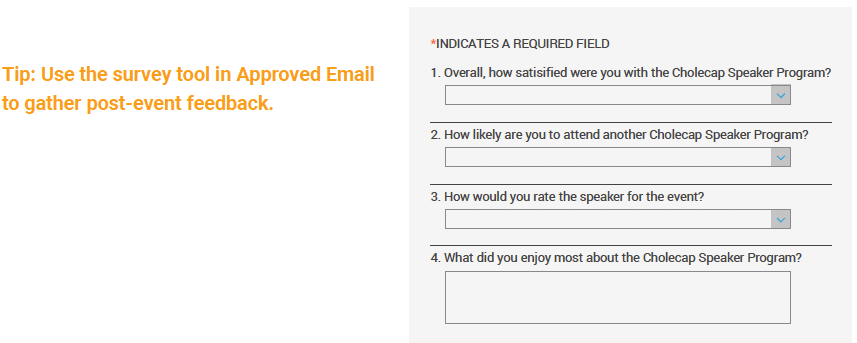 Resources