Veeva CRM Events Management
Total event visibility. Streamlined collaboration. More valuable events.
For life sciences, peer-to-peer engagement fostered by events is crucial to increasing product adoption. Lacking a clear view of KOL usage and HCP attendance, however, increases the risk of non-compliance and overspending—and reduces event impact.
Veeva CRM Events Management is a single solution to plan and execute all events across the enterprise. It gives you seamless control and total visibility of all speakers, attendees, activities, and spend, for better events with greater compliance. And total visibility to opinion leader usage and preferences, combined with profiles in Veeva CRM, helps you tailor your event strategy to deliver more value.
Built on Events Management, Veeva CRM Engage Webinar makes virtual events easy and compliant. Together, Events Management and Engage Webinar enable a new, streamlined approach to life sciences events.
BENEFITS
Simplify compliance: With total event visibility and control, making it easier to comply with changing regulations and transparency reporting.
Increase market awareness and product adoption: By matching the right speakers with the right audience for better event results and insights.
Improve budget adherence: With a single system that tracks your actual and committed expenses against budget across all event types.
Learn More
Watch Demo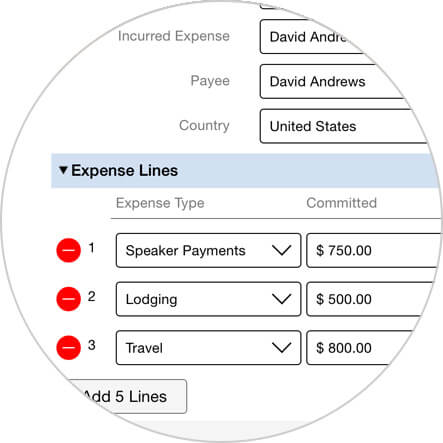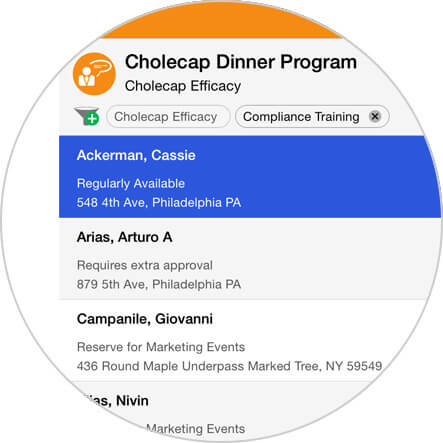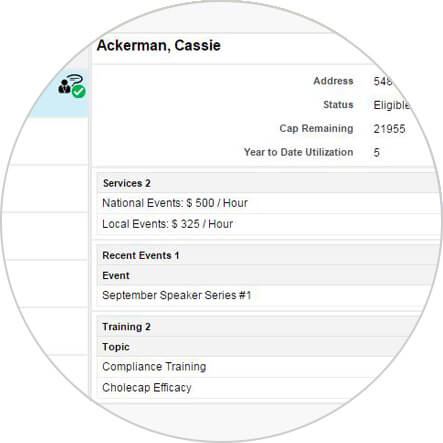 A New Model for Events Management
Our Technology Partners extend and augment the value our customers gain from Veeva CRM Events Management by providing integrated, specialized products and services such as speaker management, logistics services, and compliance systems.
Companies can choose from a network of proven logistics, services and partners, without sacrificing end-to-end visibility and event execution. Freed from the constraints of traditional fragmented event management processes, companies can eliminate inefficiencies and focus on strategic planning and event execution.
Learn more about the Technology Partners.
"By streamlining events planning globally with Veeva CRM Events Management, we have standardized critical components of our programs, which in turn has significantly reduced the time to execute events."
Lynn Kubinski | Head of HCP Interactions, Congress, and Meetings Management, Bristol-Myers Squibb

Find Out How
"Veeva CRM Events Management aggregates all spend and speaker data in one system that's integrated with our CRM so that we can measure event success as part of our multichannel strategy. We also now have a consolidated view of all customer interactions to ensure compliance with regional EFPIA and local transparency spend rules in Europe."
Alexandre Gultzgoff | Deputy Director of IT, Sanofi Pasteur MSD

Find Out How
Previous
Next
Features
Concur integration
Expense and event management work together to strengthen compliance. Track expenses in Events Management and push them to Concur with one click, eliminating the need for manual double data entry.
event surveys
Understand event impact and HCP preferences with built-in survey capabilities. Built-in surveys help field and marketing teams measure impact, and make more informed decisions on messaging, speakers, and venues. With one click, simply send a compliant Approved Email to attendees for feedback, which is captured in real-time in Veeva CRM. Survey responses can be weighted and scored to give immediate insight into HCP satisfaction.
COMPLIANT BUDGETING
Adhere to budget caps and reduce under- or overspending. Budget allocations can be made across all event types, such as speaker programs, investigator meetings, patient programs, and advisory boards—all within a single solution.
OPTIMIZED SPEAKER AND ATTENDEE MANAGEMENT
Ensure compliant speaker and attendee utilization, while engaging the most relevant expert for each event. With access to experts' profiles, including specialties, contracts, rates, certified event types, and recent usage, you can select the right opinion leader without risk. Visibility to attendee profiles, history, and the ability to create print invitations help users communicate event details to the right attendees for each event. Real time business rules and walk-in attendee management ensures the correct attendees are invited and tracked at every event.
COMPLIANT REPORTING
Aggregate all customer event spend in a single location. A purpose-built data model ensures all customer spend data related to events is captured and tracked for accurate transfer of value reporting.
MANAGE ALL EVENT TYPES
Reduce complexity and increase visibility. Planning, tracking, and logistics for each event type—including speaker programs, advisory boards, training programs, and committees—are managed and executed within one solution.
View Product Brief
Contact Us
FLEXIBLE PLANNING AND TRACKING
Select event details, set event budget, estimate number of attendees, and estimate expenses specific to each event type. Tailor end-to-end workflows based on event details—such as speaker type, requirements, and topics—for easy event planning and tracking.
PARTNER ACCESS AND EVENT ORGANIZATION
Eliminate the expense and time required to customize third-party software. With a single system to manage all event types, external event planners and partners can support planning and execution with role-based access in real time.
STREAMLINED EVENT APPROVALS
Reduce bottlenecks and stay on schedule. Since approval workflows are defined by event type, you can specify appropriate steps in the process to automatically initiate approvals triggered by activity completion.
ONLINE AND OFFLINE ACCESS
Designed for real-time planning and closeouts, Veeva CRM Events Management enables completion of on-site activities such as attendee sign-ins, even when internet connectivity is not available.
ACCURATE EXPENSE CAPTURE AND CLOSEOUT
Capture your payments and invoicing quickly and accurately. Real-time activity tracking makes it easy to update actual spend for travel, catering, meals, and speaker fees during the event to enable timely fee-for-service payments.
SEAMLESS INTEGRATION WITH VEEVA CRM
Increase user adoption by leveraging the intuitive CRM application used by your teams every day. Veeva CRM Events Management is natively integrated with
Veeva CRM Mobile
, making training fast and easy.
RAPID DEPLOYMENT
The
Veeva CRM Events Management Essentials package
is designed specifically for small and medium-sized life sciences organizations. We deploy Veeva CRM Events Management in your organization for a fixed price, enabling new processes and functionality within weeks.
Contact Us
The Evolution of Veeva CRM