To help you in this rapid shift to digital, here are resources to get started effectively and make the most out of Veeva's remote meeting solution. Whether you are new to Veeva CRM Engage Meeting or a master user, content is available for users at every level.
For more information, please contact your Veeva account executive.
Training Resources
How-to guides for scheduling and starting an Engage Meeting from an iPad or Windows device.
End-user Training
English based training is available in the Veeva Training Portal. Instructions for accessing the training portal are provided in the link provided. Please email to training@veeva.com for additional training support.
HCP-facing Resource Page
Quick start information to help healthcare professionals use Engage Meeting.
Online Help
Detailed configuration, functionality, and platform information.
Optimizing Content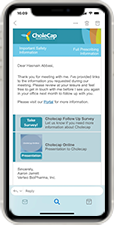 Customer Story
"We had the pleasure to launch Veeva CRM Engage Meeting to all Grünenthal affiliates in an incredibly fast manner, less than one month. It was a very innovative project that has had a lot of impact on our teams and customers."
SVP Global Head of Commercial Excellence, Grünenthal