Veeva CRM Engage Meeting
Veeva CRM Engage Meeting increases reach and access with compliant, video meetings.
Benefits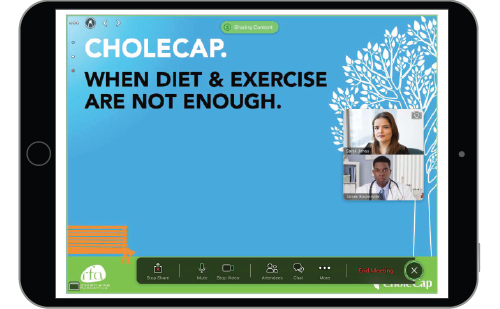 Improve Customer Engagement
Deliver the information your customers need with convenient and compliant virtual content sharing.
Increase Productivity and Reach
Use video to connect with HCPs regardless of physical access restrictions and geography.
Enable Content Reuse and Compliance
Stay on message and ensure your teams use only approved or existing Veeva CLM content.
Embedded in Veeva CRM
A common industry platform that makes remote interactions easy and compliant as part of a rep's natural workflow.
Schedule, launch, and send invites with a few clicks
Reuse compliant Veeva CLM content with automated content tracking and recording
Track and record all remote detail activity in CRM for further reporting and insights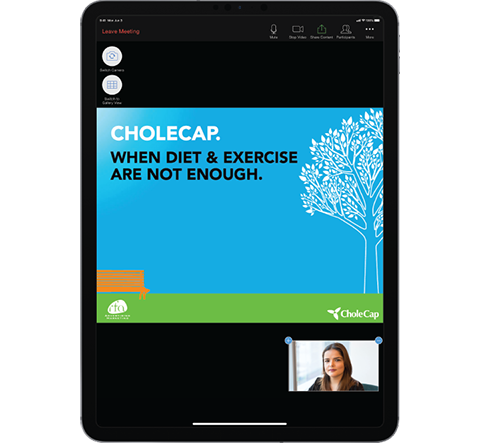 ---
Compliant for Life Sciences
Veeva CRM Engage Meeting is built to meet the strict regulatory requirements of the life sciences industry.
Deliver invitations via Veeva CRM Approved Email
Control the distribution, withdrawal, and display of approved content
Capture HCP signature for remote drug sampling requests in compliance with 21 CFR Part 11 and PDMA requirements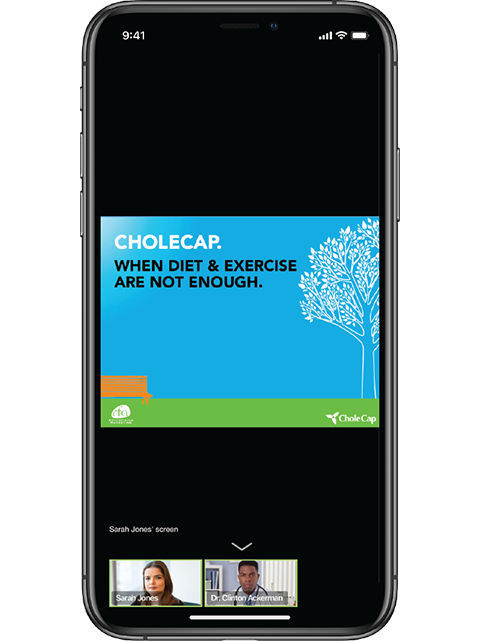 ---
Easy for HCPs
A user-friendly experience makes it easy for customers to join remote meetings and get the information they need at a time most convenient for them.
Connect with two-way video conferencing
Enable HCPs to join via any device, eliminating the need for workarounds or cumbersome software installations
Track customer sentiment in real-time with a simple click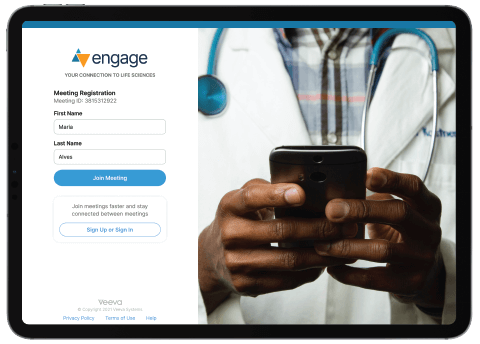 ---
Remote Order Negotiation
Field reps can negotiate order quantities and discounts while sharing the order capture screen directly with the customer.
Ensures participation in ordering across all products in your portfolio
Grants visibility on upsell messages and fast access to Veeva CRM MyInsights reports to increase order value
Assists in objection handling during the sales process through seamless integration to Veeva CLM slides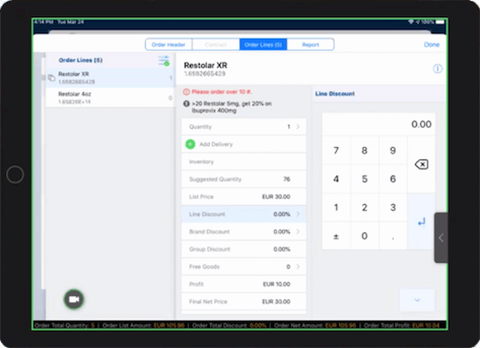 ---

"One of the greatest advantages of remote engagement is that meetings are typically
longer than in-person calls. The average face-to-face call is 6 minutes and the
Astellas average for a virtual call is 26 minutes."
Associate Director, Digital Strategy and Capabilities, Astellas
Learn more
Novo Nordisk
"Our team quickly adapted to digital channels including Veeva CRM Engage Meeting to maintain relationships with our customers and continue to provide valuable information in a compliant way."
Director, Field Systems and Projects, Novo Nordisk
Find out how
Upsher-Smith Laboratories, LLC
"Veeva CRM Engage Meeting has been critical for our sales teams. It allows our reps to adapt easily and still meet the needs of HCPs. We have the infrastructure in place for our reps to be successful and compliant."
Manager Sales Operations
Grünenthal
"We had the pleasure to launch Veeva CRM Engage Meeting to all Grünenthal affiliates in an incredibly fast manner, less than one month. It was a very innovative project that has had a lot of impact on our teams and customers. In some countries, 80% of the interactions that were happening before COVID are now delivered through Engage Meeting."
SVP, Global Head of Commercial Excellence
Previous
Next
Getting Started with Veeva CRM Engage Meeting
Resources for CRM Engage Meeting